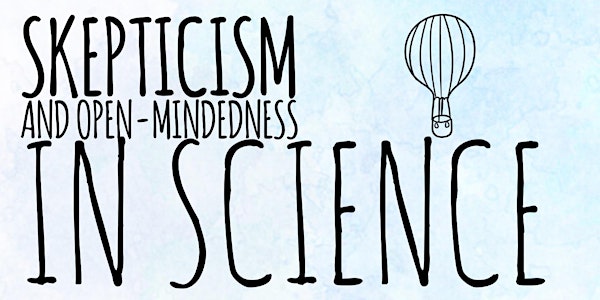 Skepticism and Open-mindedness in Science Workshop
When and where
Location
The Village 15A, UC San Diego 1 Scholars Drive North La Jolla, CA 92093
Description
Pseudoscience is very harmful to society, but is it sometimes a by-product of scientific creativity? How should we balance gullibility and cynicism? These questions and others will be addressed in this free public workshop organized by Craig Callender and V.S. Ramachandran.
This workshop is co-sponsored by the Institute for Practical Ethics and the Science Studies Program at UC San Diego.
PROGRAM
10:00-10:30 Craig Callender: Balloons, Strings, and Inflation: Science vs Pseudoscience in Physics
10:30-11:15 Jamy Ian Swiss: Spooky Science
11:15-11:30 Coffee break
11:30-12:15 V.S. Ramachandran: The Balancing Act: How to be Receptive to Genuine "Anomalies" and Wary (Skeptical) of Spurious Ones
12:15-1:00 Ken Wharton: Applying Skepticism to Quantum 'Magic'
1:00-2:30 Lunch Break
2:30-3:15 Michael Shermer: What is Skepticism, Anyway?
3:15-4:00 Asheley Landrum: Who is Skeptical of Science?
4:00-4:15 Coffee break
4:15-5:00 David Brin: Refutation of Rumors and Lies: The Paramount Issue of Our Time

SPEAKERS
Dr. Michael Shermer is the Publisher of Skeptic magazine, a monthly columnist for Scientific American, and a Presidential Fellow at Chapman University. He is the author of The Moral Arc, The Believing Brain, Why People Believe Weird Things, Why Darwin Matters, The Mind of the Market, How We Believe, and The Science of Good and Evil. His next book is Heavens on Earth: The Scientific Search for Immortality, the Afterlife, and Utopia. His two TED talks, viewed nearly 8 million times, were voted in the top 100 of the more than 2000 TED talks.
A scientist, best-selling author, tech-consultant and speaker, David Brin is best-known for shining light — plausibly and entertainingly — on technology, society, and countless challenges confronting our rambunctious civilization. His best-selling novels include The Postman (filmed in 1997) plus explorations of our near-future in Earth and Existence. Other novels are translated into 25+ languages. His short stories explore vividly speculative ideas.
Jamy Ian Swiss is a world-renowned sleight-of-hand performer specializing in close-up card magic, a historian of magic, and a skeptic. He has appeared in television programs including 48 Hours, the PBS series NOVA, the PBS documentary The Art of Magic and The Today Show, and he appeared in the documentaries the Merchants of Doubt and Honest Liar. Penn and Teller describe him as "James Bond with a deck of cards for a pistol."
Dr. Asheley R. Landrum is a psychologist and Assistant Professor of strategic science communication in the College of Media & Communication at Texas Tech University. Prior to this, she was the Howard Deshong Postdoctoral Fellow at the Annenberg Public Policy Center at the University of Pennsylvania. Her research examines how feelings, attitudes, values, and identities influence the way people think about and understand science.
Ken Wharton (Professor of Physics, San Jose State University) is a physicist and science fiction author who is particularly interested in time-symmetric and causally-neutral approaches to quantum theory, working towards the ultimate goal of reframing quantum theory in a manner fully compatible with general relativity.
Craig Callender is a philosopher of science specializing in the foundations of physics and environmental ethics. He is Co-Director of the new Institute for Practical Ethics and President of the Philosophy of Time Society. Author of more than 50 works, his writing has appeared in physics, philosophy and law journals. His most recent book is What Makes Time Special? (OUP, 2017). His research has been featured in the popular media, such as Through the Wormhole with Morgan Freeman and Scientific American.
V.S. Ramachandran is an award-winning Director of the Center for Brain and Cognition and Distinguished Professor with the Psychology Department and Neurosciences Program at UCSD and Adjunct Professor of Biology at the Salk Institute. Ramachandran is best known for his experiments in behavioral neurology which, despite their apparent simplicity, have had a profound impact on the way we think about the brain. He has published over 180 scientific articles and a number of popular books, including the acclaimed Phantoms in the Brain that has been translated into nine languages and formed the basis for a series on Channel Four TV (UK) and a PBS special in USA. Richard Dawkins has called him "The Marco Polo of neuroscience" and Eric Kandel refers to him as a "modern Paul Broca." Rama gave the Gifford Lectures and the BBC's Reith Lectures.