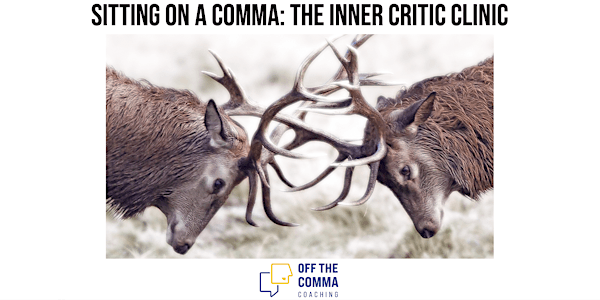 Sitting on a Comma: The Inner Critic Clinic
You're stuck! I get it. I've been there too. I call it sitting on a comma. It is not the curse you think it is. Possibility awaits!
Refund Policy
Refunds up to 7 days before event
Eventbrite's fee is nonrefundable.
About this event
There it goes again! That voice in your head that tells you everything you can't do and why you're not good enough. Where does that leave you? Stuck. Again.
We all have goals, dreams and things that we want to get done. We also all seem to have an inner critic that sabotages our best laid plans. This inner critic is sneaky and pervasive. Often, the result is you falling short of what you want to create for yourself and often feeling bad about yourself too!
The Inner Critic Clinic is your opportunity to get to know this voice. Through inquiry and exploration, you will declutter the relationship with this inner voice and get clear on exactly what it is creating within you. This session will help you establish a new relationship with your inner voice and start putting it to work for you, rather than against you.
It's time to get off your comma and redefine your relationship with your inner critic, so you can create the life you envision. Sign up today! Buy one admission, get one free. Bring a friend at no cost. Purchase your registration and email paul@offthecomma.com with your guest's information. We will manually register them at no cost.
This session will be co-hosted by a team of coaches to support you. This is a great opportunity!
About Your Coaches
Paul Briley: I build relationships based on a sense of purpose, action-orientation and having fun in the process. When coaching, it's all about helping you through your journey, while challenging you to tap into the wisdom you carry inside. Learn more about me. My linktree.
Jessica Couch: I find coaching real estate agents to be very rewarding! It is a wonderful feeling to help others succeed. I pass along my belief that we should all be involved in helping others. Of course your business will grow because people want to work with people who are helping others. I want my clients and friends to remember that I'm doing something to help others - the fact that I'm in real estate is secondary. Learn more about me. My linktree.
Matt Stark: I have a background in high end sales, manufacturing and management. As a small business consultant, I supported independent businesses, entrepreneurs and artists. I am currently a professional coach with my own practice and will be serving as a staff coach for the class of 2023 in the McClaren Coaching Transformative Coaching Essentials program. Serving individuals through coaching and coach training is my passion.