Location
I-Park
428 Hopyard Road
East Haddam, CT 06423
Refund policy
Contact the organizer to request a refund.
Eventbrite's fee is nonrefundable.
Experience 9 new, in addition to over 40 existing, site-responsive artworks while strolling our unique system of art/nature trails.
About this event
You'll meet the seven artists plus their collaborating teams who, during a 3-week onsite residency, developed these multi-disciplinary new works. In most cases, you can get up close and touch, listen to and smell them! In other cases, the installations are interactive. Upon arrival, you'll be given a map and you're invited to undertake your own self-directed exploration.
2021 Site-Responsive Artists
Die-cast, (led by Brenna Geffers), Pennsylvania
Gibson + Recoder, New York
Paul Golisz, New York
Benjamin Heller, New York
Le'Andra Leseur, New Jersey
Thomas Putzier, Minnesota
Daniel Shieh, New York/Taiwan
Two additional site-responsive artworks were commissioned and installed earlier this year, in celebration of I-Park's 20th Anniversary, one by artist Marvin Touré from Pennsylvania and another by New York artist Sui Park.
Although this is a free event, we invite you to make a tax-deductible contribution to the I-Park Foundation. This will help defray some of the considerable costs of presenting this exhibition. A $20 contribution with your ticket, to commemorate our 20th Anniversary, would be much appreciated.
The event is family-friendly for children of all ages. Due to the fragility of the artworks and certain natural features at I-Park, pets are not permitted on the I-Park grounds.
Note that this event has a rain date of Sunday, September 19 (same time). If you are signed up for the event and the weather forecast looks sketchy, we will send you an e-mail at least 24 hours in advance to let you know what's been decided.
Art lovers and outdoor enthusiasts of all ages are welcome. However, reservations in advance are REQUIRED (no drop-in's). For additional information, write events@i-park.org or call 860-306-0636.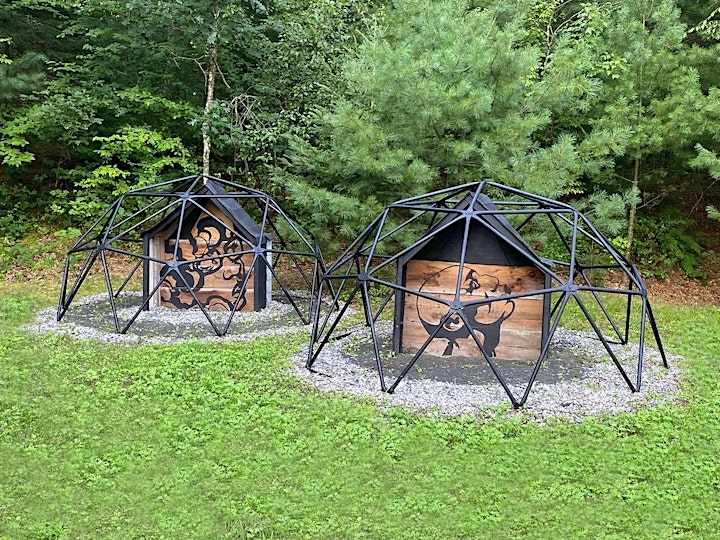 In accordance with the State of Connecticut Reopening Guidelines, our Site-Responsive Art Biennale will practice social distancing procedures during check-in and throughout the event to ensure our participants' safety. Face masks will not be required while hiking on our trails. I-Park is dedicated to everyone's personal health and is eager to welcome the public for a safe, relaxing day of experiencing art in nature!
Important: You will be agreeing to our Visitor Code of Conduct and Photo Release when you register for this event.
We look forward to seeing you soon!
Top Photo: Drone Shot of Marvin Touré , Peachwood Circle & other Southern Gothics, 2021 by DiNardi Visual Productions
Bottom Photo: Marvin Touré , Peachwood Circle & other Southern Gothics, 2021