Silicon Valley venture capitalists and experts will share the secrets for turning an idea into a tech new venture
About this event
ONLINE/REMOTE WORKSHOP TIME
This is an online/remote workshop taking place on November 4 and 5, 2020 for about 2 hours per day - morning in America, afternoon in Europe and evening in Asia. See the event time in your timezone:
Pacific Time (USA): 8-10 am
Central European Time CET: 5-7 pm
Gulf Standard Time: 8-10 pm
See more timezones
DESCRIPTION AND GOALS
Pitching an idea and telling the story behind that is at the heart of any new venture – from raising investor capital to capture the interest of clients, key employees, partners and beyond. When you can tell a sharp message with a strong narrative, people tend to pay you extra attention.
Silicon Valley venture capitalists and experts will help you get your venture's story across effectively. Plus, you will have an opportunity to pitch in front of the Valley investors and have valuable feedback.
This is a unique opportunity for TVLP Followers based outside the US with limited opportunities to attend a TVLP immersive program and accelerator in the Silicon Valley.
Who should attend - People and small teams that are already working on a new venture or product idea. Having a beta product or a prototype might help. Early stage entrepreneurs and innovators are welcome.
THIS HANDS-ON WORKSHOP HAS LIMITED SEATS. REGISTER TODAY.
This workshop was originally part of the program of IEEE TEMS International Conference on Technology and Entrepreneurship 2020, Bologna (Italy). The conference program was affected by the COVID-19 international outbreak.

EVENT HISTORY AND UPDATES
(update Sep 20, 2020) ***DETAILS PUBLISHED***: This event was designed as a one-day workshop during the IEEE International Conference on Technology and Entrepreneurship (ICTE), Bologna, Italy. COVID-19 forced the IEEE ICTE 2020 to be partially replaced by a virtual symposium only for authors. This workshop has been adapted to an online event composed by 2 sessions and scheduled for November 4 and 5, 2020. Program details are published.
(update Aug 5, 2020) ***NEW FORMAT***: COVID-19 has affected almost all IEEE events including the IEEE ICTE conference that hosts this workshop. The conference - rescheduled from April to September - finally moves to online. Same approach will be followed for the workshop. We are working on adapting the workshop format to an online event. Details are coming.
(update Mar 2, 2020) ***NEW DATE***: Due to COVID-19 global outbreak the IEEE ICTE 2020 conference and this workshop are moving to September 2020.
EVOLVING PROGRAM
NOV 4, 8-10 AM Pacific Time (see in your local timezone)
Main goal of today session is introducing what is a pitch, how to approach VCs, and how to make an effective one-line pitch.
"Pitching introduction and core elements of a successful pitch", Angelika Blendstrup
Participants introduction and their one line pitch
"Pitching to investors", Alex Fries
"Dos and Don'ts", a conversation between Alex Fries and Angelika Blendstrup; some participants will volunteer
NOV 5, 8-10 AM Pacific Time (see in your local timezone)
Main goal of today session is learning the importance of storytelling and how to turn the one-line pitch into a story adding reinforcing elements (Why this, why now, why you). Participants can bring a one slide to support their story choosing among 5 options (problem, solution, business model, go to market strategy, and differentiation).
"Storytelling", Chris Yeh
Practice, Chris Yeh and Marta Bulaich; some participants will volunteer
"The art of innovation: from idea to world changing product", Marta Bulaich
Practice (adding reinforcing elements), Marta Bulaich
Consider arriving 30 min earlier to checkin.
SPEAKERS AND MENTORS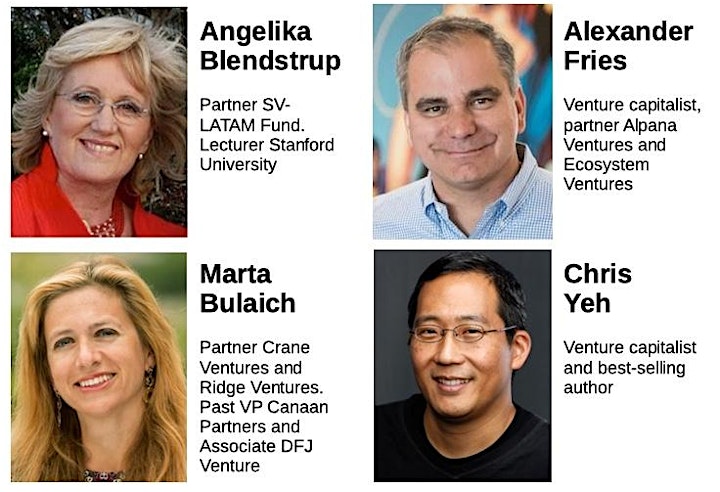 Angelika Blendstrup is a partner at the SV-LATAM Fund in Silicon Valley investing in early stage startups. She is also a lecturer and mentor at Stanford University, 500 Startups, and several other Bay Area distinguished accelerators. Dr. Blendstrup is a faculty member at the TVLP Institute leading the Venture Lab.
Alexander Fries is a serial entrepreneur and venture capitalist. He is a venture partner at Alpana Ventures, an early stage investment fund in San Francisco, and president of Ecosystem Ventures, a VC fund focused on overseas startups. Alex Fries is board member of several high tech startups.
Marta Bulaich is an experienced member of venture capital firms. She is operating partner at the seed fund Crane Ventures in London and head of marketing at Ridge Ventures in San Francisco. Marta Bulaich was Vice President of Canaan Partners and Associate at DFJ Venture, two of the world's most successful funds. She is faculty member of the TVLP Institute teaching Innovation.
Chris Yeh is a venture capitalist, entrepreneur, and best-selling author. His book "Blitzscaling" written with his friend Reid Hoffman, founder of LinkedIn, is one of the most successful publications on build massively valuable companies at lightning speed. Chris Yeh is an instructor at Stanford University and faculty member of the TVLP Institute teaching Storytelling. He holds degrees from Harvard Business School and Stanford.
Date and time
Location
Refund policy
Organizer of Silicon Valley: From IDEA to GETTING STARTED with great narrative
TVLP is the Silicon Valley Institute of Technology Entrepreneurship and Innovation. Created in 2014 and based in California, it offers top and customized immersion programs to individuals and large groups. Programs are geared to prepare entrepreneurs, scientists, company executives and other professionals, selected in the USA and other 42+ countries, to emulate the best practices from Silicon Valley business and innovation culture. Corporate clients are some of the world top billion dollar companies. Working on creating a social impact, TVLP assigns every year several scholarships to support talents with limited resources and to spread entrepreneurship globally.
TVLP's unique methodology encompasses a balanced mix of informative classes, effective labs, applied training, personalized mentoring and networking opportunities with the very best in Silicon Valley. Each program assign a certification.
Faculty is composed by about 35 members that are professors from some of the best business schools (Stanford, Berkeley and Santa Clara University), venture capitalists, c-level executives of iconic Silicon Valley Companies, and celebrated entrepreneurs.