Description
The Silicon Slopes Spring 2018 Entrepreneurship Lecture Series
Who is the Lecture Series for?
The Lecture Series is open to students and community members who are interested in learning from experienced entrepreneurs. If you've started a business, are thinking about starting a business, or just want to hear about the experiences of seasoned entrepreneurs, this lecture series is for you.
What is the Lecture Series?
The Utah Valley University Entrepreneurship Institute is teaming up with Silicon Slopes to deliver this series of talks from all-star entrepreneurs. Over 14 weeks the series will cover the following topics:
January 16 - Lessons Learned in Building a Real Estate Empire, lecture by Keller Investment Properties President and CEO Scott Keller
January 23 - Blockchain: What Is It and How Will It Change Our Future?, lecture by Board of Director Member for Overstock.com and President of Midici Ventures Jonathan Johnson
January 30 - TBA, lecture by Greg Butterfield, Managing Partner of SageCreek Partners
February 6 - Adapt, Migrate or Die, lecture by CEO of Two Harbor Services Al Bertha

February 13 - A Cause, Looking For A Business, lecture by Founder and Chairman of the Board for Barebones Living Robert Workman
February 20 - The GEDIH Process, lecture by GEDIH, Inc. President and CEO Brent Israelsen

February 27 - I Married an Entrepreneur, panel featuring the spouses of entrepreneurs
March 6 - The Ideal Team Player: What You Need to Know, lecture by Banyan CEO Carine Clark
March 13 - Starting, Restarting & Exiting A Business, Now What?, lecture by Owner of The Pizza Factory Daril Magleby
March 27 - Purple (Rise of the Next Unicorn Out of Utah), Sam Bernards, CEO of Purple Mattress
April 3 - Social Entrepreneurship, Benefit Corporations, and How Doing Good Can Be Good For Business, Davis Smith, Founder and CEO of Cotopaxi
April 10 - Social Entrepreneurship, lecture by the UVU Chapter of Enactus
April 17 - TBA, lecture by Serento Ventures Managing Partner and Founder James Endicott
April 24 - So You Think You Want to be An Entrepreneur: Top Considerations Before You Leap, Greg Friedman, Founder, CEO and President of Private Ocean

When is the Lecture Series?
The lectures begin at 12 Noon on Tuesdays on the dates listed above. Each lecture will be approximately thirty minutes followed by ten to fifteen minutes for Q&A.
Where is the Lecture Series?
The lectures are held in the new Classroom Building on the north end of UVU's main campus in state-of-the-art room CB 101a. See below for maps.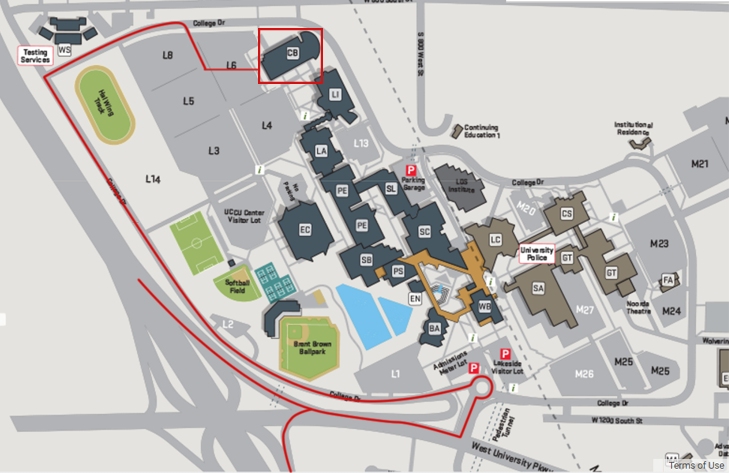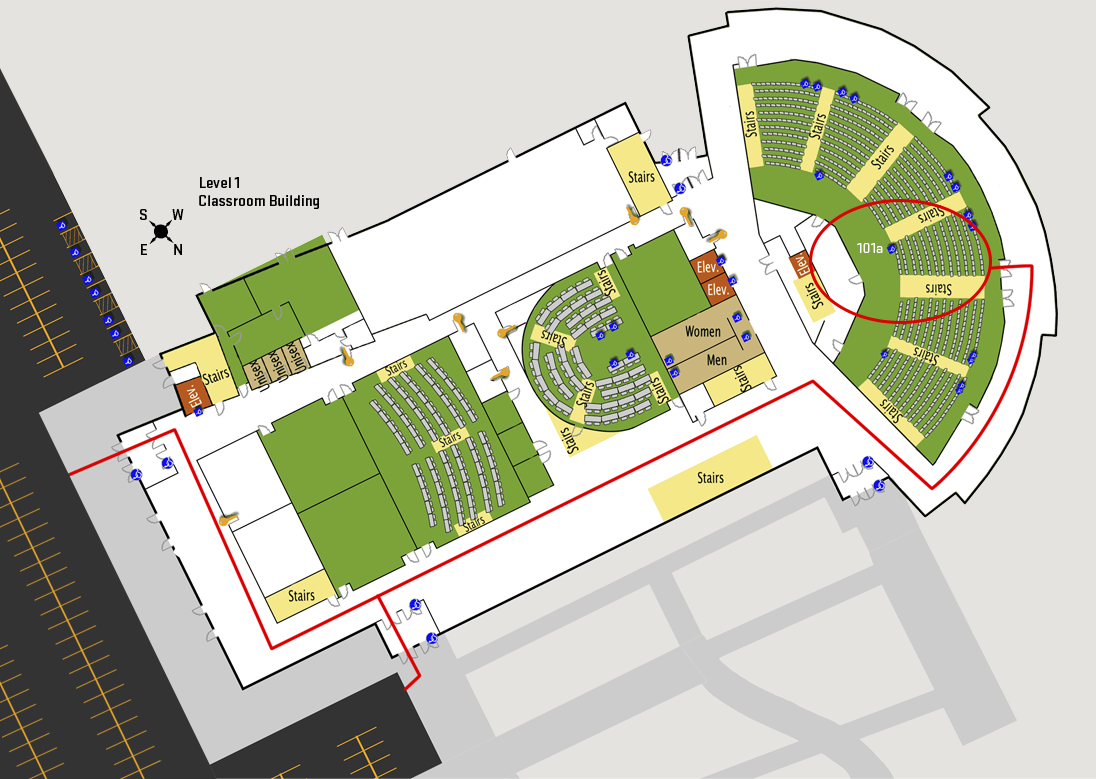 Parking
Visitor parking is marked with red Ps on the first map. Visitor parking is $1 per hour. The closest lot to the Classroom Building is the parking garage. We suggest you come a little early, pay for an extra hour, and enjoy lunch on the campus at one of the vendors on campus. Guru's is located in the Classroom Building just down the hall. Additional information about parking is available on the UVU Parking website.
Why should I attend the Lecture Series?
Because about 50% of small businesses fail in the first year. You owe it to yourself and your business (or idea) to learn as much as you can from people who have been where you are. You can learn from their mistakes and from their successes. The series is short and free and jam-packed with valuable information. Why shouldn't you go?
Contact
For any questions or concerns, please contact Meagan Sanders at msanders@uvu.edu or (801) 863-5354.