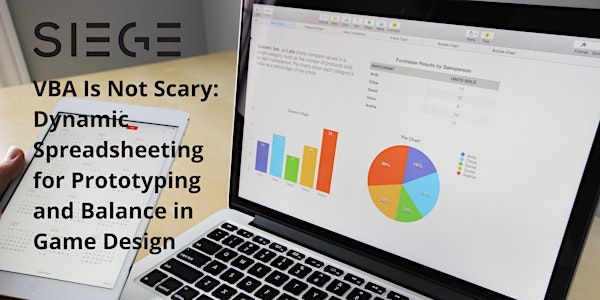 SIEGE: Dynamic Spreadsheeting for Prototyping & Balance in Game Design
Event Information
Location
Atlanta Marriott Northwest at Galleria
200 Interstate North Parkway
Atlanta, GA 30339
Description
While Excel is often used for storing mountains of game data and equations, are you using it to its fullest possible potential? Want to run some aggregation reports on some game data and don't know what to do? Want to tweak some algorithms based on changeable game states before heading over to your game engine?
Bring your laptops (like, seriously, bring your laptops) and we'll work through setting up a sample workbook: how to access the developer tab and write some simple VBA, insert and hookup a variety of ActiveX controls, and how to query data in your sheets to create a working (and dynamically, completely tweakable) prototype of a sample game system.
No coding experience is necessary, although some familiarity with Excel will be useful. Fully coded sample workbooks will be available for workshop participants afterwards to take home and customize.

---
Presenter: Michelle Menard, Oxide Engineering
Michelle Menard is an award-wining game designer, consultant, and published author (Game Development with Unity). She has previously worked in both the mobile and AAA market, and as a consultant under Artemic Games, LLC, partnering with other companies to provide core system design, itemization, auditing, and documentation. Once she was invited to the White House to blabber about game design and crowd-sourcing for big data. She is currently the lead designer at Oxide Games, and is also a cofounder of Fishwizard Games, a small boardgame company exploring strategy games set in the Gateway universe. Gateway: Uprising, their first title, is due out in stores this September. Michelle also serves as an adjunct professor at UMBC and SCAD, teaching game design, theory, and game history, and has taught intro C# game development courses for the Baltimore non-profit Code in the Schools. She holds a double BA in Applied Mathematics and Music Theory from Brown University, and an MFA in Game and Interactive Design from SCAD.
Date and time
Location
Atlanta Marriott Northwest at Galleria
200 Interstate North Parkway
Atlanta, GA 30339