Sales Have Ended
Registrations are closed
Thanks for registering for our event on 13th June regarding Showcases within AI. Seavus Stockholm Office, Blekholmstorget 30 House F floor 10. From 17:30 food and beverages will be severed. Seminar between 18:00-19:00 AfterWork between 19:00-20:00
Sales Have Ended
Registrations are closed
Thanks for registering for our event on 13th June regarding Showcases within AI. Seavus Stockholm Office, Blekholmstorget 30 House F floor 10. From 17:30 food and beverages will be severed. Seminar between 18:00-19:00 AfterWork between 19:00-20:00
Description
Take part of the Master thesis projects around Artificial Intelligence that was carried out during the spring here at Seavus Stockholm.
Artificial Intelligence is the topic on most lips and this evening is a great chance for you to be introduced to some AI-solutions that Seavus has worked on together with KTH students this spring.
The evening seminar will be held on June 13th at 17:30 pm at our office. After the seminar we invite you to stay for AfterWork. You will have the possibility to talk with our speakers as with other employees, and as you know, best ideas come from unofficial and social gatherings.
Magnus Andersson, (Division Manager), Reijo Silander (R&D), Thomas Wennhall, Stefanos Aktas, Emilio Marinone, Jin Hu (master's students) will speak about:
AI and innovation, a study and questionnaire conducted by KTH

Explainable AI

Automatic summarization from meetings

Adaptability of currently used algorithms - dialogue summarization has multi-domain applications, let's talk about it.
These topics are part of solutions from our R&D department, we mainly aim to give you an overview about problems, solutions and opportunities that this field will create soon.
We hope you will have an interesting evening together with us.
Time and place:
Seavus Stockholm Office, Blekholmstorget 30 House F floor 10.
From 17:30 food and beverages will be severed.
Seminar between 18:00-19:00
AfterWork between 19:00-20:00
Seminar and presentations will be in English.
Welcome
Register before 11 June, if you have any questions please send email to: aktivitet@seavus.com
Speakers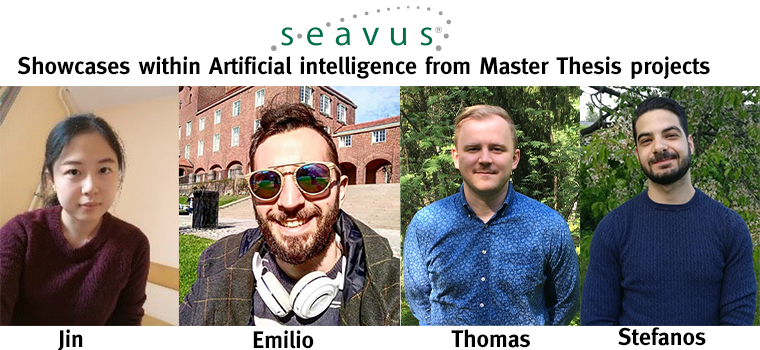 Jin Hu: Master's student at KTH, writing her master thesis on explainable AI at Seavus. She has background in cloud computing, data analysis and management. In this presentation, concepts and motivations of explainable AI will be introduced, as well as important methods to make neural networks explainable. (*She will also talk about the solution that could explain neural networks for natural language processing tasks.)
Emilio Marinone: Master's student at KTH, writing his Thesis project on meeting summarization at Seavus, academic background in Automation Engineering (BCs, Polytechnic of Milan) and Systems, Control and Robotics (MSc, KTH, Stockholm). Far from the engineer stereotype, he is at his first experience in a company and he like to be updated on the most recent trends, solutions and the current state-of-the-art in several Artificial intelligence subfields.
Thomas Wennhall: A 24-year-old who holds a bachelor's degree in industrial design engineering from Mittuniversitetet. He is currently studying the Innovation Management and Product Development master at KTH. During the last year or so he has been learning a lot about how different factors can affect an organisation's innovation capability and why some succeed while others fail. AI will have a huge impact on many organisations and he is now excited to be part of figuring out how organisations should adapt to the future.
Stefanos Aktas: A 25-year old student that has studied Mechanical Engineering and is currently in the Innovation Management and Product Development masters at KTH. He has always had a general curiosity in new technologies and how they can affect the everyday life. The education has given an insight on how innovation can be managed to reach new heights in the market. The term Artificial Intelligence has for a long time been intriguing for him, ever since hearing the term in movies and videogames. The recent advancements in the field has further increased his interest and created a desire to work in AI-affiliated projects.
When participating at a Seavus event - you give us consent to process and collect your personal data.
Read more about our policy here!