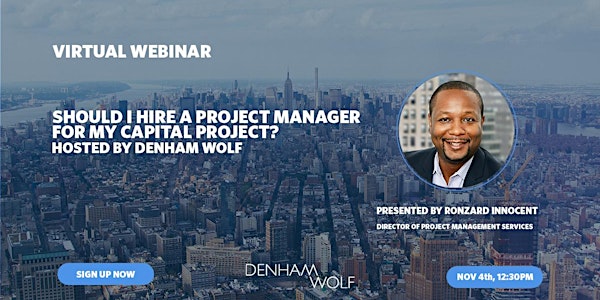 Should I Hire A Project Manager For My Capital Project?
Learn how your non-profit organization might work with a Project Manager to lead your next design and construction project.
About this event
Join Denham Wolf on November 4th from 12:30pm to 1:30pm to learn more about the role of a project manager and how hiring one can make capital improvement projects manageable and mitigate risks. At Denham Wolf, we are committed to the nonprofit community and are persistent in our efforts to gain a competitive advantage and build capacity for these organizations.
Managing any capital project is challenging, especially for nonprofit organizations with additional governance and financial reporting obligations. Hiring a Project Manager at any stage of your organization's capital project can increase your team's capacity and better ensure your project's timely completion while controlling against cost overruns. Project managers act as the client's representative and help to keep the organization's mission at the center of every decision. If you are in the planning stages of a capital project, join this webinar to learn how a project manager can help you.
Register for this free event today!