Shortgrass prescribed burning - principles and practice.
About this event
Are you curious about using prescribed burning in shortgrass rangelands, but not sure if it's safe, effective, and needed? Join us in learning about prescribed burning in the shortgrass prairie. Specialists will host an indoor workshop on November 4, 2021 in the multipurpose room of the Mosquero Municipal School in Mosquero, New Mexico.
Included in the November 4 workshop will be:
· reasons for burning
· special considerations for shortgrass prairie
· what to expect after a burn
· how long burn effects will last
· regulations affecting prescribed burning
· weather conditions needed
· formulating a burn plan
· techniques for achieving the burn you want
A supplemental hands-on field day will be held at the Ute Creek Cattle Company ranch, where participants will have a chance to apply prescribed burn techniques. This unique opportunity will be scheduled between March and (or?) May 2022 as dictated by weather conditions. Participation in hands-on burning at the ranch is optional. Participants will be contacted directly via email with as much notice as possible, but frequently this amounts to 24-48 hours advanced notice.
This workshop and training is intended for ranchers, landowners and others who manage or provide services for private and state lands. There is a $10 charge for attending the workshop to cover materials. Lunch will be provided on Nov 4.
Registration is principally for the workshop on November 4 (so we know how much food to prepare). We look forward to seeing you in November.
This workshop and training is being conducted by New Mexico State University Cooperative Extension and Kansas State University in conjunction with the Ute Creek Cattle Company. Additional assistance and cooperation provided by the Great Plains Fire Science Exchange, Southern Rockies Fire Science Network, and the Southwest Fire Science Consortium.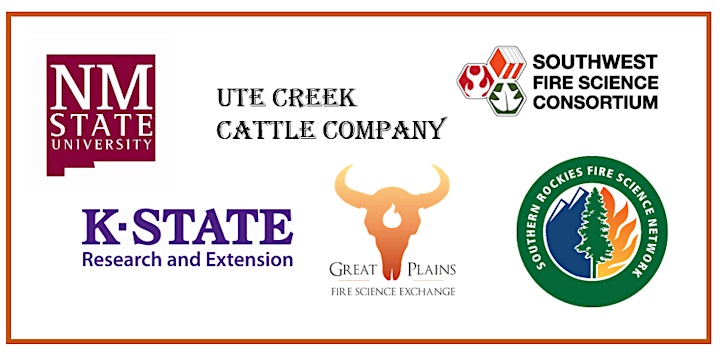 Organizer of Shortgrass Prescribed Burning Workshop
The Great Plains Fire Science Exchange serves the fire community in the mid-continental heartland of North America. By sharing the best science information and management, we hope to strengthen
collaboration within the fire community and improve decisions made in the use and control of fire. Those who produce fire science as well as those interested in applying the science are all welcome in the Exchange.