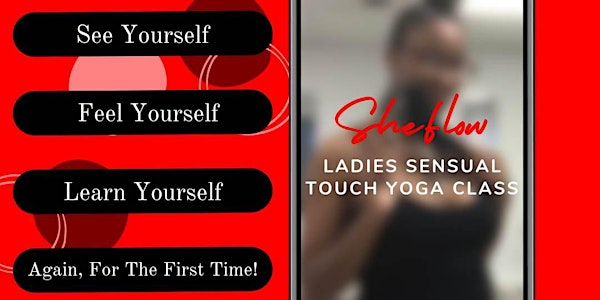 SheFlow: Ladies Sensual Touch Yoga Class
Give yourself the gift of touch that soothes beyond the surface!
When and where
Location
The Space at Norches Hull Street Rd North Chesterfield, VA 23235
About this event
SheFlow is a ladies sensual touch class created to "break" the wall that so many women have created around themselves. Notice how I added the quotation marks around break. This intimate peek behind your wall is only for you and can only be unveiled by you. Sensual Touch is the action of soothing, tantalizing and stimulating touch using various modes and tools. This class is specifically for ladies who want to tap into the softer and truer side of themselves. Some may even say that this class will bring forth your most powerful feminine properties.
Each participant will have time to fully express themselves through verbal and non-verbal communication. It is important that I let you know up front that this is not a class for ladies to learn how to pleasure themselves or their partner. It is a class for ladies to be more pleasurable to themselves by way of openness, kindness, and transparency.