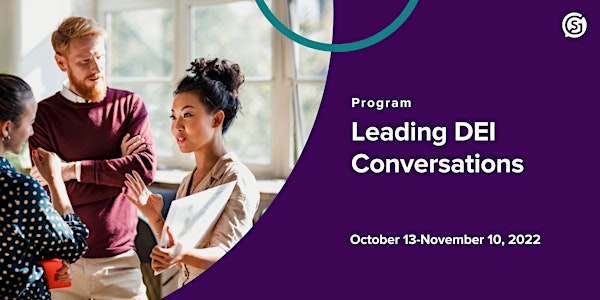 She+ Geeks Out Leading DEI Conversations Program Fall 2022
The Leading DEI Conversations program is designed to help you develop and practice facilitation skills and frameworks.
Refund Policy
Contact the organizer to request a refund.
Eventbrite's fee is nonrefundable.
About this event
The Leading DEI Conversations program is designed to help you develop and practice facilitation skills and frameworks you can apply in the workplace. The program will help you learn how to discuss topics related to diversity, equity, and inclusion, how to reflect on and leverage power and privilege, how you can hold space for yourself and others during difficult moments and most importantly, how you can exercise accountability through a holistic lens of self and communal care.
Overview of Program Content
Session One: Foundations of DEI Facilitation
Your Role as a Facilitator
Facilitation in the DEI Space
Key Considerations
Session Two: Recognizing, Addressing, and Leveraging Privilege and Power
Defining Key Terminology
Leveraging Privilege and Power
Practice Scenarios
Session Three: Holding Space for Self and Others
Physical, Emotional, and Psychological Safety
Supporting Yourself and Colleagues During Difficult Moments
Frameworks and Methods
Session Four: Facilitation Practice and Skill Building
Peer-to-peer Feedback
Knowledge Gathering/Sharing
Group Coaching
Session Five: Practicing Accountability in a Holistic Manner
Being Accountable
Self, Communal, and Structural Care
Action and Commitment Plan
What does this program include?
DEI-related topics can be challenging to discuss, especially when you don't have enough support and the right resources or skills needed to facilitate these sensitive conversations. It can be even more difficult when you're not aware of your own identities, possible trigger points and how you can take care of yourself and others when it matters most.
Over the course of five weeks, you'll gain support and tools that you can put into use when you're navigating conversations related to identity, privilege, power, and organizational change. To maintain the high-quality of this program and ensure individual learning, there are a limited number of spots available.
What you'll get:
Five (2) hour live workshops via zoom, every Thursday (10/13 - 11/10) from 12:00pm EST/9:00am PST to 2:00pm EST/11:00am PST
Certificate of completion and badge for your LinkedIn profile
And more is included with your program enrollment:
Post-Session Interactions
A dedicated feature for participants to communicate with each other, share resources and/or ask questions through our community platform, Mighty Networks.
Toolkits - Individual guides containing all of the topics we'll be covering during each session
Video Library- All sessions will be recorded and uploaded for inspiration and guidance
Resources- Our hand-picked list of DEI-related foundational readings, videos, newsletters, etc.
Participants are eligible for 10 SHRM re-certification professional development credits (PDCs) upon successful program completion
Welcoming Community
An opportunity to be in community with like-minded professionals who are looking to enhance their DEI facilitation skills while also learning from and with each other through access to our DEI Practitioner space on Mighty Networks upon completion of the program.
Scripts and Scenarios
Scripted language on ways to respond to difficult questions, statements or behaviors. Participants will receive this document at the end of the program.
Facilitators
Would you like more information?
Join us for a live info session with Kia and Dr. Victoria! Register here.
Frequently Asked Questions
When does the program begin and end?
This virtual program begins on Oct 13, 2022 and meets weekly until Nov 10, 2022. All downloadable toolkits and resources will be yours to keep, and you will have access to the class materials and community space on Mighty Networks for life.
When do I need to sign up?
Since this program will be open to a limited number of attendees, we encourage you to enroll as soon as possible. The doors will close when all seats are filled, or by October 11, 2022. Claim your spot now!
Who are our facilitators?
This program will be co-facilitated by SGO DEI Facilitators, Kia Rivera (she/her) and Dr. Victoria Verlezza (she/her).
Who is this program for?
This program is for anyone who is looking for support in facilitating or moderating conversations related to diversity, equity and inclusion in the workplace. Whether you're an individual contributor, manager, or an executive, the skills you'll gain in this program will provide you with a baseline understanding of how to effectively lead these challenging conversations at work. Note: It's important that all participants have a foundational understanding of DEI before signing up for the program. If you're not sure, please reach out to us at shegeeksout.com/contact.
Why should I sign up for this program?
If you're struggling to guide conversations between colleagues in the workplace, this program is for you. You'll have an opportunity to practice with and learn from like-minded people who want to become more confident in their approach to, and understand the ins and outs of, having challenging conversations.
How many people will I be learning with?
To maintain the high quality of this program, we cap our learning cohorts at 20. We want to make sure we're able to cover all the intended content while opening the opportunity for meaningful conversations and answering questions.
Can multiple people from our organization participate in this program?
Sure, however, we are capping it at two people per organization. If you'd like to train a team of people from your organizations, please contact Rachel Murray at rachel@shegeeksout.com for our private training opportunities.
Are there any prerequisites? What do I need to know?
You should already have a foundational understanding of diversity, equity, and inclusion and a committed desire to lead challenging conversations in the workplace. If you want to refresh your understanding on these topics, check out our online course on Unconscious Bias in the Workplace (available as an add-on to this program registration).
What do I get with this program?
You'll receive:
Intentional and compassionate guidance from our expert facilitators who will lead you through five 2-hour sessions of top-notch, guided content
The opportunity to practice real-life scenarios with others in a welcoming space
A toolkit that includes what we'll cover during each session in addition to reflection questions
Complimentary readings and videos that will provide you with a deeper understanding of the content
Participants are eligible for 10 (ten) SHRM recertification professional development credits (PDCs) upon successful program completion
Certificate of completion and badge for your LinkedIn profile
Premiere access to your cohort-based space on our community platform, Mighty Networks, along with access to the wider SGO Mighty Networks community
BONUS: Scripted language upon program completion for you to use as you apply your learnings within your workplace
How many sessions are there?
There are five weekly live sessions.
What's the time commitment? Do I have to show up to everything?
There are five, two-hour long sessions that weave together educational content and practice opportunities. There will be readings, videos, and assignments for you to review before each session, so we encourage you to block off an additional hour on your calendar after each session in order to review any resources or follow up items. Your full participation and attendance will allow you to gain the full benefit of this program. If you are unable to attend all five sessions, this might not be the right time for you to participate in this program. But not to worry, there will be other opportunities to participate!
Are the sessions recorded? If so, how will they be shared?
Yes, the sessions are recorded. However, in an effort to balance the need between accessibility and confidentiality, the recordings will only be available 48 hours after a live session has ended. The recordings will not be shared with anyone else besides the cohort that has registered for this year's program. If you have any questions or concerns about the sessions being recorded, please contact risetogether@shegeeksout.com.
How do I pay?
Payment will be processed on Eventbrite. Once your payment is received, you'll get a follow up email and receipt from our team.
Do you offer payment plans?
Unfortunately, at this time, we're not offering payment plans for Leading DEI Conversations. If you are in need of financial support, please fill out this form and a member of the SGO team will reach out to you. If you have any questions, please contact us at shegeeksout.com/contact.
Can you help me get my employer to pay for this?
We got you! Check out the template for an email you can personalize and send your boss here. You can also share this blog post about the importance of professional development!
What technology will you be using?
The program will be hosted through our brand new community platform, Mighty Networks. Weekly sessions will be conducted via Zoom through links in Mighty Networks, and all supplemental content will be posted there. We'll also be using Mighty Networks for asynchronous communication in between program sessions.
I have accessibility needs, will they be met?
We offer closed captioning and transcripts for all sessions. Once you sign up, we'll ask you to let us know if you have any further accessibility needs; we'll do our very best to accommodate them! Please reach out to us at shegeeksout.com/contact if you have any specific concerns.
What happens when the program is over?
You'll have access to all recordings, resources, and group discussions once the program ends. You'll receive a scripted guide with statements, questions, and actions you can use during challenging conversations in the workplace. You'll also have access to both your private cohort space as well as the DEI Practitioner space and the rest of the SGO community on our platform, Mighty Networks!
What is Mighty Networks?
Mighty Networks is SGO's brand new community platform created to bring together people who want to create and support a more equitable workplace. This space will be YOUR place to build relationships, develop skills, and reframe your mindset during Leading DEI Conversations and beyond! Mighty Networks is here so that we can all continue to learn how to be a better human at work and level up in our careers.
What is Rise Together?
Rise Together is designed to break through barriers faced by people with marginalized identities in the workplace and support those who want to abolish inequity in the workplace. It's a mix of professional development, coaching, and networking opportunities, all with the kind and geeky vibe we're known for.
What's your refund policy?
If you request a refund, it will be processed within 5-7 business days. Please note that any refund requests after September 27, 2022 will not be accepted.
Do you have any other public offerings like the Leading DEI Conversations program?
Of course we do! We plan on launching more workshops, a group coaching program for DEI practitioners, and other unique offerings in 2023. Want to be the first one to know about them? Sign up for our DEI newsletter!
I have more questions!
No problem! Contact us shegeeksout.com/contact and we'll do our best to respond within 48 hours.