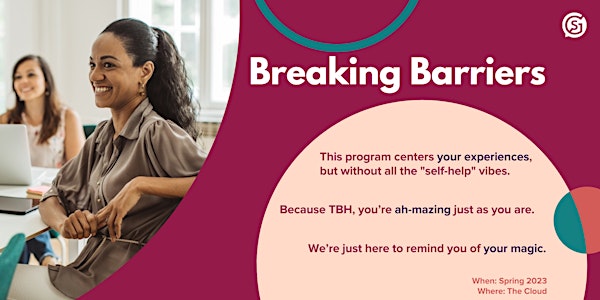 She+ Geeks Out Breaking Barriers Spring 2023 Info Session
Join us for a live info session with our facilitator, Rachel Sadler.
About this event
What's Breaking Barriers anyway?
Glad you asked! We wanted to create a program that centered the experiences women+, but without all of the "self-help" vibes. Because TBH, you're ah-mazing just as you are - we're just here to remind you of your magic. We'll do that over the course of five sessions, spending 90 minutes together, once a week at 5pm EST (we promise you, the time will fly). Between sessions, you'll have a dedicated virtual space to remain in community with your cohort, check-in with each other, and chat with your coach.
What are these "sessions" you mentioned?
Instead of talking about ways to "be a better you" we're going to double-down on what's already awesome about you. And through that lens, we'll provide you with an opportunity to show up for and honor yourself. So many women+ are busy being caretakers, company leaders, supportive teammates, and all-around badasses that we can forget to make space to nurture ourselves. So here's what we'll be covering:
March 7 - Session 1: Let's Get Into It
This is the introduction to the program, your coach, and your squad. During this session, you'll have an opportunity to start building community with other women+, develop shared expectations, as well as participate in activities that center and honor you.
March 14 - Session 2: Sorry, Not Sorry…
During this session, we'll talk about eliminating the habit of apologizing. So often, women+ defer to apologies when speaking up/out, challenging others, or taking up space. We'll get into how to reframe our perspective on taking up space and replace apologies with more direct language. Learn how to stand in the resoluteness of what you say, regardless of how it lands for others, and stop saying "sorry."
March 21 - Session 3: Who Said That?
We all have that little voice in our heads that likes to whisper doubt just when we think we've got this confidence thing down. Disempowering beliefs can derail the best intentions and planning. This session will give you the tools to identify them and work to quiet them when they try to get all in your business.
March 28 - Session 4: Issa "No" For Me…
How many times have you wanted to say "no" to someone, but felt like you couldn't? Perhaps you've been a people-pleaser most of your life or have been taught that it's polite to commit to things, even if you don't want to. Let's talk about the ways "no" helps us establish boundaries and create space for a more fulfilling "yes".
April 4 - Session 5: Now What?
After all this time together, it's easy to wonder, "So what? Now what?" In this session, we'll do some reflecting on what we've gathered over the last four weeks, share some aha's, and develop individual plans for how you'll show up for yourself in meaningful, long-lasting ways.
Facilitators
Ready to register for Breaking Barriers?