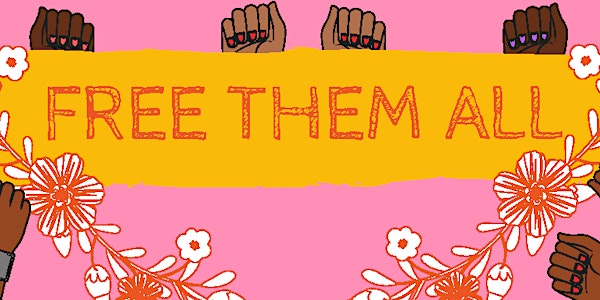 Sharing Stories of Self-Defense and Survival in the #MeToo Era
When and where
Location
Asian American Writers Workshop 110-112 West 27 Street Ste. 600 New York, NY 10001
Description
As the #MeToo Movement brought gender violence to the forefront of the national conversation, New York State has continued to criminalize and incarcerate survivors of gender violence at an alarming rate. The Survived and Punished #FreeThemNY Campaign is demanding that Governor Cuomo commute the sentences of survivors of gender violence who are in prison throughout New York State. A huge portion of survivors, overwhelmingly Black women, are unsupported and unaccounted for by the mainstream anti-violence and anti-domestic violence movement, leading to a gap in the national conversation around the #MeToo Movement.
This event is part of the National #FreeThemAll Week of Action. Our local event will increase awareness for incarcerated survivors by sharing their stories and it will elevate our demand that Governor Cuomo commute their sentences.
---
Mientras el Movimiento #MeToo #YoTambién ha puesto la violencia de género a la vanguardia de la conversación nacional, el estado de Nueva York continúa criminalizando y encarcelando a lxs sobrevivientes de violencia de género a un índice alarmante. La campaña de Survived and Punish #FreeThemNY #LiberenlxsNY exige al Gobernador Cuomo que conmute las sentencias penales de lxs sobrevivientes de violencia de género que están en prisión en todo el estado de Nueva York. Una gran cantidad de sobrevivientes, casi unánimemente mujeres negras, no son apoyadas ni tomadas en cuenta por los movimientos dominantes en contra de la violencia y en contra de la violencia doméstica, lo cual conduce a una brecha en la conversación nacional en torno al Movimiento #YoTambién (#MeToo).
Este evento es parte de la Semana de Acción Nacional #FreeThemAll #LiberenlxsATodxs. Al compartir las historias de personas sobrevivientes que están en la cárcel nuestro evento local aumentará la concienciación sobre ellxs y elevará nuestra demanda a que el Gobernador Cuomo conmute sus sentencias penales.