About this Event
In a world overwhelmed by information and distracted by a multitude of social media and messaging apps, can we, the unified Body of Christ, turn these distractions into opportunities to shine light into the world? Can Christ's love be shared with a generation who are digitally connected yet in many ways isolated?
Just as paper helped spread the Word in the olden days, the digital realm has its own characteristics, techniques and tools that can be used to spread His message of hope and love. It just takes a few dreamers and do'ers to realise these new ways.
Come join the Indigitous Singapore community of believers in this Year of Proclamation, as we gather and, using our God-given talents, ideate different ways to share the Gospel.
This is an ideation hackathon. Coding knowledge is not required.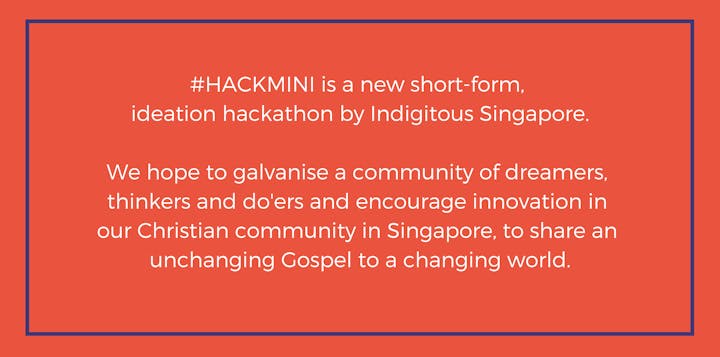 Programme
9am - Opening Brief
10am - Group Formation + Team Names Submission
10.30am to 5pm- Work Time (Lunch at Own Time and Expense)
4pm - Technical Brief + Submission of Team Summaries
5pm - Presentation Time (3+2 mins Per Team)
6pm - Open Voting and Closing
Forming Teams
Invite your friends and come in teams of 3 - 6 pax. If you are alone, no worries! We have team-matching activities that helps you to find a team.
Who is This For
Digital professionals, including UX/UI designers, media producers, social media marketeers, coders, strategists, innovation folks, writers, and more. Non-digital professionals are welcome too (we had quite a few in the past!); all you need is a heart to contribute.
What to Ideate
Set your minds free and ideate on crazy innovative ideas to reach out to the digital generation (AKA millenials, AKA the up and coming generation). It could be a media campaign, a mobile app, a digital platform, or a series of stories told over new media - or even a new song. Anything goes - as long it can be launched or scaled digitally. Like other hackathons, ideas that are feasible or are scalable are typically preferred.
How Teams Are Judged
YOU get to decide. The top 3 winning teams are decided by a poll with the audience.
What's Next
Besides meeting like-minded folks, your ideas may attract attention from members of the Christian community. We are faithful that God will use us in His plans.