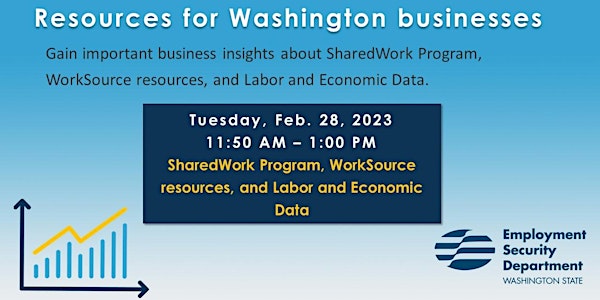 SharedWork Program, WorkSource resources, and Labor Market Info
Gain business insights on SharedWork, on partnering with your local WorkSource business team and how to use labor market and economic data
By WA ST Employment Security Department - SharedWork
Date and time
Tuesday, February 28 · 11:50am - 1pm PST
About this event
The webinar features the SharedWork program and the assistance of the Workforce system. Get to know your local WorkSource business service teams. Use the statewide WorkSource locator to identify your business services team members.
What you will learn about WorkSource:
The role of WorkSource in Washington state and local community.
How businesses can get assistance from their local WorkSource business services team.
What employers can gain by contacting WorkSource and rapid response before making workforce changes such as layoffs.
Using the statewide WorkSource locator to access business services.
What you'll learn about Labor Market Info:
DATA – Date Architecture, Transformation, and Analytics Team is a one stop data shop comprised of state/regional economists, economic analysts, researchers, and many others who collect and analyze data about Washington's employment conditions, economy, job market and workforce.
Provide research and analysis, program evaluation, and actuarial analysis in response to federal and state legislative mandates, stakeholder requests and ESD needs.
How labor market information helps with business decision making.
Answers to the most common LMI questions and much more.
What you will learn about the SharedWork program:
Steps to enroll in the SharedWork program.
Business eligibility and program benefits.
Cost of layoffs versus retention - How a workplace improves having an approved plan.
Answers to the most common employer questions.
About the organizer
SharedWork Program
Businesses, Employees, Communities & Families WIN with SharedWork
SharedWork is a voluntary business sustainability program that provides flexibility to return and retain employees at reduced hours.