Shared Struggle: African and Native intersections with Racial Justice
A virtual program on the history of African Americans in Prince George's County who were victims of racial terrorism.
About this event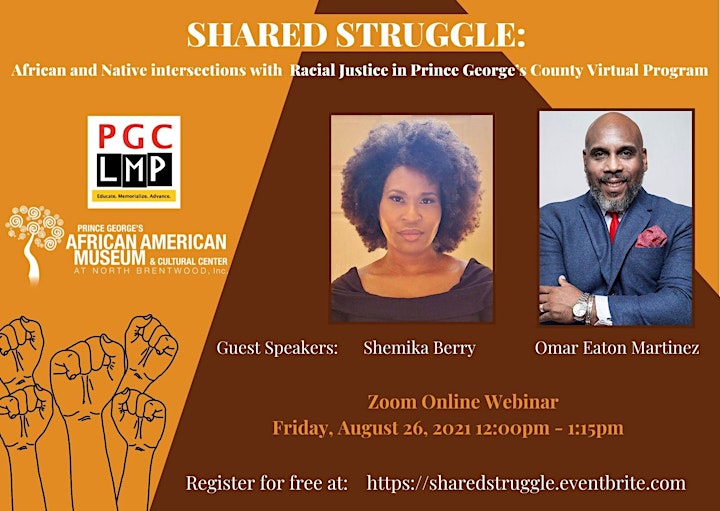 On Thursday (August 26th) Gabriel A. Greaves will be leading a virtual program on the history of African Americans in Prince George's County who were victims of racial terrorism.
In partnership with the Prince George's Lynching Memorial Project's Community Remembrance Committee, this program supports its outreach efforts to honor Thomas Juricks, a victim of a lynching in Piscataway. Omar Eaton Martinez of Parks & Planning and Shemika Berry (the Outreach Specialist at the Accokeek Foundation) will be part of the panel for this webinar event. 
The event will highlight the following:
1) Importance of oral history and remembering the trauma of racial terror despite efforts (historical and current)to erase that history.
2) Intersectionality of the African American and Native American experiences in Prince George's County.
3) Contemporary ways that people are remembering and honoring the victims of racial terror today (such as through Community Remembrance Projects)
Speakers Bio:
Gabriel A. Greaves
Gabriel A. Greaves is the Moderator for this virtual program. He is the Education and Programs Coordinator for the Prince George's African American Museum & Cultural Center. He is also a human services professional, historian/educator and interdisciplinary researcher who has worked within community outreach/ grassroots organizing for over 14 yrs. He is a KSU Masters of American Studies Alumnus with a background in Afro-Latino Studies, the Civil Rights era, Christianity in the Americas and the social impact of religious worldviews. Moreover, he is also a research assistant with the National Council of Elders. Having grown up in a multi-ethnic/ multi-generational home, he loves educating through oral histories and showing the complexities of racial/cultural identities. He is passionate for community development as well as utilizing movement journalism and historical activism in order to promote the notion of the "Beloved Community" as Dr. Martin Luther King popularized.
Omar Eaton-Martínez:
Omar Eaton-Martínez, M. Ed., Assistant Division Chief of Historical Resources, Maryland-National Capital Parks and Planning Commission, Natural and Historical Resources Division, Prince George's County Parks and Recreation, 301-627-8507
Email: Omar.Eaton-Martinez@pgparks.com 
Twitter: @oeatonmartinez
Omar leads the Prince George's County Historical Resources which include historical house museums, an aviation museum, the Black History Program and archaeological parks. He oversees the programming of those sites with an emphasis placed on preserving, sustaining and enhancing these resources as well as engaging and building communities through education, outreach and innovation. He has recently worked at the Smithsonian's Nation Museum of American History, National Park Service, the Office of the National Museum of the American Latino Commission, NASA and he also was a K-12 teacher in NYC and DC.

He has had a leading role in racial equity organizations like Museums and Race: Transformation and Justice, Museum Hue as well as a part of the Museum as Site for Social Action project. His research
interests are Afro Latinx identity in museum exhibitions, Diversity and Inclusion in museums and cultural institutions; and Hip Hop history, culture and education. Moreover, he has supported public
history projects centering blackness in Puerto Rico.
In 2019, Omar was selected to be an American Alliance of Museums Diversity. Equity. Accessibility. Inclusion (DEAI) Senior Fellow, which is dedicated to diversify museum board and is a gubernatorial
appointee to the Maryland Lynching Truth & Reconciliation Commission.
Shemika Berry:
Shemika Berry, the Outreach Specialist for the Accokeek Foundation has been a first-person historical interpreter for over 15 years. After serving in the Air Force, she found her passion in merging storytelling, living history and performing.  She has portrayed Cate Sharper, a woman who was enslaved in Prince George's County during the 18th century for the last 6 years at the Accokeek Foundation. Ms. Berry, an actress, costumer and makeup artist, has also traveled to schools around Maryland and Washington, D.C. portraying various historical figures and in 2019 she wrote and starred in her own one-woman show "Ms. Story's Living History