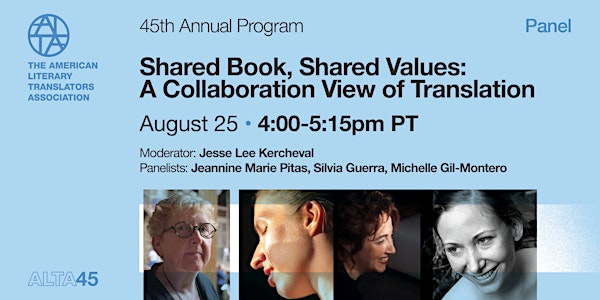 Shared Book, Shared Values: A Collaboration View of Translation
Use this page to purchase tickets for the ALTA45 panel "Shared Book, Shared Values" on August 25 from 4:00 to 5:15pm Pacific Time!
Refund Policy
Contact the organizer to request a refund.
Eventbrite's fee is nonrefundable.
About this event
Shared Book, Shared Values: A Collaboration View of Translation
Translation and translation publishing historically have involved a series of disconnections rather than connections, with "invisible translators" employed by publishers to translate work of authors they may never meet or even speak to. This panel, which features Uruguayan poet Silvia Guerra, co-translators Jesse Lee Kercheval and Jeannine Marie Pitas, and her Eulalia Books publisher Michelle Gil-Montero, will explore an alternative model, one that values personal connection, sees translation as a collaborative act between a poet, translators, editor. We will discuss both process and the values that were important throughout the translation of Guerra's A Sea at Dawn: curiosity, growth, humor, teamwork, and friendship.
Attending the Panel
Remember that if you have already paid for an ALTA45 All-Access Registration, you can use the promo code sent to your email to sign up to attend this event at no additional charge. If you are interested in purchasing an ALTA45 Registration to access all our events this year, you can do so at this link.
ALTA members receive 20% off of all tickets and registration using the member promo code. If you need your code, please search your email for "ALTA member promo code" or write to info@literarytranslators.org.
To use your 20% off ALTA member promo code or the 100% off promo code you received when you registered for an all-access pass, click "Tickets" in the event you want to sign up for, then input the code at the top of the list of tickets where it says "Enter promo code" in blue (for reference, see the screenshot at the very bottom of this page). Be sure to click "Apply," and you'll see the price change.
This event will be captioned using Zoom's automatic transcription feature.
All participants in ALTA's 2022 programming agree to abide by and uphold ALTA's Terms and Conditions and Code of Conduct. Email info@literarytranslators.org with questions.
Panelists
Jesse Lee Kercheval (moderator) is a writer and translator, specializing in Uruguayan poetry. Her translations include Love Poems by Idea Vilariño and The Invisible Bridge: Selected Poems of Circe Maia, for which she awarded an NEA in Translation, both from the University of Pittsburgh Press. She is the Zona Gale Professor Emerita at the University of Wisconsin-Madison.
Jeannine Marie Pitas's translations of the Uruguayan poet Marosa di Giorgio include The History of Violets and I Remember Nightfall, and Carnation and Tenebrae Candle. Her other translations include We Do Not Live In Vain (Veliz Books, 2020) by Uruguayan poet Selva Casal. Her co-translation, with Jesse Lee Kercheval, of A Sea at Dawn by the Uruguayan poet Silvia Guerra is forthcoming from Eulalia Books.
Silvia Guerra (1961, Maldonado, Uruguay) is an Uruguayan poet, critic and editor. Her selected poems Un mar en madrugado / A Sea at Dawn, translated by Jesse Lee Kercheval and Jeannine Pitas, is forthcoming from Eulalia Books.
Michelle Gil-Montero translates contemporary Latin-American poetry, fiction, and criticism. Her work has been supported by an NEA Literature Fellowship in Literary Translation, a Howard Foundation grant, a PEN/Heim Translation Fellowship, and a Fulbright US Scholars Grant. She teaches at Saint Vincent College in Latrobe, Pennsylvania.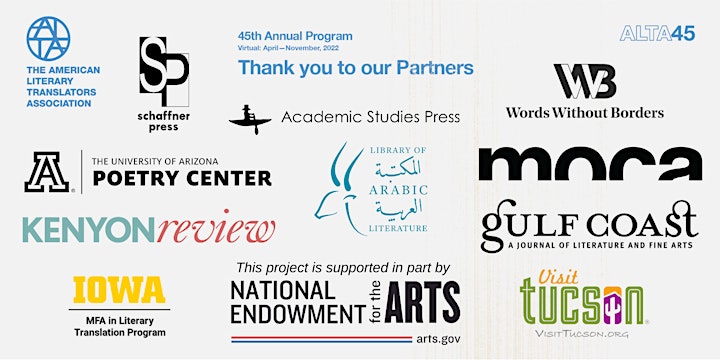 Put in your member promo code or all-access registration code after clicking "Tickets," as shown in this screenshot: