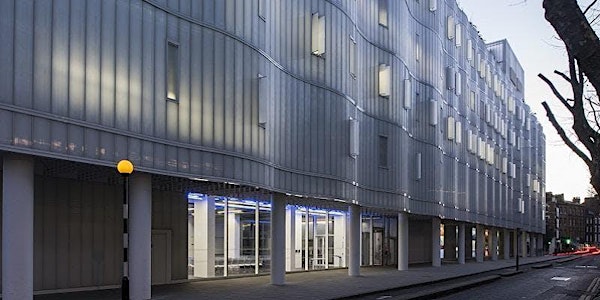 Share the Future
When and where
Location
Sainsbury Wellcome Centre for Neural Circuits and Behaviour 25 Howland Street London W1T 4AY United Kingdom
Description
Share Ideas | Share Research | Share the Future
Claire Steves, Danbee Kim and Stephen Oram have a lot to say about sharing the future and would like you to join them in the conversation.
"Openness and lack of secrecy in research reduces the chance that good ideas are only exploitable by private entities." Claire Steves.
"Hard-working humans who acknowledge how subjective, how painstakingly slow, how human the endeavour of building, organising and sharing knowledge is and needs to be – that will be the beginning of solving our problems, and the first step for anyone who truly wants to be curious." Danbee Kim.
"The Future is ours and it's up for grabs..." Stephen Oram.
Claire, Danbee and Stephen will each give their perspective and there will be plenty of time for audience questions (and answers).
Stephen will be reading from his new collection, Biohacked & Begging and Danbee will be launching her graphic novel The First VIRS.
"Both Kubrick's exhibition and Oram's collection should set the rest of us thinking about science and its possible repercussions." Chris Nuttall, The Financial Times [from a recent interview with Stephen and Danbee]
Contributor Biographies
Claire Steves is Deputy Director (Clinical) for TwinsUK. She is a Consultant Geriatrician at Guys and St Thomas's NHS Foundation Trust as well as a Clinical Senior Lecturer at King's College London. Claire is interested in the interactions between physical and mental health in ageing. Her current research focuses on the relationship between the gut, urinary and salivary microbiome and conditions of ageing, including cognitive ageing, frailty and multi-morbidity.
Danbee Kim compares the evolution of brains across different species, such as cuttlefish (an invertebrate capable of fast and active camouflage) and humans. Her research in human knowledge-building explores the power of art to help experts across specialities collaborate and share insights. She also studies how neuroscience research and science communication impact both our daily interactions and the shapes of our societies.
Stephen Oram writes social science fiction and enjoys working collaboratively with scientists and future-tech people - they do the science he does the fiction. Eating Robots: Nudge the Future Vol 1 was described by the Morning Star as one of the top radical works of fiction in 2017. Biohacked & Begging: Nudge the Future Vol 2 was published in April 2019.
About the Venue
The Sainsbury Wellcome Centre is creating an environment with exceptional infrastructure and facilities that deliver new technologies, facilitate discovery and foster scientific interactions, supported by excellent administrators and technical staff.