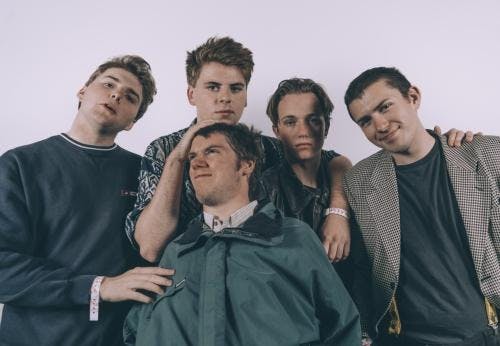 About this Event
$12 (ADV), $14 // 21+
--------
Since starting out as school boys, this five-piece band has become notorious for stealing every stage with the outrageous, jaw-dropping performances that have become the SHAME signature. Their riotous two-year journey has included gate-crashing a Glastonbury stage, supporting The Fat White Family, Warpaint and Slaves, performances in Europe, Austin Texas, a nomination for best new artists at the prestigious Anchor awards, headlining their own UK tour and releasing the double A-side single, Gold Hole/The Lick and follow-up, Tasteless.
Montreal's CORRIDOR take familiar elements but assemble and scramble them in a way you may not have heard before. There's a twin-guitar interplay that recalls the late-'70s mutant new wave of XTC, The dB's and The Feelies, with a sense of melody that shows a love of '60s psychedelia and sunshine pop. Putting a hometown twist on things, CORRIDOR sing entirely en français. Don't let that put you off though: the creativity and abundance of killer tunes found on their acid-baked 2017 album Supermercado breaks through the language barrier. CORRIDOR are even better live, with a real joie de rock that knows no borders — guitars slash, harmonies soar, bodies a constant blur.
One could describe Chicago punk band C.H.E.W. as spazzy hardcore or perhaps post-punk, but whatever you decide to define the intense four-piece, you cannot deny them their definite talent. Despite being still new to the scene, being formed in only 2015, and their lack of a full-length LP, the raw instrumentation and enamoring lyricism of the band continuously garners new listeners. C.H.E.W.'s flexible sound and genre-bending talent promises them a successful future and has fans eagerly anticipating the newest release out sometime this year.