A virtual artist talk occurs Friday, April 30, 6pm PT, with guest speaker Dr. Sarah Cooley, Director of Climate Science at Ocean Conservancy
About this event
A virtual artist talk occurs Friday, April 30, 6pm PT, with guest speaker Dr. Sarah Cooley, Director of Climate Science at Ocean Conservancy. Additional exhibitions from artists Sküt, with Deep and Wild, and Douglas Teiger, with Spectrum, also exhibit at TAG.
Rediscover the beauty of our coastal waters with sculptor Justin Prough's Shallows. Inspired by the spiraling shells, alien bones, and sea-weathered driftwood collected with his children along the world's beaches, the artist creates a potential future that considers a shared ecology between man and mollusk.
"Humanity's chemistry experiment is reshaping Earth's air and water, more quickly than at any other time in our planet's history," states Prough, a long-time coastal resident and surfer. "Decades of fossil fuel burning, and other man-made air pollutants are carried by winds and mixed into coastal waters causing chemical reactions that threaten vast coastal ecosystems."
In Shallows, Prough's assemblage pieces use seashore debris to craft fantastic, fine art seascapes. Concerned with the ecology behind his creations, Prough catalogued the artifacts, noting the location and species of each find. Art and science became an instructional and informative tool for the artist as Prough made many of his discoveries with his son and daughter. Ocean acidification is a primary focus for the show, as many of the found shells used in each sculpture are endangered by continued sea temperature and chemistry changes.
"I dream of a time where we once again live in harmony with nature," continues the artist. "My sculptures imagine future seascapes and whimsical, biomechanical structures as a way to connect us to our present world and encourage change for a better tomorrow."
Shallows, a solo fine art exhibit from Prough, displays at TAG Gallery in Los Angeles, April 13-May 8.
About the Speakers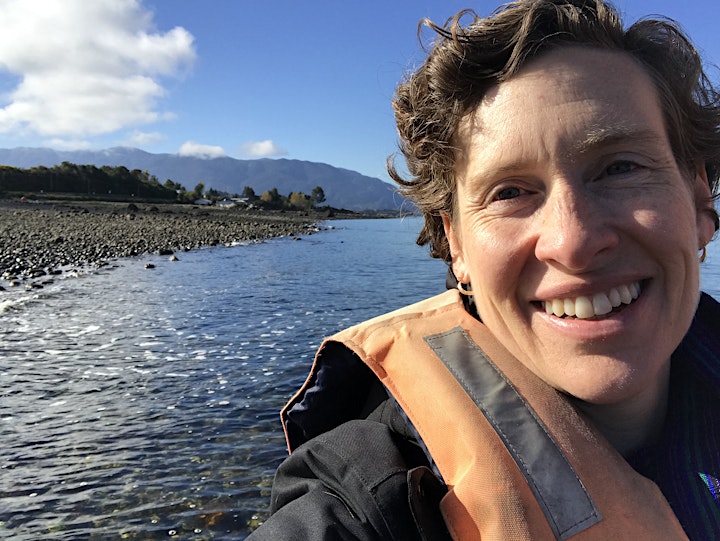 Dr. Sarah Cooley | Director, Climate Science at Ocean Conservancy
Chemistry has always just made sense to Sarah. Atoms fit together like building blocks, and then they make something new. But the thought of spending her life in a laboratory surrounded by bubbling mixtures wasn't appealing. She'd rather be on a boat, or maybe, writing a book. Sarah found her way to the sea, but not quite on a boat, when one day, she realized that the ocean was full of chemicals, both natural and man-made, and there was still a whole lot left to learn about Earth's final frontier. She went to graduate school to become an ocean carbon cycle expert. Along the way, she learned how to talk to people about science and found she had a knack for making ocean issues clear to all types of people.
After spending several years as an ocean carbon cycle researcher, mostly at Woods Hole Oceanographic Institution on Cape Cod ("the oceanographic institution on the mainland," to the Jaws fans out there), Sarah wanted a chance to work at the border between science and policy. Instead of doing scientific research and hoping someone would pick it up and use it, she wanted to help bring new science directly into policy that would create action and positive change for the ocean. So she moved to Ocean Conservancy, where she does that work every day. She also gets to write about science and decode its mysteries for people who don't see the secret logic of chemistry the same way she does.
As Director of Climate Science at Ocean Conservancy, Sarah combines her science and communication skills to educate and engage decision-makers and stakeholders from every political perspective on ocean acidification, identifying ways that different groups can take action. Her goal is to show that this issue is relevant and impacting people today in order to gain long-term support to protect communities, cultures and livelihoods from the threat of ocean acidification.
Sarah is currently a Coordinating Lead Author on Working Group II of the IPCC's 6th Assessment Report, and has recently served as Review Editor on the 4th National Climate Assessment, and Lead Author on the 2nd State of the Carbon Cycle Report, as well as the author of dozens of peer-reviewed scientific journal articles in high-impact journals including Science and Nature Climate Change.
To learn more about Sarah's work and the work of Ocean Conservancy, click here.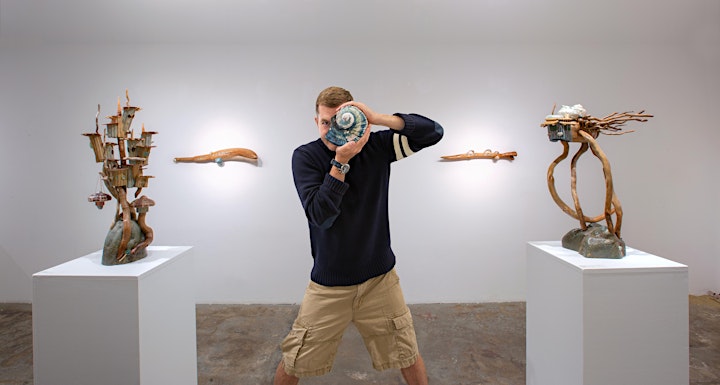 Justin Prough | Artist
Justin Prough is a Los Angeles based artist who's work reflects the struggle between sunny days, good waves and the environmental & political unrest of our times. Telling visual stories by connecting ideas with materials and processes drives his practice. Prough's work has been exhibited in California and in private collections across the U.S.
"I fancy myself a scavenger," explains Prough. "A scavenger of materials, moments and ideas, who looks to forge beauty and meaning from their juxtaposition. I hope these juxtapositions ignite puzzled smiles and conversation around social and ecological complacency and their ramifications."
To learn more about Justin's art click here, and for his latest exhibit click here.
Where to See the Exhibit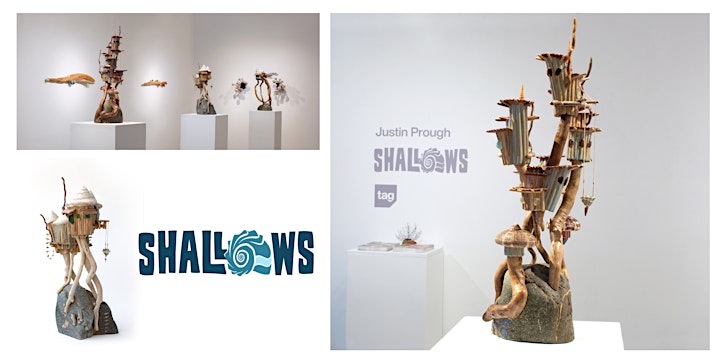 Shallows, a Solo Exhibition by Justin Prough
Open now – May 8th
Tag Gallery
5458 Wilshire Blvd, Los Angeles, CA 90036
11am - 5pm, Tue-Sat
Organizer of Shallows: Surf and Science Collide