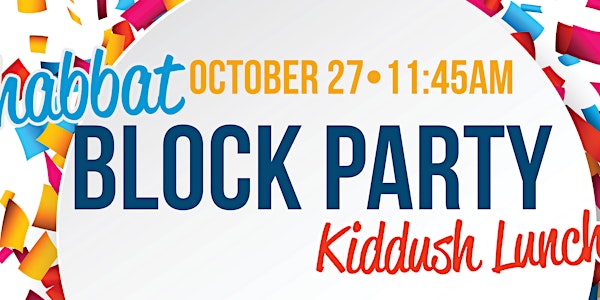 Shabbat Block Party 2018!
When and where
Location
1855 Lavista Rd NE 1855 Lavista Road Northeast Atlanta, GA 30329
Refund Policy
Contact the organizer to request a refund.
Description
Join the Toco Hills Jewish community for a mega-Shabbat Block Party Kiddush Luncheon!
No cost; please consider being an event sponsor on any level!
Event Sponsors
Partner ($54+)
Bijan & Janet Afrah
Levi & Aliza Afrah
Jacquelyn Allen
Cliff & Lauri Alsberg
Arlene Appelrouth
Sandra Banks
Larry & Deborah Beck
Mira Bergen
Chaim & Hadas Bernstein
Larry & Eleanor Bogart
Rabbi Yehuda & Devora Borooson
Dr. Lee & Mindy Caplan
Beryl & Deborah Cohen
Jeff & Faith Cohen
Harriet Cortell
Rabbi Jake & Chani Czuper
Jonathan & Dinah Farazmand
Carole Feinberg
Rabbi Ilan D. & Miriam Feldman
Joey & Kay Fink
Dr. Mark & Barbara Fisher
Nataly & Seth Fleishman
Keren Fisher & Benjamin Flusberg
Rabbi Dov & Rivka Foxbrunner
Nachi & Jennifer Friedman
Yisrael & Sheva Frenkel
Reuven & Pamela Gartner
Rabbi Dr. Moshe & Michelle Goldfeder
Gottleib & Safier Families
Deborah & Sanford Hartman
Elan & Yelena Hertzberg
Moshe & Penina Hoch
Emily Hoffman
Scott & Pesha Izenberg
Robert & Isabelle Jeter
Jeff & Adina Jagoda
Neil & Marcy Kalnitz
Alan Minsk & Julie Kaminsky
Mark & Karen Kaplan
Micah & Eliana Katz
Yechezkel & Odelia Khalili
Lynn & Ed Koffsky
Deena Koniver
Mordechai & Rona Lavian
Dr. Ari & Adina Leifer
Jonathan & Davida Levin
Dr. Allen & Judy Lipis
Seth Lynn
Matan & Galia Magen
Neal & Gail Mandelbaum
Michael Mann
Sandra Meltzer
Pete & Leslie Morris
Soad Naghi
Rabbi Yale & Rickelle New
Dr. Shimon & Emily Oami
Yossi & Jill Ovadia
David & Evi Reznick
Rabbi Israel & Susan Robinson
Gillian Rosenberg
Rabbi Avram & Shira Rubin
Avraham Samber
Allan & Roberta Scher
Rabbi Norman & Lydia Schloss
Rabbi Zvi & Chana Shapiro
Drs. Gerald & Cynthia Shulman
Rabbi Adam Starr & Talya Gorsetman
Shlomo & Elisheva Storch
Michael & Mindy Tanenbaum
Rabbi Yitzchok & Russy Tendler
Alex & Natasha Vayner
Dr. Josh & Michelle Winer
Eliyahu & Britt Wolfe
Patron ($180+)
Anonymous
Bruce Berger
Hillel Glazer & Ellie Schainker
Avi & Tamar Gris
Rick & Robin Halpern
Scott Italiaander
Chuck & Leslie Lowenstein
Hunter & Stacey McGhee
Dr. Nisson & Helene Shleifer
Advocate ($360+)
Judah & Jessica Greenberg
Yisrael & Chava Herscovici
Leader ($540+)
Jack & Pam Williams
Steward ($1000+): includes reserved table
Pillar ($1800+): includes reserved table
Innovator ($2500+): includes reserved table
Visionary ($3600+): includes 2 reserved tables
Gold Sponsor ($5400+): includes 2 reserved tables
---
Community Hosts
Congregation Beth Jacob
Young Israel of Toco Hills
Torah Day School of Atlanta
Atlanta Jewish Academy
Cong. Ner Hamizrach
NCSY
Netzach Israel
Atlanta Scholars Kollel
MEOR at Emory University
New Toco Shul
Chabad of Toco Hills
---
Commercial Sponsors
---
Be a volunteer! http://signup.com/go/Qdq2iL
This event is part of the world-wide Shabbat Project initiative. For other Atlanta events, see: http://atlanta.theshabbosprojectusa.org/
Frequently Asked Questions

Q. Is this a stand-up Kiddush or sit-down lunch?

A. We will have table and chair seating for over 750 guests, so there should be plenty of room for everyone. Bring your entire family and your guests!

Q. Can we count on the Shabbat Block Party for our Shabbos lunch?
A. A wide array of Shabbos lunch foods will be served, from challah rolls and salads to vegetarian and chicken dishes. Thanks to a slew of business and private sponsors (including hopefully yourself!), we hope to ensure everyone enjoys a satisfying Shabbos meal.
Q. What should I do with all the money I set aside to go food shopping for Shabbos?

A. That's easy - Buy a "share" in the Shabbat Block Party! (www.shabbatblockparty.com)
Q. I am elderly or have special needs and will need help with finding a seat at the Block Party. Can you help?
A. Sure! Please send us an email at tocohillscommunity@yahoo.com and we'd be glad to help!