SFSFW Fashion Exchange "Be a Runway Model" Bites & Drinks!
Description

Treat yourself to an organic fruits and brunch bites and enjoy the company of other fashion conscious women!

Thank you to our Sponsors:
Organic Tequila Suave & Tequilcelo
SilkRoll.com
Drink The Wink
DittoHangers.com
Alta Cuisine
F.O.B. Kitchen




Must be 21+ to attend.
*Update* Our hearts go out to everyone who has been affected by the Northern California fires, and in an effort to support our community, we are donating from the ticket proceeds to the Red Cross organization, so that they can continue their critical work of saving people's lives.
In the face of recent tragedies such as this, let's come together as a unified community to enjoy a day that makes a difference in the lives of others. We will be a donation center during the event.
Attendees are encouraged to bring 3 or more gently used garments and/or accessories for the clothing exchange. SilkRoll.com will allocate a points system, providing a fair exchange system for women to "shop" and refresh their closet. The more high quality clothes you bring, the more points you'll get to exchange!
After the exchange, women will have the opportunity to be a "runway model" and rock their new outfit on the catwalk. A hair and makeup artist will be on site. Professional photographer and videographer will also be on site. This event will be featured in the SFSFWI TV Production at KRON4.
SilkRoll is donating the proceeds from the point exchange to a nonprofit organization supporting Human Trafficking due to sweatshops in the fashion industry!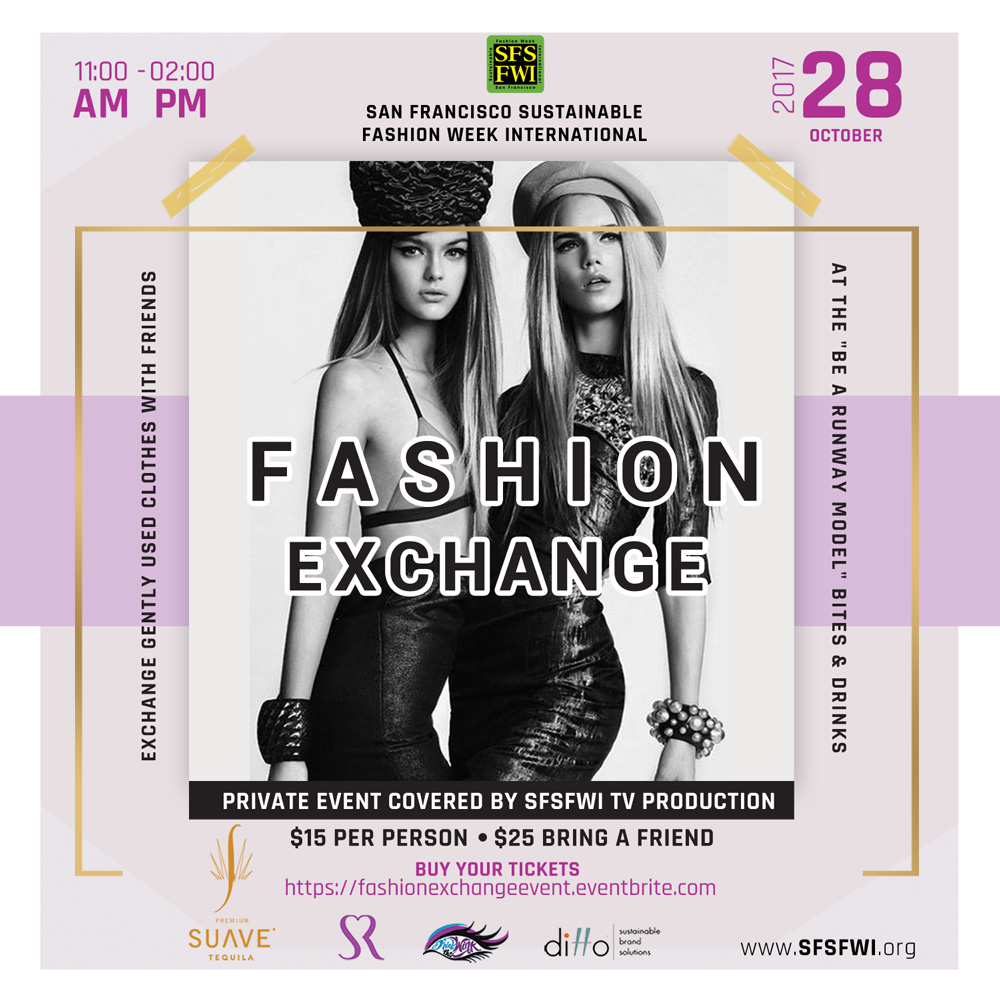 E V E N T S C H E D U L E

11:00 AM W E L C O M E
Complimentary new flavor tequila...Tequilcello with club soda and organic basil leaves from Award-Winning Organic Suave Tequila. Refreshing and tasty!

11am -12pm Drop off & Collection Time by S i l k R o l l
SilkRoll is the world's only online exchange for high-end women's fashion using a points earning system denoted as Qs. Bring a bag full of beautiful items, clothes, bags, shoes, jewelry and exchange!
Time to Refresh Your Closet! SilkRoll.com

11:00AM -12:30PM Enjoy the rooftop brunch, which will feature fresh, hot, and crispy Shanghai Lumpia from "best new restaurant" F.O.B. Kitchen, voted by SF Guardian Best of the Bay.
There will also be light healthy bites and organic fruit for your snacking enjoyment. Some items: Sockeye salmon rolls, croissant sandwiches, veggies with an assortment of dips to choose from. Refreshing natural alcohol-free drink "mocktails" will be provided from Drink The Wink. Drink The Wink's tempting flavors are French Kiss and Vampire Bite; try them both!

12:30PM -1:30PM Fashion Exchange begins...
Gather your points and get your new wardrobe! Have fun choosing from a diverse and unique collection, and get ready for your runway time and photo shoot!

1:30PM - 2:00PM "Be a Model" Runway! Covered by SFSFWI TV Production
Guests can volunteer to be styled to walk the RUNWAY!
You could choose to be recorded, featured and interviewed by SFSFWI TV Production highlighting the Fashion Exchange experience.

SFSFWI TV Production has guest-speakers that will add informational value at the event!
Note that ticket price is ALL INCLUSIVE:
Healthy Brunch, F.O.B. Kitchen snacks, Complimentary Tequilcello at your arrival, garment exchange, Organic Suave Tequila tasting, All natural Alcohol-Free drinks from "Drink the Wink", casual styling, & runway photographs!


** Event will be recorded and featured by SFSFWI TV Production in November on KRON4.
IMPORTANT:
By buying your tickets, you give permission to publish and release all images, sound and interview's rights to SFSFWI TV Production, SFSFWI.org and iGreen Media Group.


For SFSFWI TV Production opportunities, connect with Kyle@SFSFWI.org
T H A N K Y O U !
SFSFWI Team
info@sfsfwi.org
Event is produced by iGreen Media Group and SFSFWI's Team!