SFPLA Fundraising Event: Q&A with Sandor Katz, Fermentation Revivalist

Saturday, May 14, 2016 from 4:00 PM to 5:30 PM (PDT)
Event Details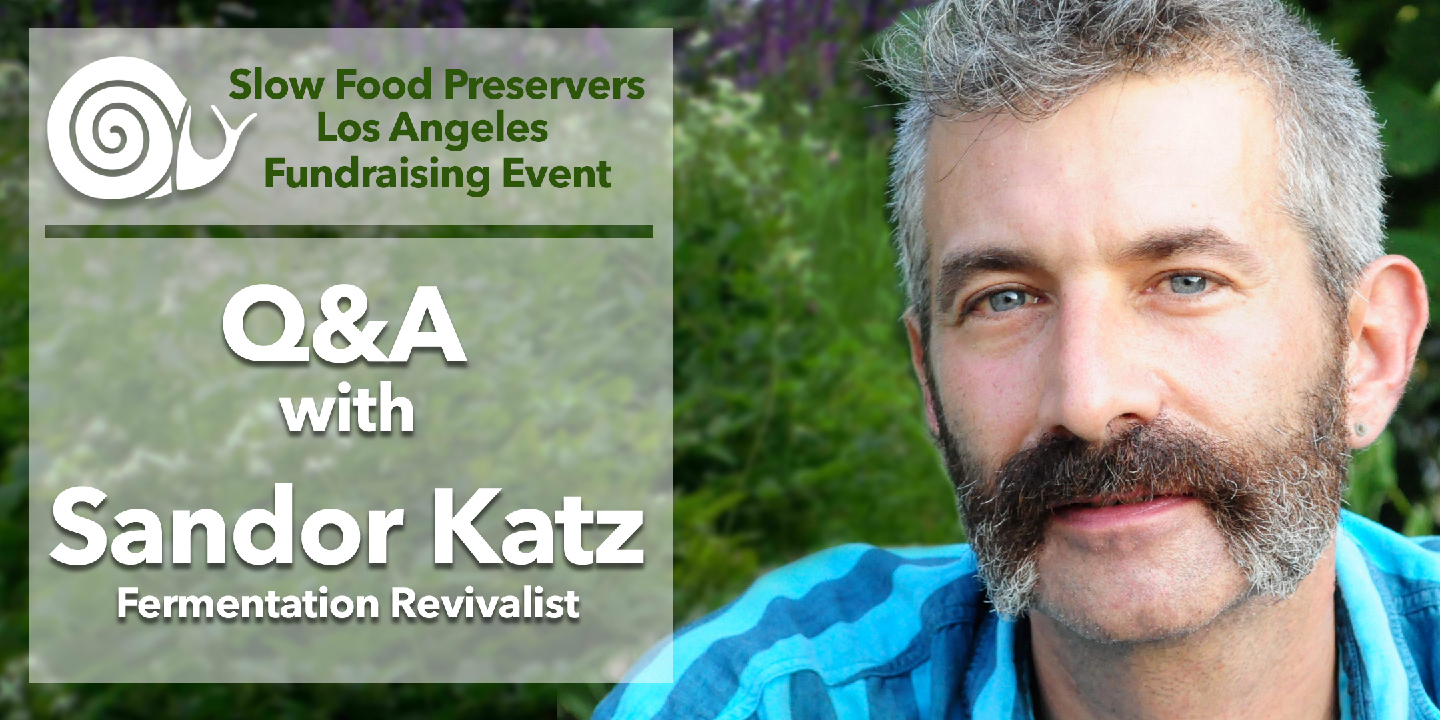 Slow Food Preservers Los Angeles Present:
A Fundraising Event
Q&A with Sandor Katz, Fermentation Revivalist
Slow Food Preservers Los Angeles welcomes you to our May Fundraiser. Join us for wonderful evening and intimate discussion with Sandor Katz, fermentation revivalist. 
Since 2003 when his book "Wild Fermentation" was published, Mr. Katz has taught hundreds of workshops demystifying fermentation and empowering people to reclaim this important transformational process in their kitchens. 
The New York Times calls Sandor Katz "one of the unlikely rock stars of the American food scene." His latest book, The Art of Fermentation (2012), received a James Beard award and was a finalist at the International Association of Culinary Professionals. The Southern Foodways Alliance honored Katz with their Craig Claiborne Lifetime Achievement Award.
He has presented workshops in most of the states of the U.S., as well as Mexico, Canada, Costa Rica, Ecuador, England, Scotland, Ireland, Australia, New Zealand, Italy, Belgium, Sweden, Norway, Denmark, Indonesia, and India. Venues have included universities, museums, libraries, farms, farmers' markets, conferences, bookstores, festivals, and community spaces.
Submit Your Questions to Sandor
All are welcome and encouraged to submit questions for Sandor. You may submit your questions when you register for this event – during the registration process you'll have a change to write in a submission. OR — you can click here to submit them via form. 
About Sandor Ellix Katz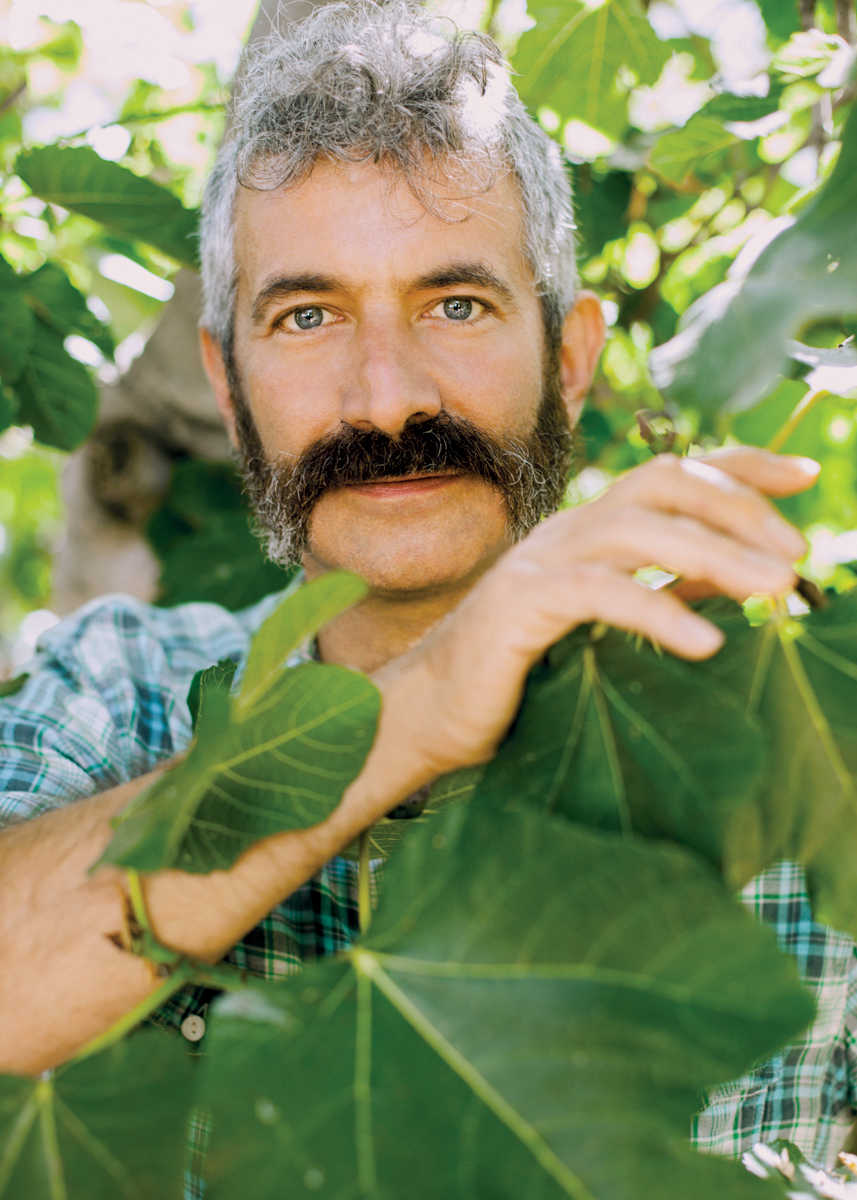 My name is Sandor Ellix Katz, and I am a fermentation revivalist. My interest in fermentation grew out of my overlapping interests in cooking, nutrition and gardening.
It started with sauerkraut. I found an old crock buried in our barn, harvested cabbage from our garden, chopped it up, salted it, and waited. That first kraut tasted so alive and powerfully nutritious! Its sharp flavor sent my salivary glands into a frenzy and got me hooked on fermentation. 
I have made sauerkraut ever since, earning the nickname Sandorkraut, even as my repertoire has expanded. I have explored and experimented widely in the realm of fermentation, and my mission is to encourage home fermentation experimentalists and propel more live-culture foods out into our culture.  
I am a native of New York City, a graduate of Brown University, and a retired policy wonk. In 1993, I moved from New York City to Cannon County, Tennessee.
The Art of Fermentation:
An In-Depth Exploration of Essential Concepts
and Processes from Around the World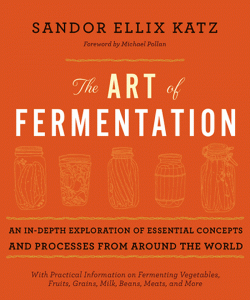 by Sandor Ellix Katz, Foreword by Michael Pollan
With practical information on fermenting vegetables, fruits, grains, milk, beans, meats, and more…
The Art of Fermentation is the most comprehensive guide to do-it-yourself home fermentation ever published. Sandor Katz presents the concepts and processes behind fermentation in ways that are simple enough to guide a reader through their first experience making sauerkraut or yogurt, and in-depth enough to provide greater understanding and insight for experienced practitioners.
Purchase The Art of Fermentation Here NOW to bring to the event and have Sandor Sign it!
Sandor's Website: Wild Fermentation
Facebook: https://www.facebook.com/sandor.katz
Social Media:
@SFPLA
#SFPLA
@SandorKraut
Slow Food Preservers Facebook Page
When & Where

Le Cordon Bleu College of Culinary Arts
530 East Colorado Boulevard
Pasadena, CA 91101


Saturday, May 14, 2016 from 4:00 PM to 5:30 PM (PDT)
Add to my calendar
Organizer
Slow Food Preservers Los Angeles
Our mission is simple. To celebrate good, clean, wholesome food. We are the food preservation specialists for Slow Food LA. Our volunteers, known as Slow Food Preservation Advisors, are a group of dedicated individuals who have received special training in food preservation techniques. These volunteers generously donate their time and talents, and teach food preservation techniqchef ernie miller teaching classues to many groups at at many venues all over Southern California.
Our volunteers teach classes at the special events, such as the Los Angeles County Fair and the Orange County Fair. We are currently teaching a series of classes at several locations in Los Angeles County, and we are available to conduct demonstrations for Farmer's Markets, festivals, churches and synagogues, libraries, schools, clubs, and special events.
If you would like to set up a food preservation demonstration for your organization or arrange for one of our Slow Food Preservation Advisor volunteers to teach a class for your event, please contact us at: preservers@slowfoodla.com
SFPLA Fundraising Event: Q&A with Sandor Katz, Fermentation Revivalist