Description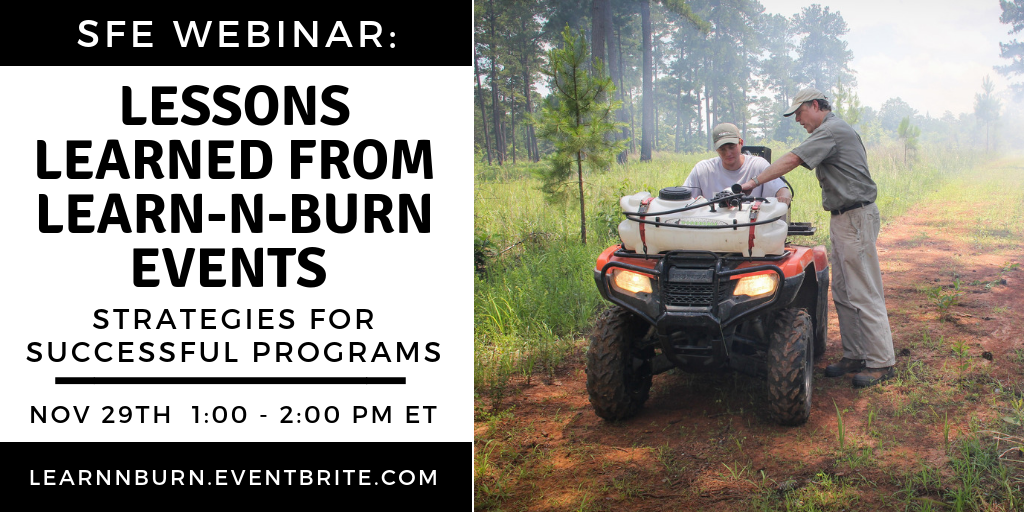 Models for Hosting Learn & Burn Events: Moving Landowners from Interest to Action
A free one hour webinar from SERPPAS, North Carolina State University, the Southern Fire Exchange and the University of Florida.
Thursday, November 29th, 2018 1:00 - 2:00 PM ET
Presenter:
Jennifer Fawcett, North Carolina State University and SERPPAS
Bobby Clontz, The Nature Conservancy
---
Webinar Description: "Learn and Burn" workshops are an excellent way for private landowners and others to gain hands-on burning experience and knowledge from expert mentors. This webinar will provide some lessons learned from coordinating these events, and tips to putting one on in the future. Participants will be provided with a template checklist, examples of past agendas, ideas for potential partners and funding opportunities, suggestions on how to measure program impact, and successes from past events. Are you thinking of planning one of these events? Check out the Learn and Burn planning resources here: https://research.cnr.ncsu.edu/blogs/southeast-fire-update/learn-burn-workshops/.
Click here to check out our other upcoming Southern Fire Exchange fire science webinars.
---
Event Registration: Pre-registration for the webinar is required. Once registered, participants will receive an Eventbrite Ticket email containing the Zoom webinar link. On the day of the webinar, click the link to join the meeting.
---
Webinar Requirements: A reliable internet connection and speakers / headphones are required to participate. Webinar audio will be broadcast directly to your computer and may be available via a call in number. See registration email for more details. Webinar participants do not need a microphone or video camera. See the Zoom Help page for more information about the Zoom webinar plateform requirements (https://support.zoom.us/hc/en-us).
---
Webinar Recording: If you can't make the webinar, look for the recording to be posted on the Southern Fire Exchange YouTube Webinar Archive.
---
Contact Us: If you have questions about this webinar, contact the Southern Fire Exchange (contactus@southernfireexchange.org).
Organizer of SFE Webinar: Lessons Learned from Learn-n-Burn Events
The Southern Fire Exchange is a regional wildland fire science communication program and a member of the national Fire Science Exchange Network, funded by the Joint Fire Science Program. 

Representing 11 southern states, we work with numerous partners throughout the region to increase the use of available fire science, facilitate discussions about the relevance of research results and future research needs, and connect fire managers and researchers. 

We share fire science research results and information with natural resource managers, landowners, and scientists by offering a variety of resources and events: 
  • Newsletters, fact sheets, and research briefs 
  • Webinars, live and archived for viewing at anytime 
  • Workshops and field tours throughout the Southeast