SFE Webinar: Don't Fear the Fire - Using Prescribed Fire to Build Resilienc...
Description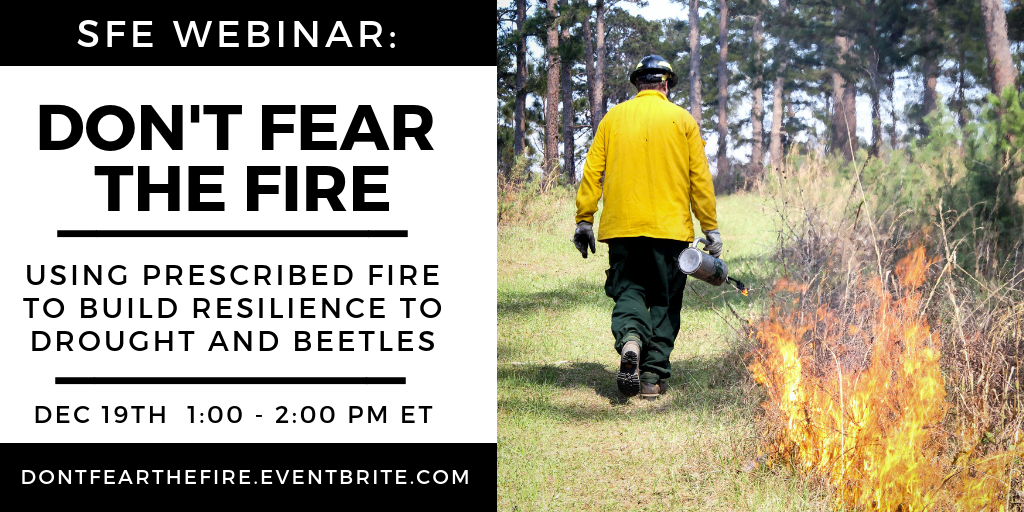 Don't Fear the Fire: Using Prescribed Fire to Build Pine Forest Resilience to Drought and Beetle Attack
A free one hour webinar from the Southern Regional Extension Forestry, the U.S. Forest Service Southern Research Station, Clemson University, the Southern Fire Exchange, and the University of Florida.
Wednesday, December 19th, 2018 1:00 - 2:00 PM ET
Presenters:
Dr. David Coyle, Clemson University
Dr. Joe O'Brien, U.S. Forest Service Southern Research Station
---
Webinar Description: Some forest managers have had concerns that prescribed burning after drought will stress mature pines, and increase their susceptibility to beetle attack. However, this concern resulted in many missed opportunities for applying fire after a recent drought abated, as not burning was seen as the conservative option. The best science indicates the opposite is true: that regular prescribed burning lowers pine drought stress through control of hardwoods that compete for water. Also, regular burning creates a forest structure that can interfere with beetle communication and mating success. Following the webinar there will be time for audience Q/A with the speakers.
Click here to check out our other upcoming Southern Fire Exchange fire science webinars.
---
Event Registration: Pre-registration for the webinar is required. Once registered, participants will receive an Eventbrite Ticket email containing the Zoom webinar link. On the day of the webinar, click the link to join the meeting.
---
Webinar Requirements: A reliable internet connection and speakers / headphones are required to participate. Webinar audio will be broadcast directly to your computer and may be available via a call in number. See registration email for more details. Webinar participants do not need a microphone or video camera. See the Zoom Help page for more information about the Zoom webinar platform requirements (https://support.zoom.us/hc/en-us).
---
Webinar Recording: If you can't make the webinar, look for the recording to be posted on the Southern Fire Exchange YouTube Webinar Archive.
---
Contact Us: If you have questions about this webinar, contact the Southern Fire Exchange (contactus@southernfireexchange.org).
Organizer of SFE Webinar: Don't Fear the Fire - Using Prescribed Fire to Build Resilience to Drought and Beetle Attack
The Southern Fire Exchange is a regional wildland fire science communication program and a member of the national Fire Science Exchange Network, funded by the Joint Fire Science Program. 

Representing 11 southern states, we work with numerous partners throughout the region to increase the use of available fire science, facilitate discussions about the relevance of research results and future research needs, and connect fire managers and researchers. 

We share fire science research results and information with natural resource managers, landowners, and scientists by offering a variety of resources and events: 
  • Newsletters, fact sheets, and research briefs 
  • Webinars, live and archived for viewing at anytime 
  • Workshops and field tours throughout the Southeast