Actions and Detail Panel
SF Data Science - Intro to Python for Data Science
Mon, December 12, 2016, 6:00 PM – 9:00 PM PST
Description
**Note: Maximum Attendance 150; first come first serve
What's this Python Session About?
Data scientists need to know how to code, and Python is the most useful and versatile programming language for doing data science.
In this practical data science Meetup, you'll learn foundational skills for adding Python to your data science and analytics toolbox. A professional instructor from GalvanizeU will guide you through analyzing data in Python by writing scripts and taking advantage of handy libraries, such as Numpy and Pandas. You'll leave this session equipped to write your own Python scripts to analyze data, and instructor recommendations about next steps to take on your pathway to data science.
Prerequisites:
This Meetup is for beginners and does not require prior programming experience.
Participants who are familiar with concepts of data analysis and statistics will be better equipped to apply their skills after the conclusion of this Meetup.
What You'll Learn:
• How to view and analyze data sets with Python
• How to write and run Python scripts
• Which libraries and packages are most useful for analyzing data in Python
• Why Python is a flexible, versatile language for doing data science
• Which resources you should next utilize to develop your skills
Meetup Schedule:
6:00 pm – Networking & Announcements
6:30 pm – Why Use Python for Data Science?
6:50 pm – Working with Python's NumPy, SciPy
7:50 pm – Working with Pandas (DataFrames)
8:30 pm – Statistical Analysis in Python
9:00 pm – Wrap-Up and Additional Resources
Meet Your Instructor: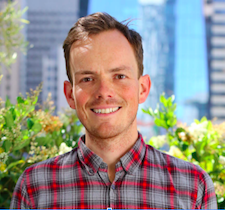 Isaac Laughlin teaches Data Science theory and practice as part of Galvanize's 12-week Data Science Immersive course. Prior to joining Galvanize he worked on industry-leading models for automotive price prediction at TrueCar.com, built Creds.me--a crowd-sourced platform for predicting the future, and was an RA at the Federal Reserve Board. He has a Masters Degree in Operations Research from the University of Wisconsin Madison.

About Galvanize:
Galvanize is the premiere dynamic learning community for technology. With campuses located in booming technology sectors throughout the country, Galvanize provides a community for each the following:
Education – part-time and full-time training in web development, data science, and data engineering
Workspace – whether you're a freelancer, startup, or established business, we provide beautiful spaces with a community dedicated to support your company's growth
Networking – events in the tech industry happen constantly in our campuses, ranging from popular Meetups to multi-day international conferences
To learn more about Galvanize, visit galvanize.com.