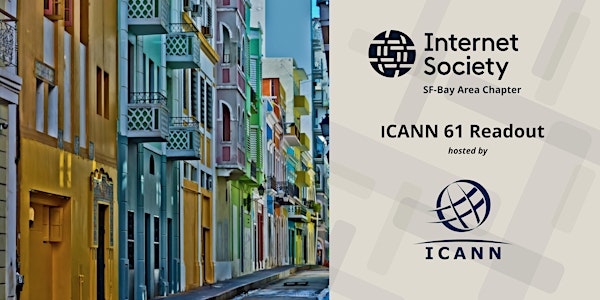 SF Bay Area ISOC: ICANN 61 Policy Readout, hosted by ICANN
Description
Join the SF-Bay Area Internet Society Chapter and the Internet Corporation for Assigned Names and Numbers (ICANN) for this exciting 'read-out' webinar. Grab a sandwich and put your lunch hour to good use by tuning into this informative and interactive online session.
***********
You can join the webinar via:
https://zoom.us/j/8026418252

Dial-In Numbers:
+1 929 436 2866
+1 669 900 6833
+1 877 369 0926 (Toll Free)
+1 877 853 5247 (Toll Free)

Meeting ID: 802 641 8252
***********

ICANN's Chris Mondini, Vice President, Global Business Engagement, and Joe Catapano, Stakeholder Engagement Program Manager, North America, will give a high level overview of the key policy discussions and community activities that took place at the recent ICANN 61 Community Forum Meeting (San Juan, Puerto Rico, 10-15 March 2018).
They will be talking about and answering your questions on the conversations stakeholders from all over the world had during ICANN 61 on a wide range of topics regarding the many aspects of the domain name system (DNS), critical Internet infrastructure, Internet policy development and Internet Governance, including:
- New gTLD Auction Proceeds Working Group
- The ICANN Budget
- Work from the Cross Community Working Group (CCWG) on Accountability
- Update from the Government Advisory Committee (GAC)
- General Data Protection Regulation (GDPR)
- Key-Signing-Key (KSK) Rollover
Chris and Joe will also talk about why you should care about the policies that affect the growth and development of the Internet and how you can get involved. We look forward to seeing you online on April 26!