Description
*****Our event is full. Please contact the facilitators for more information about other events.
Daily, we are bombarded wth social norms that tell us how we ought to be, act and perform and most of us are completely unaware of how they are shaping our behavior. These norms also influence how we behave sexually. Many of us hold beliefs about sex and what it "should" be like that are unhelpful, unsexy and sometimes even harmful to our relationships.
We invite you to join us for this 4 hour Sex as Meditation workshop where we will examine how these norms put us into boxes that may or may not fit us. We will bring mindful awareness to how we get trapped in these boxes and how this runs our lives in our self expression, our gender, our relationships and our sexuality. In this process we will gain awareness about how to start breaking out of these boxes in ways that are truest to ourselves and our hearts' desires.
This workshop does not include any nudity or explicit sexuality. All genders and sexual orientations welcome.
Workshop duration: 4 hours
Cost: $135
Things people are saying about our facilitators:
"HR and Keeley are wonderful facilitators. They provided a very safe and easeful environment to explore a sensitive subject such as sexuality. I enjoyed the workshop very much and would recommend anyone who wants to explore connecting with their body."
"Keeley and HR are a great team in delivering a comprehensive, stimulating, educational and transformative healing experience in a very safe, responsible, fun and nurturing way!"
"Thank you for this amazing experience, it had a very deep impact on me to be in such beautiful and diverse group. The most poignant part for me was the sharing with 'your desire is welcome here'. This touched me deeply to feel that I was seen and welcomed as a sexual being."
Check us out on Facebook: https://www.facebook.com/sexasmeditation
Our Facilitators!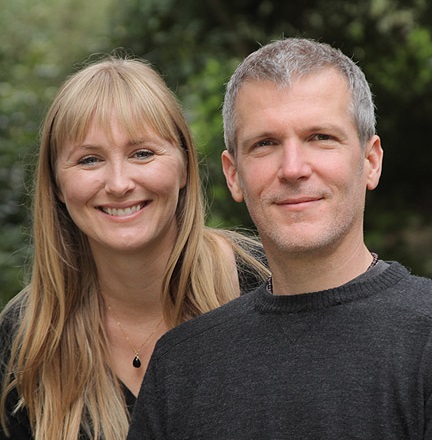 Keeley Rankin, MA
Certified Somatica® Practitioner
Keeley holds a Masters degree in Counseling Psychology, is certified as a queer conscioius educator and works closely with world renowned transpersonal psychotherapist, John Welwood. Keeley grew up loving to ride horses and did for many years. This gave her two advantages in life: the ability to understand the unspoken language of the body and the ability to use the body as a tool to communicate. These skills carry over into how she helps clients today; breaking through emotional and physical blocks to become a more full version of themselves. Learn more about Keeley.

H. R. Bremner, MSW
Certified Somatica® Practitioner
H. R holds Masters degrees in Social Work and Molecular Biology and has been on a path of self discovery for most of his adult life. Much of his learning has come from wrestling with his sexuality, spirituality and intimacy. Strong teachers have guided him through vision quests, retreats and ceremonies and he has learned much from clients since becoming a Somatica Practitioner in 2011. He recognizes the courage it takes to reclaim our truth and the wisdom he has gained through love, intimacy, sex and mindfulness to that end is what he now shares with others. Learn more about H. R. and Somatica.