Description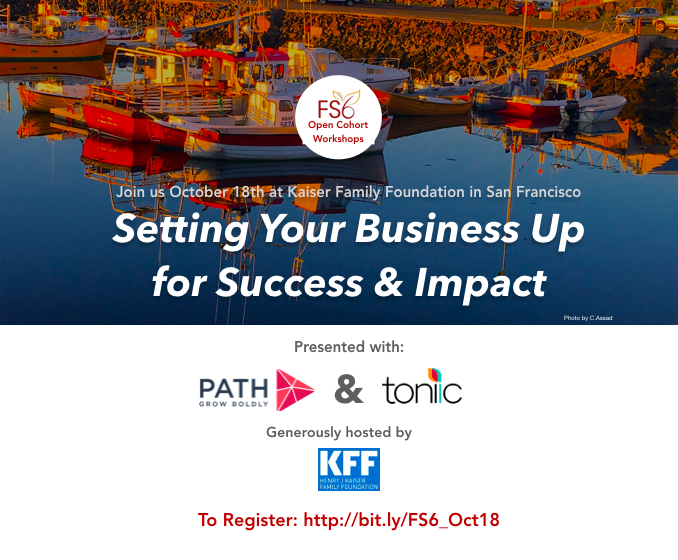 Calling all Early Stage Food System Entrepreneurs to join FS6 for an Open Cohort Workshop!
We invite all early stage food system entrepreneurs to join us at the Kaiser Family Foundation offices for this 1-day program designed to provide you with practical tools to effectively manage your vision for food system change. You will have the opportunity to network with other change agents, hear directly from investors, and learn from practitioners in the FS6 Accelerator ecosystem. Lunch will be provided.
About the Workshop:
Understanding how your organization delivers and captures value is a critically important skill for start-ups managing for business growth and social impact. Being clear about your value is a foundational requirement to succeeding in a competitive and fast-changing landscape. A session, presented by PATH, is designed for early-stage food system entrepreneurs to define their impact in those two key areas.

The program will focus on these four key takeaways:
1. Vision – Companies that stand the test of time are clear both about who they are today and what impact they want to make many years into the future. As the first step of the workshop, entrepreneurs will define the overall vision of their organization to use throughout the rest of the day.
2. Business Model Canvas – Describing and designing your business model is the next step in creating a strong foundation to scale. Equally important is taking those assumptions and challenging them through the lens of your vision to see where your organization can work better.
3. Success Metrics Scorecard – Enterprises will use their Business Model Canvas to both prioritize and balance key areas of impact as well as define what success looks like as the business grows.
4. Intro to Impact Evaluation – This segment, led by Toniic, will expose participants to impact evaluation frameworks and approaches to gain insights into how and when these tools can be applied to inform your business strategy.
Following these workshops, FS6 will host a panel and group discussion on financing your impact venture. You will hear a range of perspectives from across the capital landscape on topics such as impact investing and blended capital. To learn more about Blended Capital and our perspective on its role in scaling impact in the food system, please read this two-part series.
FAQs
What are my transportation/parking options for getting to and from the event?
The Kaiser Family Foundation office is located at 185 Berry Street in Suite 2000. Enter Lobby 1 from the alley between buildings and take the elevator to the second floor. The doors will open directly into our suite. When entering the property in the parking garage on the 3rd Street side of the campus, take the elevator up to the ground level and come out the elevator lobby to the courtyard. Take a right out of the courtyard doors and continue towards 3rd Street & the Giants Stadium. Lobby 1 is on the right. You will receive detailed directions via email, prior to the event.
What should I bring into the event?
Please bring any materials to facilitate your learning and light networking. The room will be set up with auditorium style seating.
How can I contact the organizer with any questions?
If you have specific questions, you can reach us at FS6@foodsystem6.org and we will try to respond in a timely manner. Please note that we may be unable to respond to all inquiries.
I'm not an entrepreneur, can I still attend?
This program is intended for early stage entrepreneurs. We encourage you to attend if you are currently starting or running a for-profit or non-profit food system enterprise. Other interested attendee categories may reach out to us at fs6@foodsystem6.org. We reserve the right to cancel and refund purchases without notice for anyone who does not meet the intended audience requirement.
Do you offer a discount?
As a non-profit, our flexibility is limited but we are able to offer limited Early Bird tickets on a first-come basis.