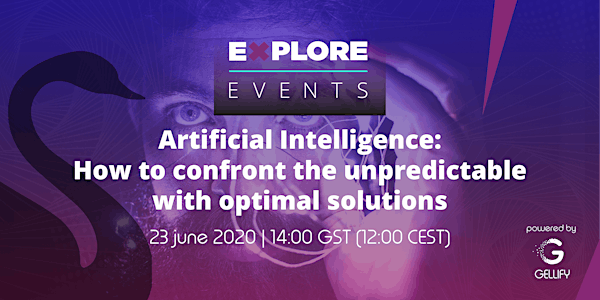 Session 9 - Artificial Intelligence : How to confront the unpredictable with optimal solutions
When and where
Location
Online Event https://us02web.zoom.us/webinar/register/WN_WB9kMF3uQqyOIlHqAQN9jg
Description
Hi there,
In response to the global Covid-19 pandemic, GELLIFY is pioneering an EXPLORE Events initiative:
Future-Proof Your Organization with Black Swan Capabilities

Join us for Session 9 of our 10-part series: Artificial Intelligence : How to confront the unpredictable with optimal solutions
Are you using AI to make better decisions during the crisis?
While your company scrambles to adapt and determine the right strategy during the unpredicted health crisis, the world and your very business are changing in ways that are impossible to project or predict. Managers, whose decision-making has to rely on data to build possible scenarios, are now stuck trying to find out how to do things differently.
Artificial Intelligence has the potential to help tackle and expose issues raised by the pandemic.
What's more, AI solutions can find unexpected solutions and provide possible scenarios for unprecedented situations, faster than any human mind can. Join us to learn how the technology works and how to leverage it for your company – unlocking a new way to maximize revenues and profitability, while reducing costs.
The technology also offers promising solutions for post-pandemic life. When your organization returns to normal, it will be there to support you. It won't get tired of running one, or one thousand simulations. It is a critical support for data-driven, adaptable action planning, which can supplement managers' wisdom and experience.
Sign up for our free learning event to find out how it works!
See you there!
Massimo Canizzo, CEO GELLIFY Middle East
P.S. To sign up for the entire series, click here. Registration closes 1 hour prior to each event.