Join us for an in-depth conversation on how to transform your sketch into a prototype!
About this event
If you are an entrepreneur, business owner, or inventor looking to bring a new product to market, this FREE web series is for you! Each week we will feature a new subject matter expert on a range of topics you need to know to successfully launch a physical product.
We will be adding new sessions through February -- so be sure them catch them all!
When you are ready to prototyping that product, then check out Startup Tucson's free prototyping studio in downtown Tucson. We have all the equipment and training support you need to build an exciting prototype.
Learn more about using the lab at startuptucson.com/sprintchallenge
Session 3: Transforming Your Sketch Into A Prototype!
So you've turned your idea into a sketch, but now you want to know, "How do I transform this into a prototype?" How do you bring your idea into the physical world? We'll be talking all about the most common product prototyping equipment, their advantages and limitations, and the process of going from sketch to design on a computer to a prototype.
Our guest this week is Soroosh Hedayati. Best known as the founder and inventor of Micro Safari, Soroosh works with mixed mediums to create museum exhibits and consumer products that inspire a sense of curiosity and wonder. Soroosh's works can be found on display at CuriOdyssey, the premier children's science museum on the San Francisco Peninsula, Rethink Waste, a museum built to inspire and educate on practices of sustainability, and at the Tucson Children's Museum. In addition to being a skilled product designer and fabricator, as well as startup founder, Soroosh is Startup Tucson's Prototyping Lab Tech.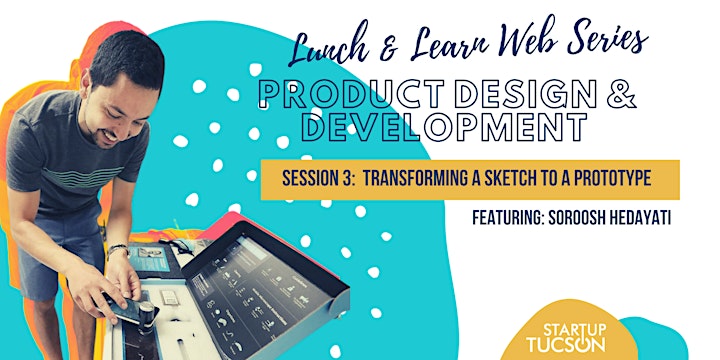 Organizer of Session 3: Transforming a Sketch to a Prototype: Product Development