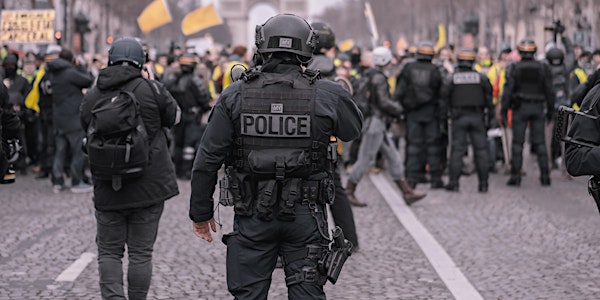 Serving with Honor and Integrity in the 21st Century
A Ground-Breaking Class That Takes an Honest Look at Policing Today
When and where
Date and time
Tuesday, December 1, 2020 · 8am - 5pm EST
Location
Bucks County Police Training Center 1760 South Easton Road Doylestown, PA 18901
About this event
Topic
The Law Enforcement Profession and the world has changed since the events in Los Angeles on March 3, 1991. Cameras are everywhere and people are watching. Pictures speak louder than words. After the events in Ferguson and Baltimore, in August of 2014, a commission convened and a guiding document was released on December 18, 2014.
The Final Report of the President's Task Force on 21st Century Policing points out how the mission of law enforcement is "to build trust between citizens and law enforcement so that all components of a community are treating one another fairly and justly and are invested in maintaining public safety in an atmosphere of mutual respect." Fast forward to May 25, 2020 in Minneapolis, Minnesota and the death of George Floyd. A poor decision by one officer can affect other officers at the scene. Law Enforcement Agencies across the country are assessing and making appropriate changes to the way they provide services to the diverse communities they serve. Smart Policing takes Responsibility, Dedication to Purpose, Accountability, Transparency, Personal Commitment, and Effective Training.
Class Objective
This One-Day Class provides a real look at The Nobility of Service and Policing in the 21st Century. The Instructor will cover the importance of Responsibility, Accountability, Transparency, and Building Relationships, Human/Cultural Diversity, Ethical Decision-Making Skills, Officer Wellness and Safety. To assist law enforcement professionals in meeting the challenges of serving the communities, this class was developed by Law Enforcement Professionals, a Federal Prosecutor, and Crisis Management and Communication Specialist. The Instructor will provide a review of lessons learned from cases involving law enforcement encounters with diverse communities. This ground-breaking class encourages law enforcement professionals to make changes in the way they serve their communities. From your first encounter to relationship development…It's about Public Perception.
Subjects Covered
• Policing with Honor: An Honest Look and Review of the 21st Century Policing Document.
• The recruitment, hiring and training of new officers from a diverse cross-section of the communities the agency serves and the importance of on-going training throughout the officer's career.
• A look at Police Culture, the transformation of new recruits and how you change when you take the oath to serve.
• Understand the Nobility of Policing: Serving with Responsibility, Accountability, Transparency, and Leadership.
• Understanding Human and Cultural Diversity as it relates to the communities we serve and protect.
• Understanding and addressing implicit and unconscious bias, racial profiling and acting impartially.
• The Ethical Decision- Making Process. Police Work can be Corrupted by A Culture of Silence.
• The impact of the Warrior and Guardian Mindset and the use of force vs the use of de-escalation skills.
• The Importance of Officer Wellness and Safety.
• Understand the aftermath of a high-profile event involving officers and the members of the community.
• A Discussion and Developing a Working Plan for Your Agency: What can you do different?
TARGET AUDIENCE: ALL members of the criminal justice and legal community (sworn and non-sworn).
LOCATION: Bucks County Police Training Center
1760 South Easton Road,
Doylestown, PA 1 8901
DATES & TIMES: Tuesday, December 1, 2020 - 8am until 5pm (Local Time)
COST: $199.00 per person
PAYMENT OPTIONS:
• Check made payable to:
TRAINING FORCE USA, 3681 Loma Farm Road, Tallahassee, FL 32309
• Purchase Order
• Credit Card payment made online
Cancellations and Substitutions:
• Upon submission of this registration, participants are responsible for payment of this course. Please note that if you do not attend, you are still responsible for payment.
• Substitutions may be made at any time by phone, e-mail or online at the registration site.
QUESTIONS: Phone: 850-251-1223 E-mail: cpichard@trainingforceusa.com