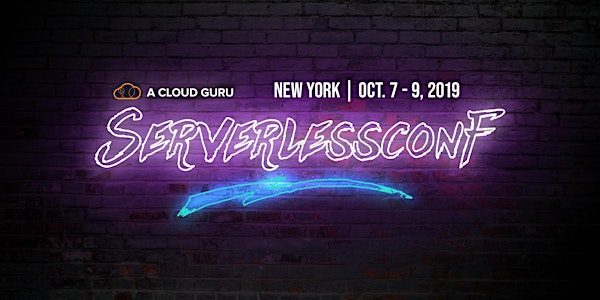 When and where
Location
New World Stages 340 West 50th Street New York, NY 10019
Refund Policy
Refunds up to 7 days before event
Description
Serverlessconf is a community led conference focused on sharing experiences building applications using serverless architectures. Serverless architectures enable developers to express their creativity and to focus on meeting user needs rather than spend time managing infrastructure and looking after servers.
Our aim at Serverlessconf is to discuss how to design, build, deploy, maintain, and gain efficiencies from software built with modern (serverless) cloud technologies.
---
What to expect at Serverlessconf NYC '19:
+ world class speakers
+ awesome sessions
+ full access to keynotes
+ lightning talks
+ access to all onsite networking events
+ connect with experts from AWS, Microsoft, Google, etc.
+ competitions and prizes
+ sponsor exhibition hall
+ heavenly swag
Dates:
Oct 8 | 8am - 7pm
Oct 9 | 8am - 6pm
Location: New World Stages (340 West 50th Street, New York, NY 10019)

---
Workshop - Building Serverless Applications on AWS
Date: Oct 7 | 9am - 5pm
Venue: AWS Loft (350 W Broadway, New York, NY 10013)
Trek10's experts will help you get hands on with AWS Lambda, Amazon API Gateway, Amazon DynamoDB, AWS Step Functions, Amazon Kinesis, and more as you build out your very own serverless application. We'll introduce DevOps and security best practices for serverless as we build out an event-driven backend for our dynamic front end web application.
---
Hackathon - Serverless Goes Public
Date: Oct 7 | 7:30am - 6:30pm
Venue: WeWork (85 Broad St. 30th Floor, New York, NY 10004)

Serverless is getting bigger by the day. But so are 21st-century challenges in areas like public policy, science, and healthcare. Are serverless technologies mature enough to provide solutions that scale to stop hunger or fight climate change?
In this hackathon, you'll use serverless architectural patterns to build a product or service using at least one open, public dataset. Fight human trafficking, detect rising sea levels, or wow our judges with something we haven't even thought of yet. We'll have great prizes for the winners, and we can't wait to see what you build!
There are a multitude of ways to win and great prizes to be awarded!


---
---
By registering for Severlessconf NYC, I accept the terms of their Privacy Policy and I consent to Serverlessconf and/or its affiliates:

processing my personally identifiable information ("Data") in connection with the Event and their other legitimate interests.

using my badge scan information to keep track of my whereabouts and my interests in the exhibits and events at Serverlessconf NYC.

sharing my Data for registrant profiles and locators created in connection with the Event, including any mobile applications generated for Serverlessconf NYC.
I understand that if I allow an exhibitor to scan my badge at Serverlessconf NYC ("My Selected Exhibitors"), I consent to the use of my Data by My Selected Exhibitors for their legitimate interest of contacting prospects for marketing and advertising purposes, regardless of whether any of My Selected Exhibitors provide me with notice of their possession of such Data or the purpose and usage of such Data. My Selected Exhibitor's use of my Data shall in accordance with the privacy policy of such exhibitor. In connection with the foregoing, I further consent to Serverlessconf's provision of my Data to My Selected Exhibitors.
Please contact events@acloud.guru if you would like to opt-out of the above.