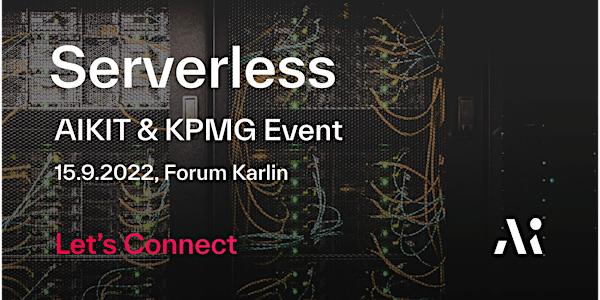 Serverless - Workshop presented by AIKIT & KPMG
AIKIT Digital & KPMG presents a workshop where we'll delve into the depths of how the serverless revolution will shape software development
When and where
Location
Prague Pernerova 51 18600 Praha Czechia
About this event
The Serverless Dimension
During the past decade, there has been a strong migration (of companies) from in-house server solutions to cloud providers (such as Amazon and Google). The mere thought of having your sacred data sleeping in a third party's hard disk was scary, but those days are gone.
Why?
Because the benefits far surpass the cons. In fact, without a cloud-based solutions-centered paradigm (as we live in now), many of the technological advancements we know could not exist. Even the simplest reasons such as data safety, business continuity, and unreal SaaS up times topped with extremely cost-efficient rationales have made the "Serverless" a gold standard.
Implicancies in the Upcoming Future
Even though this subtitle is accurate, this future can easily be observed now. In the present time.
Serverless and PaaS/SaaS will dominate software development for decades to come. This approach is forcing significant changes in the software development process and especially in the architecture.
This workshop will not only cover this but will outline how to do your best to adapt and seize the trend.
The Host: AIKIT Digital
A full-service software company that creates cutting-edge products and tailored IT solutions for the world's brightest consumer-facing brands.
The Speaker: Martin Koníř (KPMG)
With more than 15 years of industry experience, he has developed java applications mostly for finance, telco, and industrial companies, having also worked on healthcare projects.
Throughout his career, he performed in roles like solution architect or CIO, and during the past year, he organized a Software Development team in KPMG, solely focused on serverless solutions. He currently runs this area as a Senior Manager for the company.
SCHEDULE:
● 17:30 Registration & Welcome drink
● 18:00 Keynote speaker Martin Koníř (KPMG)
● 19:00 Discussion
● 19:30 Networking & Drinks
*Reservation is required due to limited capacity, don't miss it!