Description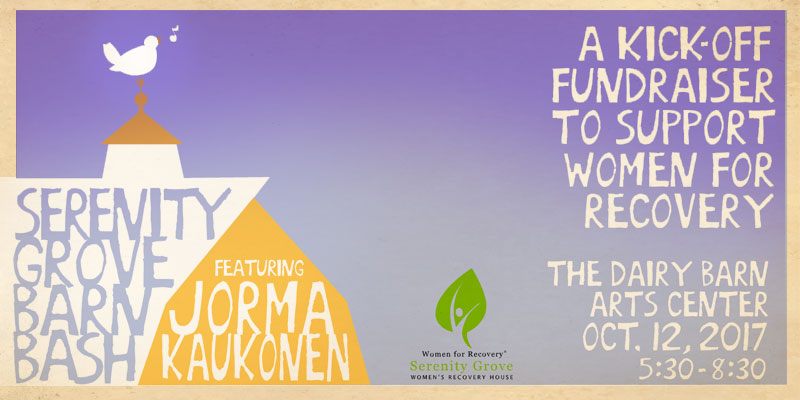 Join us on October 12, 2017 as we introduce you to Serenity Grove Women's Recovery House.
Serenity Grove, a program of Women for Recovery, will provide a safe, transitional environment in which women struggling with addiction can hone skills for independent, sober, and clean living.
With music by: Jorma Kaukonen
Seasonal Hors D'ouevres: A collaboration between Kiser's Barbeque and Eclipse Company Store
*Vegan and gluten free options available
Non-Alcoholic Beverages by: Little Fish Brewing Company
Where: Dairy Barn Arts Center
When: Thursday, October 12, 2017, 5:30-8:30pm
Tickets: $75 each
You can also participate by checking out our corresponding art auction!
http://www.biddingowl.com/Auction/index.cfm?auctionID=12612
Tickets are considered a tax-deductible charitable gift to the highest extent allowable by law. Tax ID# 61-1814088. Space is limited. No refunds will be issued (though we appreciate your contribution to our mission!).
Check our Facebook page for more information, updates, and details about our mission and work. www.facebook.com/women4recovery
Can't attend but still want to support our mission? Make a gift online below or checks in any amount can be made out to Women for Recovery and mailed to P.O. Box 1194, Athens, OH 45701.
Thanks so much!