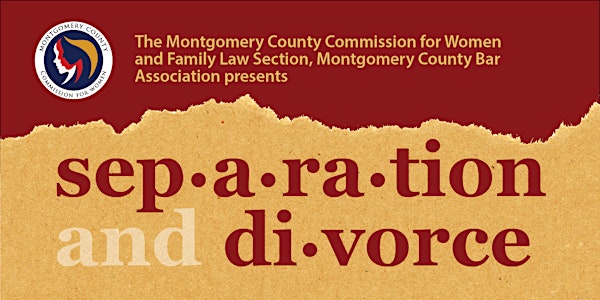 Separation and Divorce: What Do I Need To Know?
Learn the "ins and outs" of separation and divorce in Maryland. All seminars are FREE and online! Zoom information provided after RSVP.
About this event
Please join us as local family law attorneys walk through the "ins" and "outs" of going through a separation and divorce in Maryland. You will learn about: Methods of Dispute Resolution, When and Where to File, Types of Divorce and Grounds, Financial Statements, Alimony, Property and Equitable Distribution, Role of the Attorney, and Domestic Violence/Orders of Protection.
All classes are FREE and are from 7:00 p.m. to 8:30 p.m.
Classes are the FIRST Wednesday of every month through June 2022:
Wednesday, October 5, 2022 7:00 PM
Wednesday, November 2, 2022 7:00 PM
Wednesday, December 7, 2022 7:00 PM
Wednesday, January 4, 2023 7:00 PM
Wednesday, February 1, 2023 7:00 PM
Wednesday, March 1, 2023 7:00 PM
Wednesday, April 5, 2023 7:00 PM
Wednesday, May 3, 2023 7:00 PM
Wednesday, June 7, 2023 7:00 PM