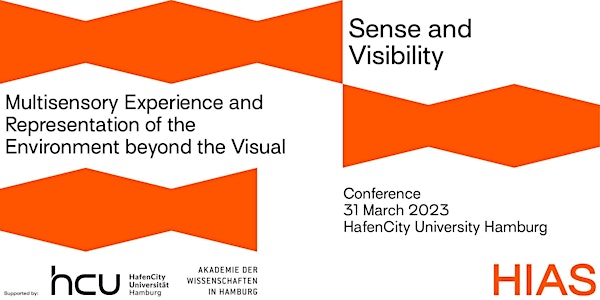 Sense and Visibility. Multisensory Experience beyond the visual.
We are living in a visual world. Images are dominating our everyday life. By focusing on this we neglect other sensory experiences.
By Hamburg Institute for Advanced Study
Date and time
Friday, March 31 · 9:30am - 5pm CEST
Location
HafenCity Universität Hamburg (HCU) Henning-Voscherau-Platz 1 20457 Hamburg Germany
About this event
7 hours 30 minutes

Mobile eTicket
Sense and Visibility. Multisensory Experience of the Environment beyond the visual.
At this one-day multidisciplinary event we aim to put the focus on the importance of images in our society, in particular in relation to 'environment' while on the other hand we will highlight the role of other sensory experiences as well as interactions and multi-sensory representations and experiences.
The conference will span a range of disciplines including but not limited to e.g. Computer Science, Natural and Environmental Sciences including Climate Science, Acoustics, Landscape and Urban Planning, Visualisation and Media Studies.
Speakers and Presenters
Prof. Thomas Kersten, Conference Host, Photogrammetry & Laser Scanning Lab, HafenCity University Hamburg
Prof. Eckart Lange, Conference Chair, University of Sheffield, Universität Hamburg Fellow 2022/2023 at HIAS
Prof. Cat Hope, Monash University, Universität Hamburg Fellow 2022/2023 at HIAS
Dr. Ulrike Kastrup, FocusTerra, ETH Zürich
Prof. Jian Kang, Institute for Environment l Design and Engineering, University College London
Prof. Thorsten A. Kern, Institute for Mechatronics in Mechanics, Hamburg University of Technology
Dr. Nina Klar, Hamburg Authority for Environment, Climate, Energy and Agribusiness
Prof. Mojib Latif, President, Academy of Sciences and Humanities in Hamburg
Dr. Thea Lautenschläger, Loki Schmidt Botanical Garden, Universität Hamburg
Prof. Barbara Piga, Laboratorio di Simulazione Urbana, Politecnico di Milano
Prof. Birgit Schneider, Institute for Arts and Media, Potsdam University
Prof. Hans Reiner Schultz, President, Hochschule Geisenheim
Agenda
9:45 AM
Widening the Scope: Ubiquitous Visual Representations and Our Sensory Environm
10:15 AM
Communicating Climate Change with Imagery and Beyond
---
The Problem of Communicating Climate Change / Climate Change and the Power of Images
11:30 AM
Making the Invisible Visible and Perceivable
---
The invisible abiotic environment - making it perceivable / The Seemingly Invisible Biotic Environment and how the Senses of the Others work
1:30 PM
Making the Invisible Visible and Incorporating Multisensory Dimensions
---
Visualising the Past / Visualising Multisensory Environmental Dimensions in Planning and Design
2:15 PM
Multi-Sensory Interactions. Haptics and Acoustics
---
Acoustic Intervention / Soundscapes and Multi-Sensory Interactions / Haptic Environments
3:45 PM
Multi-Sensory Interactions. Smell and Taste
Prof. Hans Reiner Schultz
---
Smellscapes of Natural Environments / Sensing Wine Landscapes in Times of Climate Change
4:45 PM
Concluding Remarks
5:00 PM
Wine Tasting and Sensory Quiz