Description
WHAT IS THIS?
4 hours. 10 people. A safe, healing environment. With 2 gifted creative leaders. Where you will find space to craft a personal manifesto, a long version and a short mantra, that can help guide you in your daily choices and remind you, as poet Mary Oliver has said, what it is "you plan to do with your one wild & precious life."





WHO IS THIS FOR?
It's for anyone who wants to be braver. Wants to show up with authentic authority. Clarity. Purpose. Peace. Joy.
It's for anyone who feels stuck. A little. Or a lot. In a job you don't love. Or relationships that aren't giving you life.
It's for anyone in transition. From single to couple. Couple to single. No kids to kids. Kids at home to empty nest.
It's for anyone who's lost their way. If you aren't sure who you are anymore. What you believe. What you're passionate about. Or why it matters that you get up in the morning.
It's for you if you're someone who has been longing to know your why, align with your heart and live out loud…
WHAT IS A PERSONAL MANIFESTO?
A sentence, a paragraph, a few words that help you focus, empower you, give you back your voice. Or give you a voice for the first time. A manifesto can help you decide how to spend your time, what's worth your effort, who you want to be in the world. You can find as many different kinds as there are people on this planet.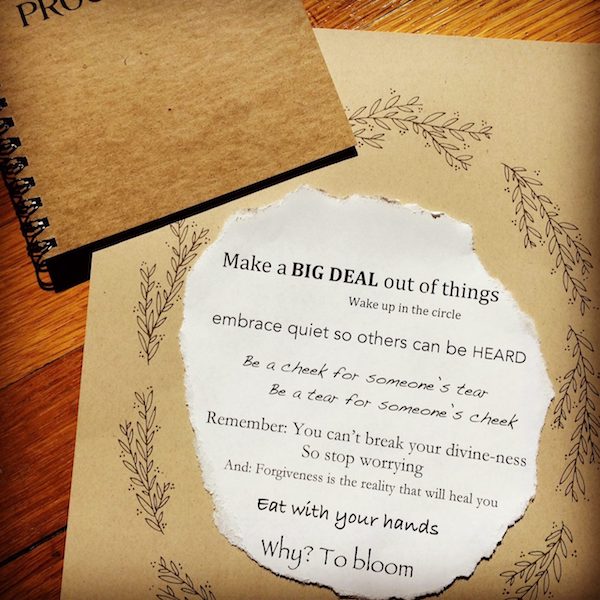 WHY WOULD I WANT A PERSONAL MANIFESTO?
Because words have power. Because words written from the heart, the powerful, messy, authentic, center of the heart, can heal us and ground us and move us to be our truest, best selves. Learn more.
WHERE WILL THIS BE HELD?
Our sponsor, Mind Body Co-op, has a beautiful, creative, healing space, centrally located in downtown Chicago. The space includes a group room with chairs and pillows and other areas for breakout times of individual reflection, all thoughtfully decorated with recycled artifacts...things once broken and discarded, which are finding a new life and beauty and purpose. Learn more.



FAQs
What about food and breaks?
A light dinner is included in the cost of the workshop. We will be offering some vegetarian and gluten-free options. Please contact us directly if you have other special dietary considerations. Light snacks will be provided throughout the evening as well. Please bring your own water bottle.
What are my transportation/parking options for getting to and from the event?
It's close to CTA stops and there are a number of public parking garages nearby...we suggest you use SpotHero to find the most affordable. This building requires you bring your photo ID -- you will need to show it to the security guard in the lobby to enter.
What's the refund policy?
We will refund your ticket in full if you cancel by June 6. After that date, we are sorry, but refunds will no longer be available. But you can give your ticket to someone else to use. Please contact us directly if you plan to do that.
How can I contact the organizer with any questions?
You can email beselfproclaimed@gmail.com