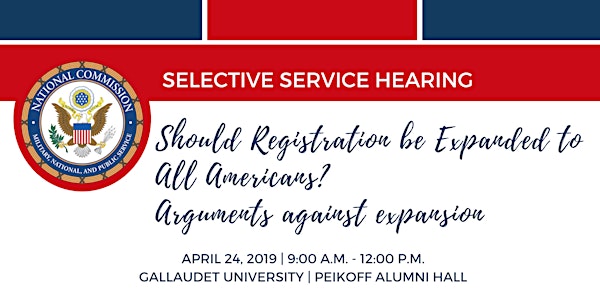 Selective Service Hearing: Should Registration be Expanded to All Americans...
Location
Gallaudet University | Peikoff Alumni House
800 Florida Ave NE
Washington, DC 20002
Description
The Commission will host fourteen public hearings onpolicy options it is considering for its final report. Through each hearing, Commissioners will gain insights from panelists as they develop recommendations for their final report to Congress, the President, and the American people in March 2020. 
On April 25, 2019, the Commission will host Selective Service Hearing: Should Registration be Expanded to All Americans? – Arguments against Expansion. This hearing will address the cases for continuing to restrict registration to men only and the challenges in achieving compliance with the current system.
The hearing will also be livestreamed. 

Panelist Questioning by Commissioners  
Staff Memo 
---
The Commission and Commission staff request feedback from the public on the ideas presented in STAFF MEMORANDUM: Expanding Selective Service Registration to All Americans. More information can be found here.
Panelists 
---
Dr. Mark Coppenger, Professor of Christian Philosophy and Ethics, Southern Baptist Theological Seminary

Ms. Jude Eden, US Marine Corps Iraq veteran and freelance writer


Mr. Edward Hasbrouck, Editor and publisher, Resisters.info

Ms. Ashley McGuire, Senior Fellow, The Catholic Association

Ms. Diane Randall, Executive Secretary, Friends Committee on National Legislation
Public Comments  
---
The public is invited to provide comment at each hearing following the conclusion of testimony. In order to accommodate as many public comments as possible, individuals will have two minutes to relate their comment to the Commission. If you are interested in providing a public comment during the hearing, please arrive no later than 9:00 a.m. to receive a ticket. The Commission will select tickets at random. If your ticket is drawn, you may provide your comment to the Commissioners during the public comment period. If you're unable to attend the public hearing or have to leave early, you can submit your comment here, email it to info@inspire2serve.gov, or mail it to 2530 Crystal Drive, Suite 1000, Box #63, Arlington, Virginia 22202.   
Disability Access 
---
Individuals who plan on attending this hearing and require accommodations should contact the Commission at 703-571-3742 at least 3 business days in advance to make arrangements.