Sales Have Ended
Ticket sales have ended
Ticket sales has ended. See you next year!
Sales Have Ended
Ticket sales have ended
Ticket sales has ended. See you next year!
Description
A global convention like no other, the Selangor Smart City & Digital Economy Convention 2019 is set to be Asia's hottest smart city and digital economy event for years to come! A hotbed of innovation, creativity and intelligence, this year, the convention explores the topics of AI, 5G, E-Wallets and E-Sports. The Selangor Smart City & Digital Economy Convention 2019 celebrates its fourth edition this year is organised by Invest Selangor Bhd together SITEC.
This year the convention focuses on 4 main elements:
1) What's Next for Smart City? AI x E-Wallet x 5G conference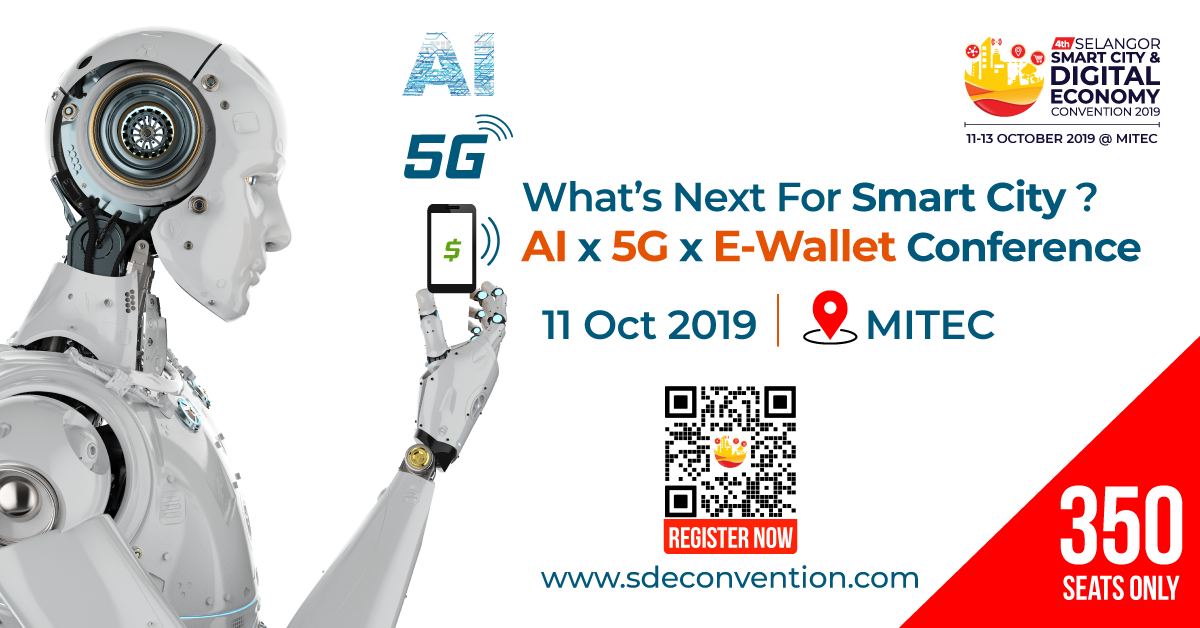 Date: 11 October 2019
Time: 8.30am - 4.30pm
Venue: MITEC, Level 2, Hall 5, Conference Section
Price: RM99 for single ticket RM150 for two tickets
Early Bird Price: RM50 (until Oct 1st)
Targeting over 350 attendees, this conference will explore how AI, E-Wallets and 5G will affect you and your businesses in the future. Come meet the industry leaders and professionals in these three fields as they discuss and present how these technologies and trends will impact Smart Cities and what it will ultimately mean for users and businesses.
2) One Belt One Road (OBOR) Anime & Gaming Summit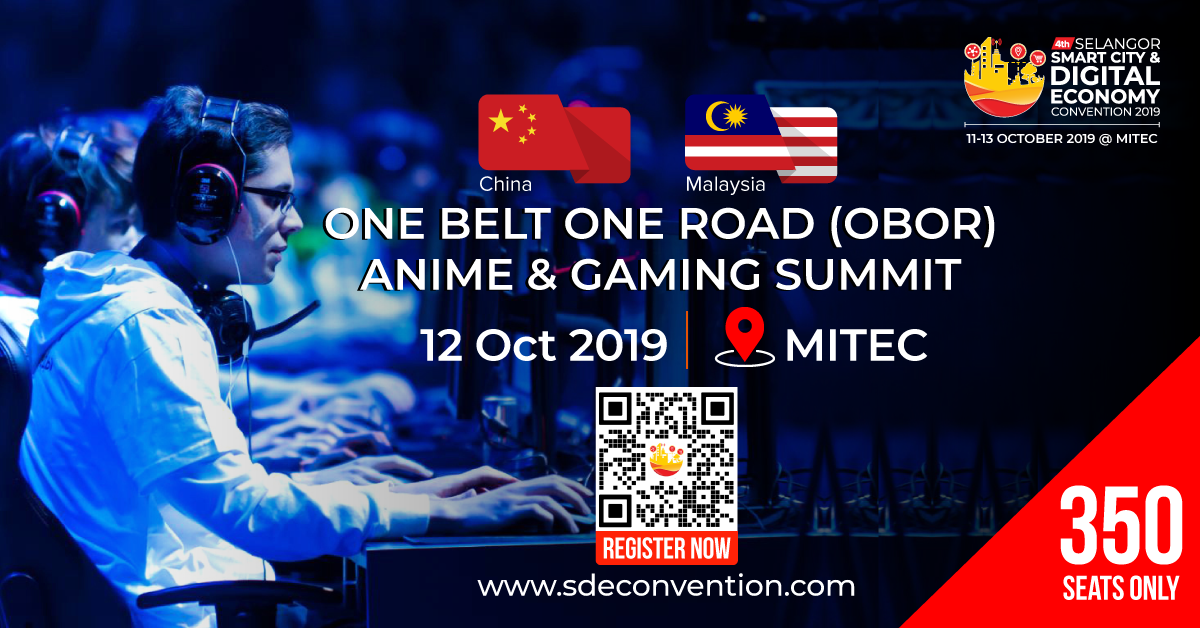 Date: 12 October 2019
Time: 8.30am - 4.30pm
Venue: MITEC, Level 2, Hall 5, Conference Section
Price: Free entrance
Video games, animation and E-Sports have been a growing field in the last couple of years and it's set to grow even bigger in the future. In fact, it's projected that the video gaming industry could be US$300 billion industry by 2025. Come meet the professionals and experts in these fields at the One Belt One Road (OBOR) Anime & Gaming Summit as they present and discuss the state and trends of the industry. This is one event you do not want to miss, especially if you have a major interest in the video games and anime industry.
3) E-Sports Competition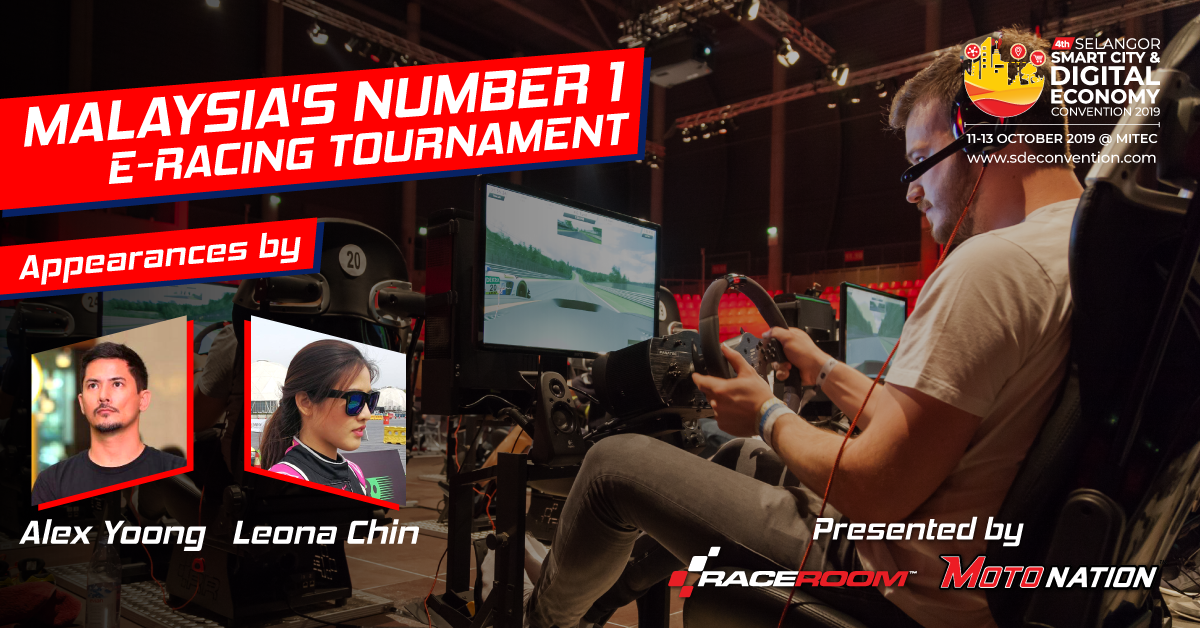 Date: 12 - 13 October 2019
Time: 10.00am - 5.30pm
Venue: Level 2, Hall 5
Price: Free entrance
A variety of E-Sports competition will be held during the convention including the E-Racing competition with appearances by Alex Yoong and Leona Chin, and a PUBG competition as well. Stay tuned for more updates on other E-Sports competition that will be held during the event. Access to the Virtual E-Racing competition area is free when you register for the convention visitors pass.
For PUBG competition participants, please register your teams at http://bit.ly/2kXaCUM
4) Malaysia Top E-Commerce Merchant Awards 2019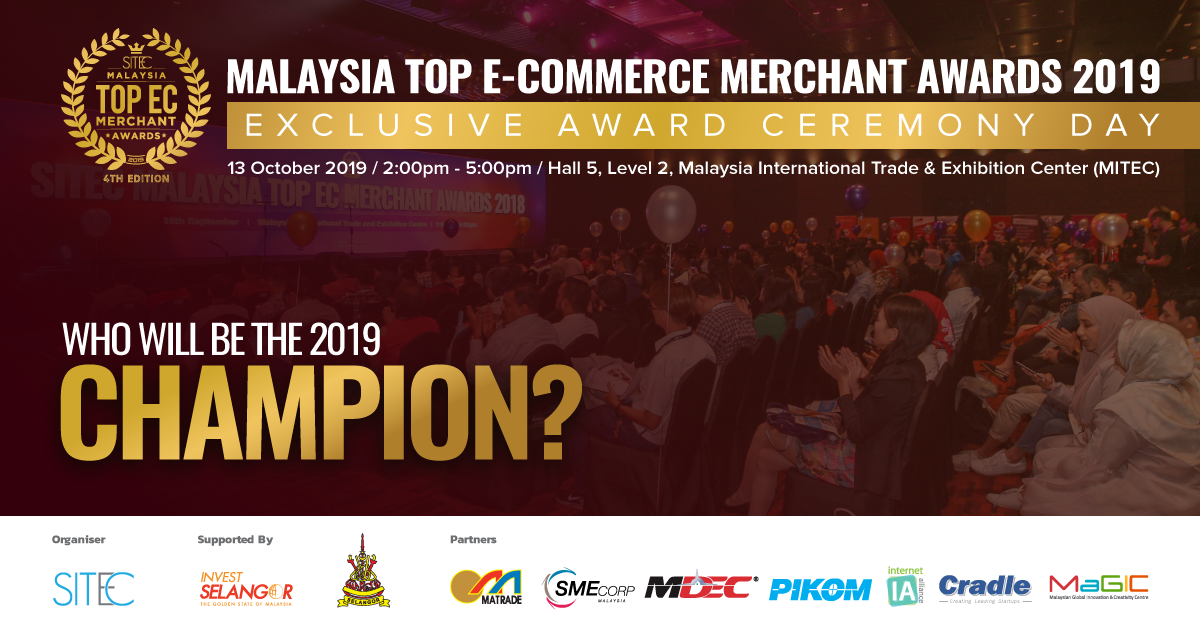 Date: 13 October 2019
Time: 2.00pm - 5.00pm
Venue: MITEC, Level 2, Hall 5, Conference Section
Price: Free entrance
The Malaysia Top E-Commerce Merchant Awards seeks to reward the best of local e-Commerce retailers. Locally-incorporated e-retailers are invited to participate and vie for the coveted title of the Top E-Commerce Merchant in Malaysia. Over 128 registrations and only 99 shortlisted merchants who made it through the shortlisting process, and are now one step closer towards being Malaysia's Top E-Commerce Merchant 2019. Come join this prestigious event and meet the movers and shakers of the E-Commerce scene in Malaysia.
---
*EXHIBITION ADMISSION (including One Belt One Road Anime & Gaming Summit, Malaysia Top E-Commerce Merchant Award 2019 and E-Sports Competitions) is FREE (OPEN to ALL)
For student passes please contact Mr. Azwan at azwan@osocane.com or1 +6017 512 4090
---
This convention is part of the Selangor International Business Week organised by Selangor state government and Invest Selangor. The purpose is to make it one of the largest trade show and conference in Malaysia and regional.
The objective for this event is to establish a major Smart City Summit in the Asia-Pacific, as a gathering point for industry and intellectual leaders on the topics of Big Tech, IOT, Big Data, and IR 4.0, while building the bridge between local and regional tech startups with the rest of the world, in order to help them penetrate the international market.

And throughout all three days, there will be a massive exposition with 180+ booths from service providers, vendors, tech giants, urban developers, and more from around the world and across Asia, right here in the heart of Selangor.

Alternatively, Exhibition is FREE Admission. Kindly register with the link below for Trade Exhibition Visitor Pass Registration: http://www.sdeconvention.com/
Organizer of Selangor Smart City & Digital Economy Convention 2019
Established under the secretariat of Invest Selangor by the Selangor State Government, the Selangor Information Technology and E-Commerce Council (SITEC) is chaired by Chairman of the Standing Committees of Investment, Industry & Trade, Small and Medium Industries (SME) and Transport; Selangor State Government EXCO. SITEC aims to develop Selangor as the regional trading hub for e-Commerce and to uplift the startup ecosystem within the state.
As such, it has undertaken a variety of initiatives, from the four core thrusts incorporating education and active participation, in order to boost and support the nascent e-Commerce and startup scenes in Selangor.
Under the guidance of the SITEC council members, SITEC has identified four main thrusts to drive economic activity in the two main industries, startups and e-Commerce:
- SITEC Apps 100
- SITEC Online 100
- Selangor Digital Creative Centre (SDCC)
- E-Commerce Education
SITEC has established a set of clear objectives to guide our aspirations in achieving our aims. Through two of our thrusts, Online 100 and Apps 100, we intend to steadily reach out to brick and mortar merchants in Selangor to get them onboard e-commerce as a supplement to their retail efforts. Additionally, we are gradually establishing ourselves as a key Digital Economy player through our strategic partnerships, reaching out to tens of thousands of individuals within the local e-commerce, startup and tech spheres.
As of December 2017, SITEC has:
- On-boarded 300 Selangor brick and mortar merchants to sell online via Online 100
- Produced 300 mobile apps for these Online 100 merchants
- Reached out to over 80,000 people in related areas locally and overseas
- Ran 58 e-commerce and startup educational classes
- Facilitated our Online 100 merchants in generating RM 7,300,000 in Gross Merchandise Value