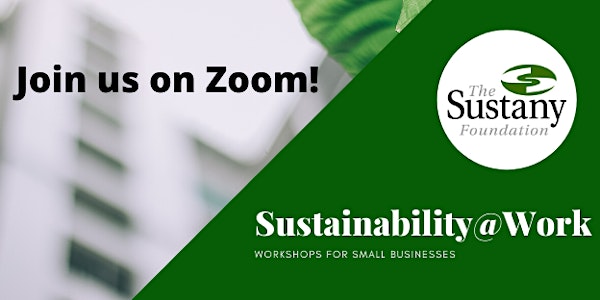 Seeking Validation: A Look at Various Green Business Certifications
Sustainability@Work is a series of practical workshops for start-ups and small businesses wanting to explore sustainable/green practices.
By The Sustany Foundation
Date and time
Friday, August 28, 2020 · 6:30 - 8am PDT
About this event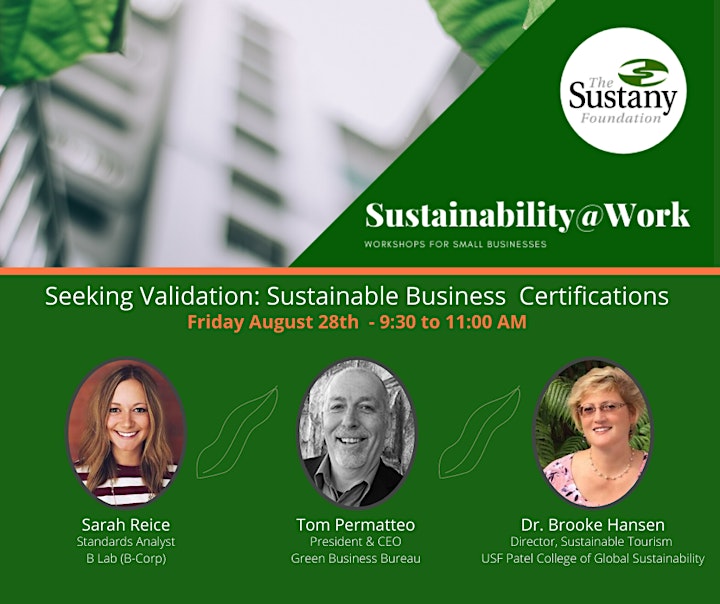 Seeking Validation: A Look at the Various Green/Sustainable Business Certifications and Recognition Programs
Most businesses get certified because they want to align their business with their values. The certification framework and process helps them to make sure that they are doing all they can to reduce their environmental impact. There are many benefits to certification including validation, continuous improvement, authentic marketing, a proven framework and belonging to a community. This workshop will review a number of certifications that are available and provide resources to help businesses prepare and choose the right one for them. We will also cover some local recognition programs that are a good first step.
Guest Speakers
Sarah Reice, Standards Analyst, B Lab (B-Corp)
Tom Permatteo, CEO, Green Business Bureau
Dr. Brooke Hansen, Director, Sustainable Tourism Program, USF Patel College of Global Sustainability
Topics Covered
Overview of "green/sustainable business" certifications
Eco-Lables: Product and/or industry specific certifications
Local awards and recognition
Content
A look at a variety of the recognized Green/Sustainable Business Certifications available and understanding the differences
Overview of product specific or industry specific certifications also known as Eco-Labels (i.e. USDA Organic, Fair Trade, Energy Star, Rain Forest, FSC)
Small steps - how to position your business now for certification, even if the ultimate goal is further down the road.
Alternatives to certification - recognition and membership programs
This workshop is the penultimate in a series of eight sustainable business workshops. Our final workshop on September 18th will focus on the green economy We will present an overview of some of the latest "green" start-ups and provide resources for entrepreneurs who not only want to be sustainable with an existing business but who are interested in starting a venture that will help drive innovation for the planet.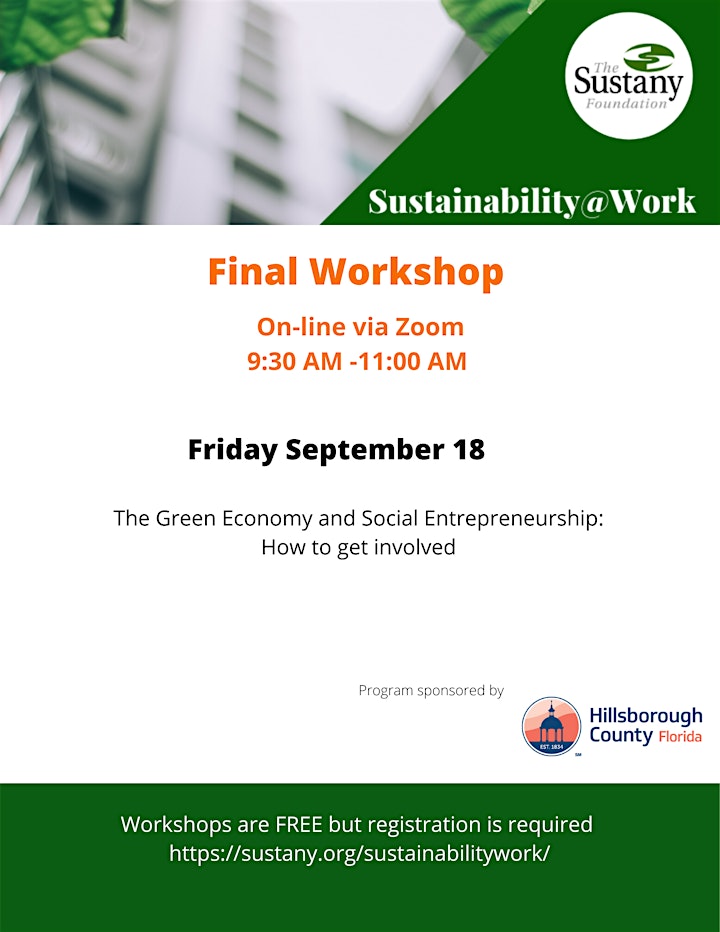 About the Program
Sustainability@Work is a series of workshops designed for start-ups and small businesses interested in learning more about how to become more sustainable and why it is not only important, but profitable. Each workshop will cover an important aspect of becoming a sustainable business.
The workshops are designed as stand-alone sessions and attendees may choose to attend one or all of them depending on their particular challenge or interest. The program is also designed to work as a cohesive series so a participant attending all sessions will be well prepared to create a comprehensive sustainability plan or work towards one of many certifications in the industry upon completion.
Attendees who are interested in pursuing a certification or getting a more formal assessment are eligible to apply for a free one-on-one consultation.
THIS PROGRAM IS MADE POSSIBLE WITH THE GENEROUS SUPPORT OF HILLSBOROUGH COUNTY GOVERNMENT