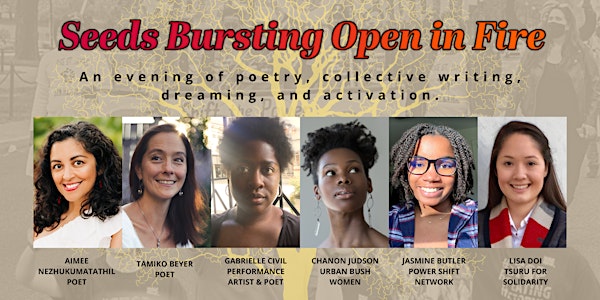 Seeds Bursting Open in Fire: A Poetry & Justice Catalyst Event
Seeds Bursting Open in Fire is an evening of poetry, collective writing, and dreaming to inspire and activate artists and organizers.
About this event
Thank you everyone for the wonderful response to this event! Our event is fully booked and registration is now closed.
If you have already registered, please arrive on time or a few minutes early, as space is limited to the first 100 people who show up.
If you did not register, but would like to receive a recording of the event afterwards, please sign up here.

FEATURING
Readings from new works by poets Aimee Nezhukumatathil (World of Wonders), Tamiko Beyer (Last Days), and performance artist & poet Gabrielle Civil (( ghost gestures ))
Presentations by organizers working in abolition, racial, and climate justice: Jasmine Butler of Power Shift Network and Lisa Doi of Tsuru for Solidarity
Movement activities for healing and activation led by Chanon Judson, Artistic Director of Urban Bush Women.
We hope you join us for an evening of poems, collective writing, dreaming, and activation.
ASL interpretation and Closed Captioning will be provided.

SUPPORT THESE ORGANIZATIONS
In lieu of a registration fee, please consider donating to one of our presenting organizations.

ABOUT THE PRESENTERS
AIMEE NEZHUKUMATATHIL is the New York Times best-selling author of WORLD OF WONDERS: IN PRAISE OF FIREFLIES, WHALE SHARKS, & OTHER ASTONISHMENTS, the Barnes and Noble Book of the Year. She is also the author of four books of poetry, and is poetry editor of SIERRA, the national magazine of the Sierra Club. She is professor of English and Creative Writing in the University of Mississippi's MFA program.
About Aimee's book, World of Wonders: World of Wonders is a collection of essays about the natural world, and the way its inhabitants can teach, support, and inspire us. As a child, Nezhukumatathil called many places home, but no matter where she was transplanted―no matter how awkward the fit or forbidding the landscape―she was able to turn to our world's fierce and funny creatures for guidance.
GABRIELLE CIVIL is a black feminist performance artist, poet, and writer, originally from Detroit, MI. Her performance memoirs include Swallow the Fish (2017), Experiments in Joy (2019), ( ghost gestures ) (2021), and the déjà vu (2022). Her writing has also appeared in Kitchen Table Translation, New Daughters of Africa, and Experiments in Joy: a Workbook. She recently performed Jupiter at Velocity Dance Center (2021) and Vigil at Northern Spark (2021). A 2019 Rema Hort Mann LA Emerging Artist, she teaches at the California Institute of the Arts. The aim of her work is to open up space.
About Gabrielle's book, ( ghost gestures ): How can you return to where you've never been? ( ghost gestures ) conjures diaspora hauntings and traces black bodies across space and time. In Dakar and Banjul, Detroit and Montreal, Tlaxcala and Río Piédras, Gabrielle Civil showcases black bodies dancing, hiding, and re-emerging. In performance writing, she invokes the doll, the queen, and the ghost to explore where black women have never and always been. She plays hide-and-seek with her own transforming body and tackles history, identity, art, and desire. "bring this here/ bring this back/ keep this here/ bring us back/ bring us here / bring us back to this." Incorporating chants, notations, images, and scores, ( ghost gestures ) will spirit you away.
TAMIKO BEYER is the author of Last Days (Alice James Books), We Come Elemental (Alice James Books), Dovetail (co-authored with Kimiko Hahn, Slapering Hol Press) and bough breaks (Meritage Press). Her poetry and articles have been published by Denver Quarterly, Idaho Review, Dusie, Black Warrior Review, Georgia Review, Lit Hub, and the Rumpus. She publishes Starlight & Strategy, a monthly newsletter for living life wide awake and shaping change. She has received awards, fellowships, and residencies from PEN America, Kundiman, Hedgebrook, VONA, and the Astraea Lesbian Writers Fund. A social justice communications writer and strategist, she spends her days writing truth to power.
About Tamiko's book, Last Days: Last Days is a practice of radical imagination for our current political and environmental crises. It excavates the conditions that have brought us here—white supremacy, heteropatriarchy, corporate power, capitalism—and calls ancestors, birds, organizers, and lovers to conjure a new world. It explores how to transform our future to be more beautiful, more just, and more compassionate than we can imagine.
JASMINE BUTLER (Pronouns: They/She) is an organizer from Power Shift Network. She was born and raised in Memphis by way of deep Mississippi roots. Their passion for environmental/climate justice for all, and particularly for Black and brown southerners, comes from witnessing Hurricane Katrina's devastation in 2005 and the less severe yet still impactful Mississippi floods of 2011. Jasmine is deeply invested in youth organizing, excited about popular and political education, and energized by all the intersections within the climate justice movement. Outside of movement work, she enjoys nature walks and hikes, cooking and baking, hosting friends whenever she can, and keeping her houseplants alive.
Power Shift Network is a network of young people, organizations run by young people, and campaigns that support youth organizing. Young people today face a world in crisis: a broken political system, deepening inequality, entrenched and emboldened racism, and a catastrophically changing climate. But we're committed to action, mutual support, and solidarity -- we're building a strong, intersectional, bottom-up movement to take on the climate crisis, shift the power, and change the system. Network members are working to combat climate and environmental injustice, stop dirty energy projects, divest from fossil fuels, fix democracy, and build the just, clean-energy powered future young people need.
LISA DOI is an organizer from Tsuru for Solidarity. She is the fourth generation in her family to make a home in Chicago. She is currently an organizer with Tsuru for Solidarity and a curatorial assistant with the Japanese American National Museum. Locally, she is the president of JACL Chicago and a member of the Midwest Buddhist Temple. Lisa has also completed MA research on Japanese American residential patterns in Chicago. She is a doctoral student in American Studies with an interest in public memory, imagination and archives, and the role of repair in history.
Tsuru for Solidarity is a nonviolent, direct action project of Japanese American social justice advocates and allies working to end detention sites and support directly impacted immigrant and refugee communities that are being targeted by racist, inhumane immigration policies. Our mission is to: educate, advocate, and protest to close all U.S. concentration camps; build solidarity with other communities of color that have experienced forced removal, detention, deportation, separation of families, and other forms of racial and state violence; coordinate intergenerational, cross-community healing circles addressing the trauma of our shared histories.
CHANON JUDSON's been growing with the acclaimed Urban Bush Women (UBW) since 2001, as performer and now Co-Artistic Director. She's a director's fellow with New Perspective Theatre and Chicago Director's Lab. Projects include "The Invention of Tragedy" (Flea Theatre), "It's Not so Bad in My Brain" (New Perspective Theatre), "Prometheus Bound" (The Tank), Chronicle X (The Shed), "Brett and Ashley" (New Perspective Theatre)." Original projects include "Nurturing the Nurturer," a performance ritual/gathering for mothers (Black Women's Blueprint) and Family Arts (FAM) - Alongside her husband they offer spaces for families to explore and create (Bric, Bailey's Cafe, MS 35 Family Dynamics, Stoops). Chanon has worked with Mickey Davidson, Kwame Ross, Barak adé Soleil, Talvin Wilks, Sita Frederick, Allyne Gartrell, and Sandra Burton. Performance credits include A 24-Decade History of Popular Music (Taylor Mac), God's Trombone (Craig Harris), Cannabis (Baba Israel), Cotton Club Parade, Michael Jackson 30th Anniversary Concert, and the Tony award winning musical Fela!
Urban Bush Women (UBW) galvanizes artists, activists, audiences and communities through performances, artist development, education and community engagement. With the ground-breaking performance ensemble at its core, and ongoing programs including the Summer Leadership Institute (SLI), BOLD (Builders, Organizers & Leaders through Dance) and the Choreographic Center Initiative, UBW affects the overall ecology of the arts by promoting artistic legacies; projecting the voices of the under-heard and people of color; bringing attention to and addressing issues of equity in the dance field and throughout the United States; and by providing platforms and serving as a conduit for culturally and socially relevant experimental art makers.