Refund policy
Refunds up to 7 days before event
Eventbrite's fee is nonrefundable.
Sales Have Ended
Ticket sales have ended
Thanks for registering! We look forward to having you join us at BSides Orlando! The event will be held in our discord: https://discord.gg/fqjRQQr. Check https://bsidesorlando.org for changes and updates.
Security BSides Orlando 2021 Byte Sized | A Central Florida Cybersecurity Conference - Now in byte sized packaging!
About this event
'Lil Chompy took over and frankly we can't stop them. Once that gator gets an idea it's all tails and teeth. It's easier to just go along. Check out this announcement video below.
New 2021 BSides Orlando Byte Sized conference dates are September 18th for the conference and September 17th for the workshops.
Security BSides Orlando is a community driven event seeking to bring together anyone with a passion for making, breaking, or protecting. Newbies, experts and anyone in between are welcome. Even if you don't work in information security, you will be sure to find topics of interest. Please join us in 2021 in for the Annual Security BSides Orlando Conference!
Everyone is welcome from the curious to the seasoned pro! For more details visit http://bsidesorlando.org 
This year everything will be an 8 bit different... This byte sized BSides will consist of 4 challenges , each coupled with a professional in the challenge domain. However there is a twist... there's always a twist. The professionals aren't the ones solving these challenges, it's... *drum roll*.... wait for it... *more drum roll*... scroll down...
YOU!!
That's right, Chompy wants YOU for the Order of Toothy Grin! Each challenge will be composed of 2 participants and one coach, so if you are interested in working with the likes of Jose Rodriguez, Hahna Kane, Deviant Ollam and . Call for participants is open now!
https://bsidesorlando2021.busyconf.com/proposals/new
Workshop ticket are up! Workshops will happen on a separate day from the conference on Friday , September 17th.
Although the conference is free this year, we partnered with HackerBoxes (also from Florida) to create the 'Lil Chompy badge! The badge can be flashed from it's "badge" display to become a functional LCR meter, the details on flashing and links to the GitHub repo will be added on discord.
if you want to support the conference links to purchase the badge will be included on this event page and in discord when available. You can get a sneak peek at the badge art below: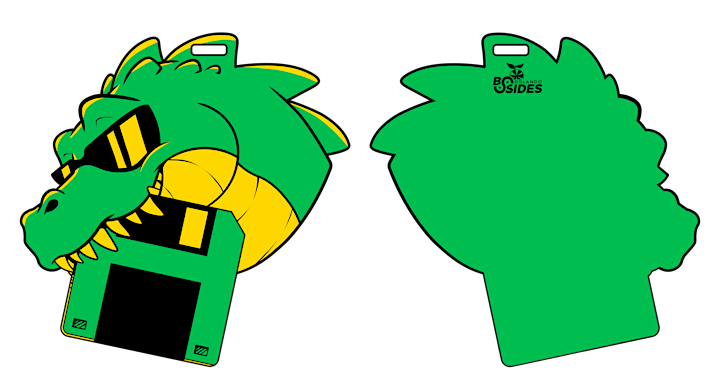 If for some reason 'Lil Chompy badge did not byte your interest, but you would still like to support the conference then check out our 2021 BSides Orlando OTG Supporter Tickets.
FAQs
Can I participate in solving the challenges?
Yes, if you're interested the call for participants is open now! Please use the following link: https://bsidesorlando2021.busyconf.com/proposals/new
What is this "Discord" you speak of?
It's a digital streaming, VoIP, Instant Messaging, and content distribution platform that was the best fit platform for what we wanted to accomplish this year. You can get on our server by downloading the Discord client, web platform is also available but not recommended for participation.
Fore more information visit https://discord.com
How do I join the B-Sides Orlando Discord server?
Please create your account on https://discord.com prior to clicking the server link for B-Sides Orlando below. We've noticed that some people are experiencing issues in Discord registration process when trying to join the server without creating an account first.
If you don't have Discord, and have never joined a server before the process is summarized in the video below:
https://drive.google.com/file/d/1vHQQ1AtAsPsjm42O3l0Gkeg_w3t5AoGD/view
Please use the following link to join B-Sides Orlando Discord server: https://discord.gg/fqjRQQr. You may notice that you only see a few channels right now, please excuse us while we are building out the rest of the server and be assured this isn't even our final form.
What is "Your Discord ID"?
Your Discord ID is an 18-digit number for example: 233445566778899002. To get your Discord ID, please join our discord. You will be greeted in direct messages (look for a notification in the top left of Discord UI) by our YAG bot with your Discord ID messaged directly to you along other verification requirements to confirm you are human.
If you are already familiar with Discord you can copy your ID with developer mode enabled or type in \@ followed by your full username to get your ID like so \@username#discriminator . Just get rid of the <@ and > before adding the information to your registration.
Example: \@MrMuppet#5541
Message will show up in Discord channel as: <@233445566778899002>
Help, I can't see what YAGPDB.xyz is messaging me!
To verify your humanity we need to make sure YAG bot can send you a CAPTCHA, you will be able to see the CAPTCHA only if you have the "Show website preview from links pasted into chat" option enabled under App Settings -> Text & Images in Discord.
How can I contact BSides Orlando with any questions?
Email registration@bsidesorlando.org with any questions.
What's the refund policy?
Any paid tickets including BSides Orlando Supporter tickets and workshop tickets are non-refundable, but you can transfer them and gift them. 
Can I update my registration information?
You can update your registration information through your Eventbrite account. 
Do veterans receive a complimentary ticket or discounted tickets?
We have added discounts for the workshops. However, since the conference is free this year if you can afford and don't mind paying the full price for the workshop tickets, please do.
On the other hand if you really can't afford to pay the workshop price even with the discount, please email us and we will try to work something out.
Please try the following codes at checkout:
BSIDES-2021-OSINT-CTF
BSIDES-2021-PWNING-WEB
Do you offer a free student ticket?
Students tickets are free, but so are regular attendee tickets.
If you would like to make sure students get all the cool SWAG in the future or get one of the electronic badges we have sponsorship opportunities, send an email to sponsor@bsidesorlando.org.
How can I find out more information about sponsoring BSides Orlando 2021?
More information about our sponsorship opportunities please email sponsor@bsidesorlando.org. 
Where can I read the BSides Orlando Code of Conduct?
The BSides Orlando Code of Conduct is available on our website at https://bsidesorlando.org/coc. Every attendee is expected to follow the Code of Conduct.