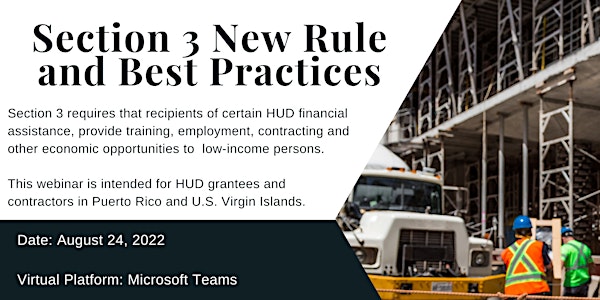 Section 3 Webinar: New Rule and Best Practices
Section 3 Webinar for Grantees, Contractors, and Sub-contractors on the Section 3 New Rule and Best Practices.
About this event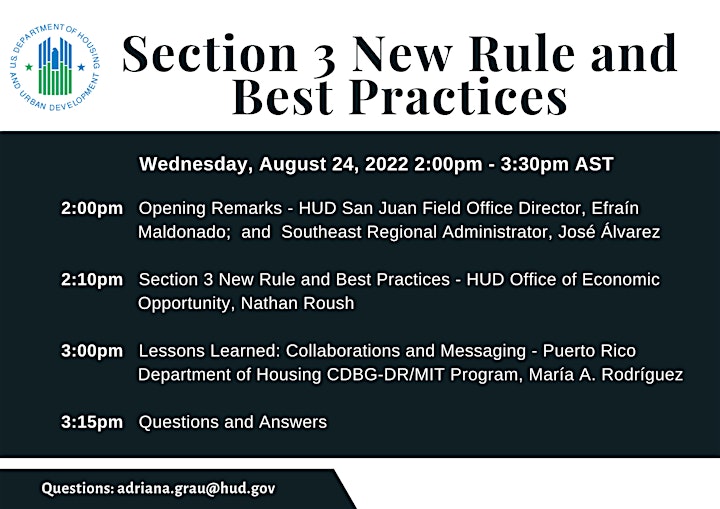 HUD San Juan Field Office invites you to register for their Section 3 Webinar for Puerto Rico and the U.S. Virgin Islands to take place virtually on August 24, 2022.
Section 3 is a provision of the HUD Act of 1968 that promotes local economic development, neighborhood economic improvement, and individual self-sufficiency. To the greatest extent possible, Section 3 requires that recipients of certain HUD financial assistance provide job training and employment opportunities to low- or very low-income residents in connection with projects and activities in their neighborhoods.
Training Objectives:
Introduce the purpose and scope of Section 3
Detail the Section 3 Final Rule and the key changes to the program
Present Section 3 Best Practices
Identify relevant resources