Description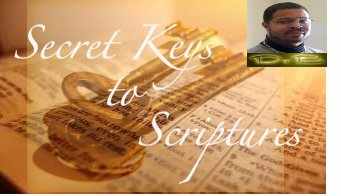 Discover the Lost & Forgotten Word!

Personal Spiritual & Mental Growth & Development!
Instantly Start Changing & Transforming your Life Now!

Weekly Tuesday TeleClasses to Impact Your Life!
Time: 9pm EST Tuesday
Always Life Changing Topics to Make Your Life Better in the Present Here and Now
Discover:
Revealing the Secret Keys to Unlock the World Mysteries, and Holy Scripture
Discovery Overview
Secret Keys that Unlock the Mysteries of Holy Scriptures!


An Interpretation of Scriptures, Applicable to Anyone, Anywhere, At Anytime


The Universal Language of Spirit & Being


The Deep Hidden, Secret, Inner & Esoteric Meaning of Holy Scriptures


A Rediscovery of Knowledge familiar to the Ancients over 10,000 years, long before Jesus...


The Oldest Language known to man


Custodians and Revealers of the Oral Traditions that were not recorded on Scrolls but Revealed from Lip to Ear, and Mind to Mind throughout generations.


Keeping the One Original Sacred Flame


Ancient Wisdom Teachings


Masters of the Secret Doctrines


Master Key Holders of the Temple of Mysteries


Reconcilers of All Contradictions


Re-lighting the Lamp of All World Religions


Teachings both significant to all of humanity and relevant to the seeker & lover of wisdom.



You will Experience:



No Matter How Near, No Matter How Far, We Reach You Where You Are!


You ONly Have to Travel to Your Nearest Home or Office Telphone
or Cell Phone If You Are On the Go!


You have the most comfortable, relaxed, informal and peaceful environment, with a personal touch and approach to spiritual and mental growth!


Non-Dogmatic, Non-Traditioinal, Non-Denominational & Non-Sectarian!
An Educational Approach to Spiritual & Mental Growth


In-depth Study, Research & Investigation of the World's Sacred Scriptures, Religions, Philosophies, Beliefs, Spiritual Psychology, & Other Inspirted (Words) of Truth!


One God, One Relgion, One Law, One Mind, One Spirit, One Principle & All that Is!!

Upon Registration you will be emailed the Access Telephone Number and Access Code for this week's Secret Keys to Life & Scriptures TeleClass One hour before the start of Class!
Act Now! See You At the Class!