Event Information
Refund Policy
Contact the organizer to request a refund.
Eventbrite's fee is nonrefundable.
6-Session Online Search Inside Yourself Mindfulness-Based Emotional Intelligence Training Program
About this Event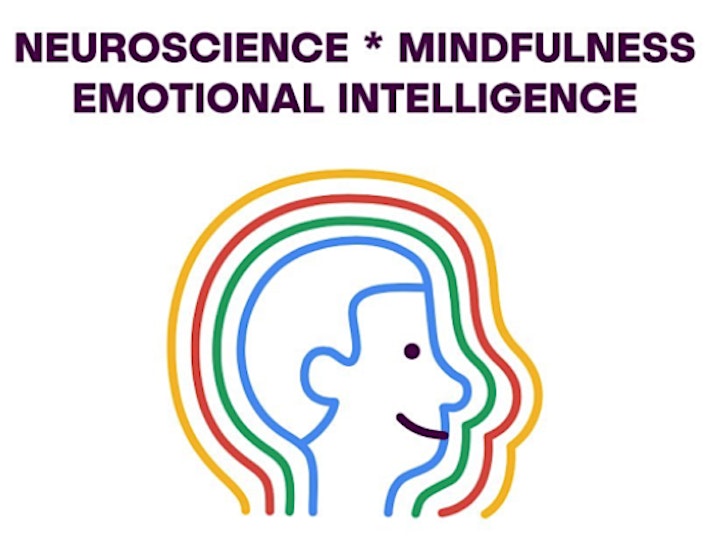 Search Inside Yourself (SIY) Mindfulness-Based Emotional Intelligence Training
For Resilient Flourishing at Work, at Home, and in Community
Developed and tested at Google, the SIY program teaches practical mindfulness, emotional intelligence, and leadership skills that lead to sustained peak performance, resilience, healthy collaboration and effective leadership. SIY takes an evidence-based approach combining neuroscience, attention-training and emotional intelligence. The self awareness, focused attention, stress management, and mindful communication skills that SIY trains in a unique, highly experiential format can be applied immediately at work and at home.
Feedback from over 6,000 participants across 20 countries shows strong and positive results:
71% felt a better ability to reduce stress after the program (vs. 46% before the training).
61% reported being able to bounce back from an emotionally challenging situation (vs. 43% before the program).
72% noticed an ability to increase focus and return to the present moment (vs. 51% before the program).
Content:
Introduction to mindfulness: What is mindfulness, its benefits as a tool to help us move from auto-pilot to aware, and the neuroscience behind its effectiveness.
Mindfulness & self-awareness: What is self-awareness, emotions as physiological responses, the importance of understanding our emotional state and its impact on our well-being and actions.
Stress reactivity & managing emotions: How to move from compulsion to choice when responding to life triggers resulting in more productive and pleasant outcomes.
Resilience & self-compassion: 3 steps to develop resilience and the science and benefits of self-compassion as a mechanism for dealing with difficult situations.
Empathy & compassion: empathy and compassion definitions and the neuroscience behind them. How to tap into and practice compassion for better leadership and as an antidote to burnout.
Communicating with insight: How to communicate with compassion for others and truly be of service, with mutual learning and understanding -- even in difficult conversations.
Outcomes:
This program empowers participants to:
Identify and develop the inner resources and mental clarity needed to optimize leadership and performance and enhance well-being.
Understand the neurobiology behind optimal mental states and how you can use this knowledge to maintain focus and equanimity and cultivate leadership presence.
Recognize the triggers and threats to optimal mental states and learn strategies to navigate challenges, foster resilience and thrive, both personally and professionally.
How to build and maintain relationships in our new social distancing environment and beyond.
Recognize the key drivers of human behaviors in social settings that lead to conflict or compassion.
Develop tangible communication practices that build psychological safety in groups and support mutual learning, understanding and collaboration.
Delivery Modality and Duration for Virtual Trainings (while covid-19 persists):
This blended learning program starts with 6 virtual 2-hour long instructor-led classes. Roughly ⅓ of the time is spent sharing content, while the remaining ⅔ is experiential. Practical exercises and one-on-one breakout room discussions -- including attention and awareness training, listening practices, and journaling activities -- enable participants to explore skill-building tools first hand and experience the layered program benefits.
Upon completion of Session 6, a 28 day challenge begins in which participants receive a brief daily exercise to integrate what they've learned. The module culminates with a capstone webinar at the end of the practice period that provides guidance for continued progress.
Dates
Tuesday, January 19, 2021: 3:30 - 5:30
Thursday, January 21, 2021: 3:30 - 5:30
Tuesday, January 26, 2021: 3:30 - 5:30
Thursday, January 28, 2021: 3:30 - 5:30
Tuesday, February 2, 2021: 3:30 - 5:30
Thursday, February 4, 2021: 3:30 - 5:30
Note: Because the session content is presented in a step by step format, it is strongly recommended that participants commit to protecting time on their calendar for all six sessions.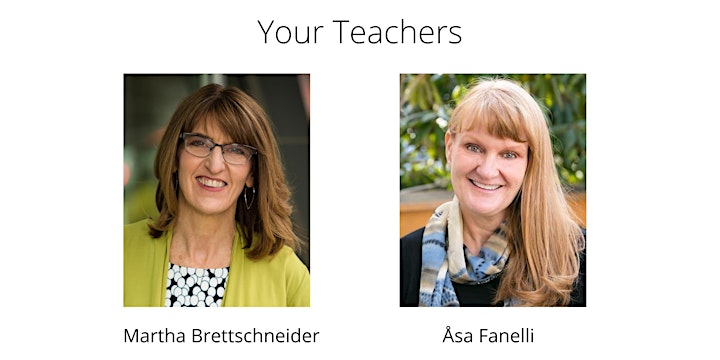 Martha Brettschneider is a Search Inside Yourself Leadership Institute Certified Teacher, author, speaker, and award-winning nature photographer. She founded Damselwings, LLC, to help busy people cultivate daily mindfulness practices and emotional intelligence skills to flourish in all aspects of their lives. Formerly an international economist (U.S. Treasury Department and International Monetary Fund), Martha stumbled upon mindfulness teachings while recovering from breast cancer in 2009. She chronicles her journey in Blooming into Mindfulness: How the Universe Used a Garden, Cancer, and Carpools to Teach Me That Calm Is the New Happy. She has taught SIY and related customized workshops to a wide variety of audiences, among them Sibley Memorial Hospital, United Way, Greater Boston Food Bank, the IMF Family Association, the World Bank Healthy Staff Working Group, and many other organizations. Learn more about her work at damselwings.com.
Åsa Fanelli is the Founder of IdeaLift Group, a boutique strategic consulting firm specializing in leadership development, board governance and strategic planning. Her passion is to support the growth of more effective, compassionate leaders and collaborative and engaged teams to increase overall performance and wellbeing in life and at work. Åsa has over 25 years of leadership experience in the global corporate and nonprofit sectors, having led diverse teams in 35 countries across 5 continents, in highly competitive and complex work environments. Using the most current scientific and evidence-based practices of mindfulness, emotional intelligence and resilience, Åsa offers transformational and innovative trainings, keynotes and consulting engagements to help leaders and organizations develop the capacity to effectively adapt to change, deal more skillfully with difficult emotions, boost creative problem solving, improve communication and employee engagement. She is a Certified Teacher for Search Inside Yourself Leadership Institute and a Journey Meditation Teacher. Åsa serves on the Board of Directors of The Boston Club, Board of Trustees of the Epiphany School, as well as the Newton Health and Human Services Advisory Board. Learn more about her work at idealiftgroup.com.
Date and Time
Location
Refund Policy
Contact the organizer to request a refund.
Eventbrite's fee is nonrefundable.