Refund policy
Contact the organizer to request a refund.
Eventbrite's fee is nonrefundable.
Effective collaboration is achievable for distributed Scrum teams at scale - learn how in this hybrid event
About this event
Does Scrum@Scale work with distributed teams? Scrum, as originally outlined in the Scrum Guide, is a framework for developing, delivering, and sustaining complex products by a single team. Since its inception, its usage has extended to the creation of products, processes, services, and systems that require the efforts of multiple teams. Scrum@Scale was developed to efficiently coordinate this new ecosystem of teams, but often it is believed that Scrum and Scrum@Scale can't be "successful" when the element of distributed teams is introduced.
In this hybrid event (a virtual conference with optional "live" in-person events) created by Scrum@Scale, LLC and Nureva, attendees will hear from industry leaders that have specialized in Scrum at Scale and Distributed Teams. They'll discuss the common challenges organizations face when implementing Scrum at Scale, and review real-world solutions and tools they have tested to ensure remote workers are supported, productive, and aligned.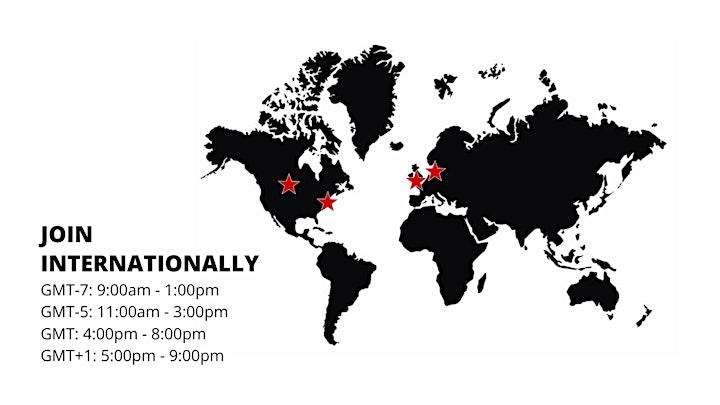 WHAT TO EXPECT:
100% OF PROCEEDS TO BE DONATED TO PEACE THROUGH PROSPERITY:
100% of proceeds from Scrum Around the World will be donated to Peace Through Prosperity, a global non-profit dedicated to improving the environment for peace building within marginalized and conflict affected communities by nurturing prosperity and alleviating poverty. Peace Through Prosperity empowers micro-entrepreneurs to become better owner-managers of their businesses so that they can build a future for themselves, their families, and their communities. The organization leverages design thinking and the core principles and values of Agility to design low-cost, immediate-impact social transformation programs. Once validated, these programs are open-sourced for others to use in alleviating poverty and improving livelihood security. Learn more about Peace Through Prosperity here.
ATTEND IN PERSON OR VIRTUALLY:
In this hybrid event, there is a virtual component that allows attendees to join from anywhere and a "live" in-person component that allows attendees to network and engage with their local community during the presentation. There are four physical locations available for registrants, and space is limited. These physical locations will host conference attendees for the duration of the 4 hour event, provide snacks and beverages, and host one of the designated conference speaker:
If you'd like to attend the virtual conference at one of the designated locations above, specify which location when purchasing your ticket to ensure you receive up-to-date information from the location hosts.
AGENDA:
Introductions and Opening Remarks with Carol McEwan
Scrum@Scale - Achieving Organizational Agility with Jeff Sutherland
Scrum@Scale Implementations with Distributed Teams with JJ Sutherland
Scrum and Distributed Teams with Daniel Mezick
Lessons from a Scrum@Scale Implementation at Lloyd's Banking Group with Michael Saunders
Closing Remarks and Interactive Retrospective with Carol McEwan
MEET THE SPEAKERS:
Dr. Jeff Sutherland - Jeff is the inventor and co-creator of Scrum. He launched the first Scrum team in 1993 and has shepherded its growth into almost every industry: finance, healthcare, higher education, and telecom. His most recent book is Scrum: The Art of Doing Twice the Work in Half the Time.
JJ Sutherland - JJ is CEO of Scrum, Inc and author of The Scrum Fieldbook: The Art of Changing the Possible. He is also the co-author of Scrum: The Art of Doing Twice the Work in Half the Time. A Certified Scrum Trainer and leading expert in Enterprise Agility, JJ works with companies around the world to help them adapt to change, accelerate value delivery, reduce waste, and increase profit.
Daniel Mezick - Coaching executives and teams since 2006, Daniel Mezick is a ScrumAtScale Trainer, an expert on business agility, and an author of three books on organizational change. A frequent keynote speaker at industry conferences, Daniel's list of clients include Capital One, INTUIT, Adobe, CIGNA, Pitney Bowes, SIEMENS Healthcare, Harvard, and dozens of smaller enterprises.
Michael Saunders - As a passionate, engaging, and customer-centric C-Suite Executive with more than 20 years of experience in propelling startups and established organizations into the next steps of their evolution, Michael spearheads revenue growth, product innovation, and expansion using an eclectic skill set and business acuity to deliver strategic visions. Michael is a Certified Scrum@Scale Trainer and the Agile and DevOps Leader at Lloyd's Banking Group in London.
MEET THE ORGANIZERS:
Scrum at Scale, LLC is a joint venture between Scrum Alliance and Scrum, Inc. The two independent companies announced the creation of Scrum at Scale, LLC to support the Scrum@Scale framework in 2018. As an organization, Scrum at Scale, LLC fosters a collaborative community and provides a unique set of actionable strategies for exponential organizational and personal growth.
Nureva creates technology solutions that are incredibly easy for people to use, adaptable to existing processes and designed to enable the physical and virtual spaces where they come together – in the same room or around the world. Nureva's simple audio conferencing systems and visual collaboration tools help businesses and other organizations around the world think bigger. For more information, visit Nureva's website and follow @NurevaInc.