About this Event
Scott was recently seen on the Tivoli stage with Lauren Daigle , then selling out Songbirds North with a jaw-dropping performance. We are so happy to bring him back to headline our North stage again. This time, Scott will be showcasing songs from his latest CD, Himalayas.
As a teenager, Scott picked up the bass guitar on a whim. Natural talent and the lure of a challenge drove him to be the best musician he could and discover his love for singing, songwriting, and the upright bass. With the encouragement of his teacher, he went on to study music in college.
Scott moved to Nashville after school, and he would meet American music icon Ricky Skaggs and join his Grammy-winning band, Kentucky Thunder. He toured with Ricky for five years, and in that time, first started writing songs on his upright bass.
He has shared the stage with some of the greatest artists of modern music, such as Alison Krauss, Barry Gibb of the BeeGees, Bruce Hornsby, Brad Paisley, Peter Frampton, Steven Curtis Chapman, Emmylou Harris, Dave Barnes, Ben Rector, and many more.
Scott's songs have received honors or been featured in NPR'S Tiny Desk Contest, the International Songwriting Competition, John Lennon Songwriting Contest, and American Songwriter Magazine's 30th Anniversary Contest, and he has had numerous cuts on other artists' albums.
He's currently touring in support of his September release, Top Of The Stairs (EP), which was produced by himself, Charlie Peacock (The Civil Wars, The Lone Bellow) Gary Paczosa (Alison Krauss, Sarah Jarosz), and Shani Ghandi (Sarah Jarosz).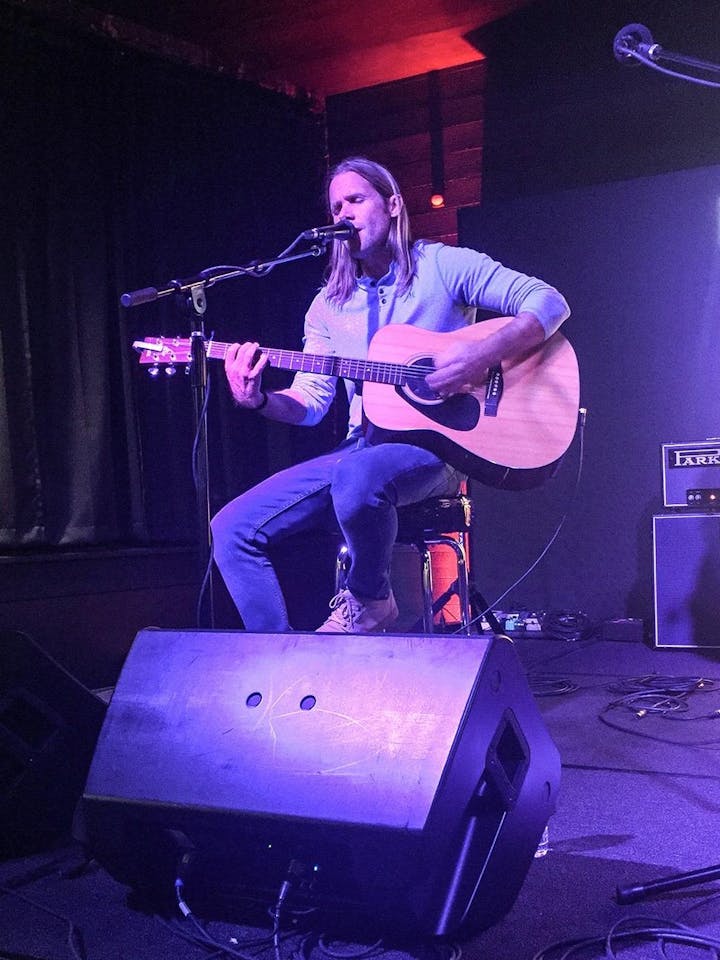 Bryan Knispel has been writing music, singing and playing in bands ever since he was 15 years old. Divine Ratio, the band Bryan fronted for years, released the album 'Split by Unity' in 2012, and they quickly gained traction amongst the Rock n' Rollers and Prog Rock gurus. Then he followed up with a new single called 'Drenched' with all new band members in 2016 which didn't disappoint. Usually compared to bands like TOOL, Incubus, and A Perfect Circle, you will definitely recognize Bryan's influences in his writings with Divine Ratio.
Now, Bryan Knispel is doing his own thing when he performs. He has most recently been producing other acts along with helping to record and mentor younger acts, but his solo performances are what he really enjoys doing. While his solo shows are not as big of a production as Divine Ratio, he certainly has a powerful way of delivering his newer material to crowds, usually accompanied by an electric guitarist.
Bryan has a hauntingly beautiful way of writing, singing and belting out his lyrics to crowds who are usually wowed at the end of his performances and wanting more.
Performers
Date and Time
Location