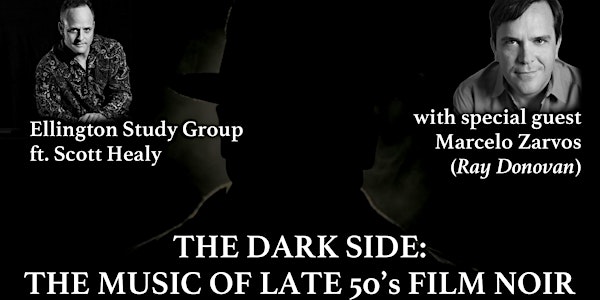 Scott Healy's Ellington Group with Marcelo Zarvos
When and where
Location
Vitello's Italian Restaurant 4349 Tujunga Avenue Los Angeles, CA 91604
Refund Policy
Contact the organizer to request a refund.
Description
The Dark Side: The Music of Late 1950's Film Noir, with Special Guest Marcelo Zarvos (HBO's "Ray Donovan")
The late 1950's was a great time for jazz music and for Hollywood. Many great films from this late "noir" period are full of high drama and cool vibes. Their scores inhabit and serve the picture, as well as stand on their own as inspired and superbly-crafted art. In our upcoming Ellington Study, Scott Healy will start off with a look at clips from a few of the great jazz film scores from this period: Duke Ellington's score from Anatomy of a Murder, Elmer Bernstein's Sweet Smell of Success, and Henry Mancini's Touch of Evil. We'll spend some time analyzing and discussing the harmonic technique and orchestration/instrumentation choices in these classic scores, as well as how the music serves the picture.
Scoring in this grand and classic style "in-the-box" is challenging. Scott will show clips, Pro Tools, and DP session files from a recent animated show scored on computer in a "faux-noir" symphonic style. We will review the spotting process, the animatic, multi-track MIDI sketch and the resulting full orchestration and final mix.

Then after a short break, we'll speak with our guest Marcelo Zarvos. Marcelo has had a long and prolific career scoring for film and television, and is currently engaged scoring HBO's Ray Donovan. The most recent season of this show was set in NYC and they really kicked the music up a notch; Marcelo's score is edgy, organic, dark and dramatic…perhaps we could label the show a modern-day film noir? He will discuss the music for the series and his scoring process. Derek Somaru (music editor from Ray Donovan) will also join in the discussion.

After the class we will have a buffet lunch served, and there will be more time for discussion and networking. So sharpen your digital pencils and get out your virtual score paper, put on your thinking caps and spend a morning getting dark and dirty with some great music.

About Marcelo Zarvos:

The subtle nuances of composer Marcelo Zarvos' style are evidenced in his recent scores for FENCES directed by and starring Denzel Washington, Golden Globe-winning THE AFFAIR and RAY DONOVAN. Though his training began by studying classical music he later began delving into jazz, rock and world music. This expansion of influence helped to create Zarvos' trademark sound – a seamless blend of classical, orchestral, rock, electronic and various ethnic elements, that together create uniquely affecting and emotionally charged music for film, TV, modern dance and the concert stage.

Zarvos most recently scored the acclaimed hit film WONDER starring Julia Roberts, Owen Wilson and Jacob Tremblay and directed by Stephen Chbosky which opened in November 2017.

Because of his skill with layered stories and emotive undertones, Brazilian-born Zarvos has become the go-to composer for filmmakers like Nicole Holofcener (ENOUGH SAID, PLEASE GIVE, the recent Amazon series ONE MISSISSIPPI), Antoine Fuqua (BROOKLYN'S FINEST), Tod Williams (THE DOOR IN THE FLOOR, CELL), Ross Katz (ADULT BEGINNERS, THE CHOICE), Cary Fukunaga (SIN NOMBRE) and Barry Levinson (THE HUMBLING, YOU DON'T KNOW JACK, ROCK THE KASBAH).

A classically trained pianist and composer, Zarvos earned his BFA from Cal Arts. He burst onto the film landscape in the early 2000s with his score for KISSING JESSICA STEIN and with the film adaptation of the John Irving novel, THE DOOR IN THE FLOOR. Zarvos' credits include THE GOOD SHEPHERD, THE WORDS, BROOKLYN'S FINEST, THE FACE OF LOVE, REACHING FOR THE MOON (FLORES RARAS), SIN NOMBRE, HOLLYWOODLAND, ADULT BEGINNERS, THE HUMBLING, LITTLE ACCIDENTS, AMERICAN ULTRA and ENOUGH SAID.

Twice nominated for Primetime Emmy® Awards (for YOU DON'T KNOW JACK and TAKING CHANCE), Zarvos' television work includes TOO BIG TO FAIL, THE BIG C, EXTANT the HBO movie PHIL SPECTOR, the Amazon series ONE MISSISSIPPI and Z: THE BEGINNING OF EVERYTHING and two current Showtime series THE AFFAIR and RAY DONOVAN.

Zarvos' recent projects include THE LAND OF STEADY HABITS written and directed by Nicole Holofcener, THE CHOICE (based on the Nicholas Sparks novel), MAPPLETHORPE starring Matt Smith and directed by Ondi Timoner, THE CHAPERONE starring Elizabeth McGovern directed by Michael Engler and adapted by Julian Fellowes and scheduled for release in Spring 2019 BREAKTHROUGH starring Chrissy Metz and directed by Roxann Dawson opening in April 2019 , THE BEST OF ENEMIES starring Sam Rockwell and Taraji P. Henson directed by Robin Bissell opening in April 2019 and Antoine Fuqua's upcoming Muhammad Ali documentary for HBO.