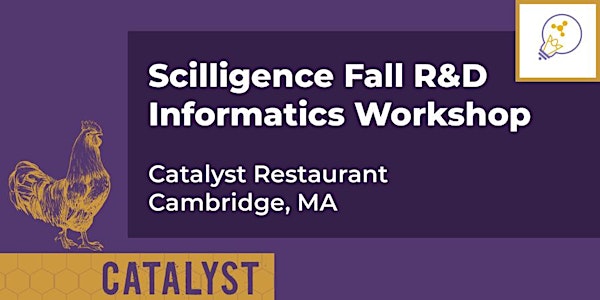 Scilligence Fall R&D Informatics Workshop
When and where
Location
Catalyst 300 Technology Square Cambridge, MA 02139
Description
SUMMARY
Join us for our fall workshop at Catalyst in Cambridge, MA and enjoy inspiring presentations, lunch, networking, and raffles. Scilligence and our partners will fill you in on new advancements and upcoming integrations for streamlining R&D informatics.
Speakers include our partners from CAS, TetraScience, Zifo RnD Solutions, and Certara. Full agenda available soon.
Remote access will be available - confirm your preference when registering.
Parking validation will be available.


TENTATIVE AGENDA
10:00 AM – 10:30 AM: Registration & Refreshments
10:30 AM – 10:40 AM: Welcome and Introduction
10:40 AM – 11:00AM: A Tale of Unified System for Biologics and Small Molecules – Jinbo Lee, Scilligence
11:00 AM – 11:20 AM: SciFinder Integration with Scilligence Platform – Jeffrey Schloss, CAS
11:20 AM – 11:40AM: Automating Data Management Across R&D Workflows – Tetrascience and Scilligence Integration – Siping Wang, TetraScience
11:40 AM – 12:00 PM: Adopting Configurable Platform Solutions for Research Informatics Needs – Sujeegar Jeevanandam, Zifo RnD Solutions
12:00 PM – 1:00 PM: Lunch
1:00 PM – 1:20 PM: D-360 Integration with RegMol – Aaron Hohos, Certara
1:20 PM – 1:40 PM: Enable Chem-Bioinformatics in G-Suite – Samantha Lee and Jessie Yuan, Scilligence
1:40 PM – 1:55 PM: Coffee Break
1:55 PM – 2:30 PM: Panel Discussion: In the Era of Collaboration & Integration
Panelists:
Aaron Hohos, Certara
Jeffrey Schloss, CAS
Jinbo Lee, Scilligence
Siping Wang, TetraScience
Sujeegar Jeevanandam, Zifo RnD Solutions
2:30 PM – 2:50 PM: What's New at Scilligence – Chris Ruggles, Scilligence
2:50 PM – 3:00 PM: Final Raffle and Closing Remarks